July 23, 2020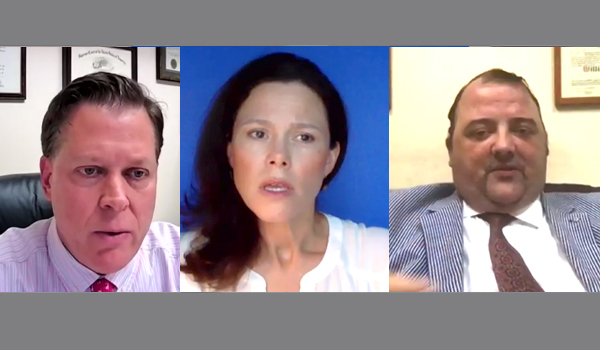 On July 21, 2020, Catholic Law continued its "COVID-19 and the Law series" with a virtual discussion on COVID-19 and Caring for Elderly Communities. Hosted by the Office of Development and Alumni Relations in conjunction with Professor Cara H. Drinan, Director of Faculty Research, this week's discussion was set to be moderated by Professor Lucia Silecchia whose expertise includes elderly and disability law. Unfortunately, due to technology issues, Professor Silecchia was unable to join the event. Drinan, who is managing the virtual discussion series, was briefed on the issues, and she moderated the discussion with alumni guest speakers Lawrence A. Joel '90, Partner at Joel and Joel, LLP, certified elder lawyer, and Will Cubbedge '04, Attorney and Principal at the Law Offices of William A. Cubbedge.
To start the discussion, Drinan acknowledged the significant toll that this pandemic has taken on elderly communities. For example, over 80% of fatalities in the U.S. have been among patients over 65 years of age, and elderly patients are more likely to have other medical needs delayed because of the pandemic. Elderly people are more likely to be living in congregate living spaces and have experienced outbreaks of the virus, as well as social isolation as institutions seek to contain the spread. Drinan asked each speaker to provide a brief snapshot of how the pandemic has impacted their practices. Joel, whose practice is in northern New Jersey, noted that he typically has a very close, personal connection to his clients, but now he has to meet them at picnic tables or parking lots to permit social distancing. Cubbedge, who works in Savannah, Georgia, noted that he has seen a higher demand for will and end-of-life documents as "there's been a reckoning with mortality" among clients.
Drinan asked both speakers for their thoughts as the country looks towards the fall and a potential second wave of the virus. Joel shared some advice for the "sandwich generation" (those with school-age kids and elderly parents), "you may not be equipped to handle the level of care that your elderly loved ones need, in the home." He highlighted the importance of candid conversations with elderly family members early and often. Despite the difficult issues that individuals practicing elderly law face, Cubbedge also shared how rewarding the work can be, "I come in at sad moments and usually try to make them a little happier."
A recording of the presentation is posted below.
Professor Megan M. La Belle will moderate the next event in the discussion series, addressing issues of administrative law and the pandemic. Her event is scheduled for July 30, 2020.