July 20, 2020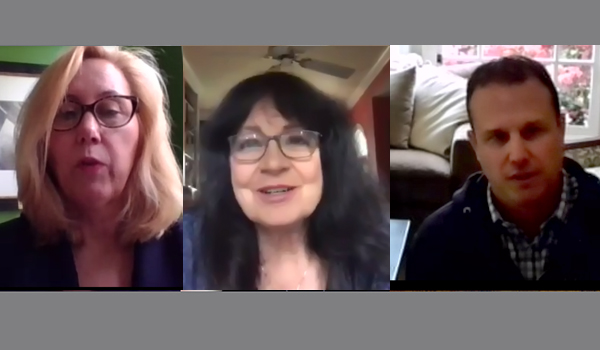 On July 16, 2020, Catholic Law continued its "COVID-19 and the Law" series with a virtual discussion of COVID-19 and Corporate Responsibility. Hosted by the Office of Development and Alumni Relations in conjunction with Professor Cara H. Drinan, Director of Faculty Research, this week's discussion was moderated by Professor Sarah H. Duggin, Director of the Compliance, Investigations & Corporate Responsibility Program. Catholic Law alumni Anne Donohue '98, General Counsel for Akima, LLC, and Mark Gursky '01, Vice President and Chief Compliance Officer of KLA, joined the program as guest speakers.
After introductions by Drinan, Duggin opened the discussion by briefly defining corporate responsibility. First acknowledging that the term can be defined in multiple ways, Duggin went on to interpret Corporate Responsibility as "the ability of a business and the obligations of a business to comply with applicable laws and regulations, and ethical standards, as well as to address stakeholder relationships and broader social obligations." This definition acted as an outline of the evening's conversation, taking a particular look at how these obligations function in light of the global pandemic.
Duggin then posed a series of questions to Donohue and Gursky, starting with a few general observations on how the business world is responding to the COVID-19 crisis. Donohue described the way businesses have pivoted in response to the pandemic as "reprogramming their workforces so that they can continue to deliver," further outlining the capability of some industries to deliver their services remotely while others are navigating the various safety checkpoints and how they impact their workforce. Gursky then spoke about the types of practices that are working particularly well across the business spectrum, sharing, "the biggest tool you can have right now is an effective Crisis Management Team, or now they can call it a Pandemic Leadership Team, because the issues are really diverse."
With many working from home, we have witnessed an increased use in collaborative tools and social infrastructure. The global economy has gone through a complete paradigm shift, and as Donohue said, "it's an exciting time to be a lawyer because there is so much new regulation and so much to synthesize as we advise our clients on how to continue to be sustainable and responsible as a corporation in terms of protecting their employee base while looking out for the continued growth that their stakeholders are looking for."
Duggin also asked the speakers about their thoughts regarding the commitment of businesses to Corporate Social Responsibility in 2019 and how that commitment has been impacted by the pandemic in 2020. Both Donohue and Gursky were encouraging in their responses, indicating that while the pandemic has required immediate attention, the current generation of investors and stakeholders are still asking important questions about Corporate Social Responsibility and that focus is here to stay.
As the discussion drew to a close, Duggin thanked the guests for sharing their insight, "it is a pleasure to hear from you both. One of the good things about being a lawyer is thinking about how much we can help people. It sounds like you are helping your organizations, and your organizations are really trying to do what's right."
A recording of the presentation is posted below.
This event was part of a virtual series called COVID-19 and the Law. The next installment is scheduled for July 21, 2020, and will be moderated by Professor Lucia Silecchia. Visit the News and Events page for upcoming discussions.