May 26, 2020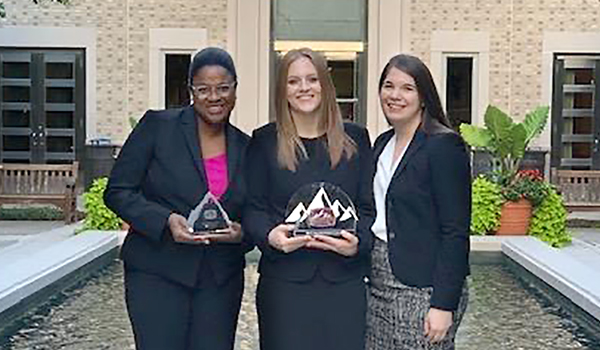 (From L to R: Vania Smith '20, Taylor Dontje '20, and April Currey '20)
The National Trial Team's 2019-2020 season wrapped up following a semi-final finish at the National Online Trial Advocacy Competition. The result capped another successful year of competition for the team, during which they finished as finalists at both the Summit Cup trial competition in Colorado last October and the National Trial Competition regionals in February. The end of the year also meant graduation for trial team veterans Jennifer Brooker, Vania Smith, April Currey, and Taylor Dontje.
"We graduated four dedicated, talented, and accomplished student advocates that will take the skills they learned in training and competition and apply them in practice," said National Trial Team Associate Director Lindsey Cloud.
Smith, who with Brooker won Catholic's first-ever national championship in 2019, reflected on her time on the team: "There is nothing that will ever compare to winning a national championship… the legacy that creates personally and for the program is something I will always cherish."
"Trial team is much more than competing and its successes carry far beyond the courtroom. Sure, you have the opportunity to learn the rules of evidence and trial procedure in depth, but you also make lifelong friends and gain confidence in all aspects of life," added Brooker.
Tryouts for new members are scheduled for August. Those selected will join returning 3L members Thomas Dillon, Meghan Moorhouse, Colleen L'Etoile, and Garrett Tracey. Together the team ventures into unchartered territory as fall competitions will train and test student advocates' abilities to litigate virtually during the COVID-19 pandemic.
"National Trial Team is the place where law school meets reality… we are equipped with the skills necessary to successfully advocate for our clients," noted Tracey. That will certainly be the case this fall.
"This fall's trial competitions will mirror what is happening in real courtrooms. The pandemic has necessitated moving some legal proceedings across the country to various virtual platforms. It's a variation on traditional advocacy, but you still have to be highly effective and understand what it takes to win," said Director John N. Sharifi.