April 27, 2020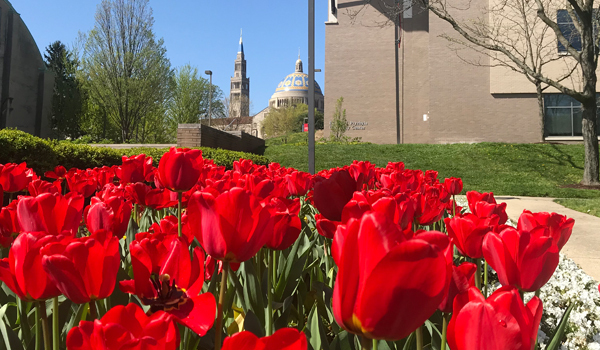 As unprecedented circumstances and uncertain times envelop the country and the world, everyone is adjusting their daily lives and adapting to a new normal. It's stressful, but it has highlighted ways in which people can rise to new challenges with grace. Now, just over a month after closing the campus and moving to a virtual learning model, members of the Catholic Law community take time to reflect on how the novel coronavirus and the response has affected the life of the Law School.
Assistant Dean for Student Affairs and Dean of Students, Katie Crowley, aptly said, "The Catholic University is an exceptional place to study the law in large part because of the strength in our community bonds. Our faculty, students, and staff look out for one another and genuinely subscribe to the notion that success for one of us is a success for all. To have made such an abrupt pivot in the manner in which our students are educated has had a significant impact on our community as a whole."
The drastic pivot Crowley alluded to has no set playbook. It has required innovation and quick learning curves. Assistant Dean for Admissions, Shani Butts, noted how staff and colleagues in the Law School have "come up with amazing ways to connect with students in a virtual setting."
Professor Sarah Duggin is just one of Catholic Law's faculty members who had to learn quickly how to teach online and how to structure her course in a useful way. For her, while the adjustment was unexpected, she has been grateful for the technology. Professor Duggin remembers a time when teaching remotely meant mostly teaching over the phone. Now, with more advanced technology, her classes have been able to have amazing learning experiences despite being apart.
"In my seminar, we even managed to do a class session with a man named Kevin Hyland, OBE––which I learned is Order of the British Empire––who is one of the leading experts in the world on human trafficking and modern-day slavery in the Global Supply Chain. On the 7th of April, we did a class with him. He was in the UK, one of his colleagues was in Wales, and our class was all around the U.S., and we had a wonderful inspiring class."
Of course, even with the use of technology, the shift to virtual law school has been accompanied by challenges and trepidation. As a first-year evening student, Lauren Ferraro (1E) was in the midst of just her second semester when everything changed. "It's just a new world. And it's combining with finals." She continued, "we are studying for finals without a library. A friend and I have set up a zoom for the entire day where we just have each other on in the background. We sit in silence and study unless we have questions."
The anxiety Ferraro shared mirrors that of many law school students. It begs the question, how are they going to take exams? Typical exam software is not suited to this virtual environment. Willistine Harris (4E) expressed her concern regarding the process, "there's just a lot we don't know. Typically, when we enter an exam, we know what it's going to look like."
For some, what lies beyond graduation is a more daunting concern. For those graduating in just a few weeks, dark clouds loom over an already competitive job market. "Our economy has taken a worse hit than the 2008 recession," Nneka Maceo (3L) pointed out. "As a graduate, that can be scary at times to really accept."
Catholic Law has worked hard to support its students and address concerns as they arise. Access to supports like the counseling center and financial resources has helped to alleviate some of the stress. Also, the use of virtual townhalls has allowed community members to come together––giving time and consideration to all within the law school.
Maceo noted, "Dean Payne, Katie Crowley, Stuart Schept, and other administrators and faculty members have done an excellent job of being as transparent as they can with us and in addressing our concerns and the status of our law school moving forward amid COVID-19. I am thankful for the transparency, diligence, and compassion Catholic Law has shown us during these times."
Harris agreed, "I appreciate the townhalls that Dean Payne has been conducting to allow us to receive information and ask questions. It brings a sense of acknowledgment for where we are and is a safe space for us to address the virtual environment issues."
Looking towards the end of this spring semester, the concern at the Law School has seemingly shifted from "what is this?" to "what does the future hold?" This uncertain future is particularly salient for Admissions. Butts continues to question "whether this will continue into the fall." In moving forward, she added, "when we had to switch to a remote learning model this Spring, the faculty and administration did a quick pivot to the delivering virtual classes. We now have the opportunity to go back and make improvements to ensure that the educational and social needs of all students are met. I am confident that we can continue to deliver on a strong student experience if we need to have a combination of virtual and in-person classes in the fall. We just have to have clear communication with the incoming students on the plans."
As the global health crisis extends deeper into the spring, Catholic Law acknowledges the difficult reality the Law School and the world is faced with, approaching each challenge with mindfulness and sympathy. For Crowley, and the Catholic Law community, the work continues. "It's not to say that a transition of this magnitude is perfectly made for any institution. But our community members can take comfort in the fact that all of us at the Law School will continue to strive every day to make improvements for our students so that they continue to get the same exceptional education they have come to know at Catholic Law."