April 21, 2020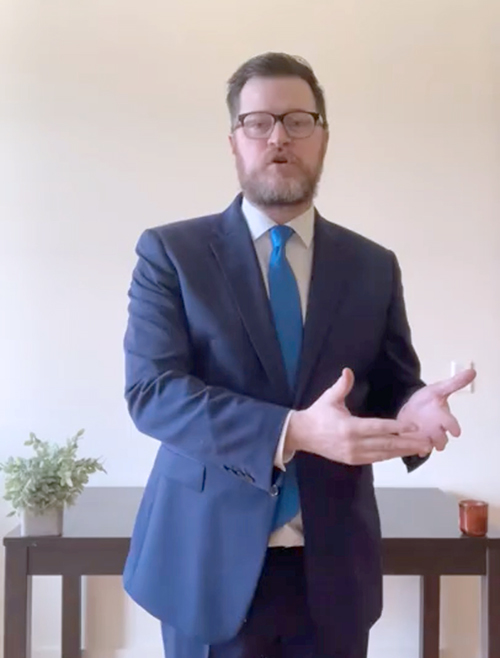 Trial Team member Thomas Dillon (2L), advanced to the semi-finals and finished 12th overall in the country at the first ever National Online Trial Advocacy Competition. Dillon competed against 169 other law students in the online competition organized in response to the cancellation of mock trial competitions around the country.
The unprecedented COVID-19 pandemic and resultant quarantines have affected every aspect of American life, including the world of law school mock trial competitions. Spring semesters hold the annual national championships, among other competitions, all of which were cancelled this year after the first week of March. One of those cancelled competitions was the American Association for Justice Student Trial Advocacy Competition, known as "AAJ." Catholic had been preparing to compete there. The team of Vania Smith (4E), Taylor Dontje (3L), April Currey (3L), and Thomas Dillon (2L) and National Trial Team directors John N. Sharifi and Lindsey Cloud spent weeks and countless hours in Haislip courtroom readying themselves for what was sure to be an intense competition, when it was suddenly cancelled the night before it began. The team, as well as student advocates and coaches from all around the country, was devastated.
In response to the disappointment this spring, Fordham and UCLA law schools organized the National Online Trial Advocacy Competition. Law students from around the country were all given the same fact pattern and invited to submit a video of themselves delivering an opening statement for either side of the case. 170 students from 67 schools participated, including Catholic trial team members Dillon (2L), Meghan Moorhouse (2L) and Colleen L'Etoile (2L). Students recorded themselves delivering an opening from inside their apartments or homes. Over 400 judges, lawyers, and trial advocacy instructors served as evaluators. A virtual awards ceremony was held on April 17 and attended by participating students, coaches, evaluators, and members of legal academia during which Dillon was identified as a semi-finalist and ultimately honored as the 12th best student advocate in the country. This success follows Dillon's impressive performance in February at the National Trial Competition's regional qualifier, where he and Dontje were finalists.
"This online competition was an outstanding idea and just what we all needed. We jumped at the opportunity to participate. Meghan, Colleen, and Thomas worked very hard and we are proud of them. Thomas's 12th overall finish puts him in the top 7% in the country, which is an outstanding accomplishment," said Sharifi.
"Our trial team continues to strive, even during these difficult times. This competition was a great chance to compete, work on skills, and stay sharp," added Cloud.
Due to the success of the event, organizers are discussing the possibility of similar online competitions until mock trial competitions can be back in full swing.