April 18, 2020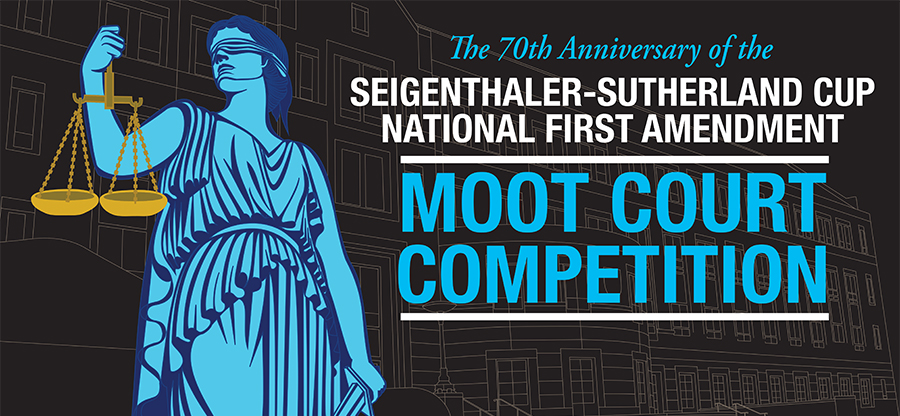 In light of the unprecedented circumstances requiring the cancellation of the oral argument portion for the First Amendment Seigenthaler-Sutherland Cup, the competition administration of the Catholic Law Moot Court Association still wished to recognize the wonderful work of all the teams who submitted briefs.
The Administrative Board chose to recognize the Best Brief Award, second, and third place awards, as well as three honorable mention awards, to compensate for the lack of an opportunity to present these arguments in an oral advocacy setting. These awards went to the highest scoring briefs, written work that would have assisted these commendable teams in their overall competition.
Vice-Chancellor of the event, Liz Bowen (3L), commented, "we are really saddened by the cancellation of the competition, but were impressed by the quality of the briefs submitted by 26 teams from law schools all over the nation. I love the Seigenthaler-Sutherland Cup and have enjoyed organizing and leading it for the last two years. The experience and relationships that have arisen from my role have been truly exceptional."
Congratulations to these and all teams participating this year. Catholic Law Moot Court Association is already looking forward to next year's competition which will hopefully be able to move forward under better circumstances. The Seigenthaler-Sutherland Cup will return in full force next year and hopes to welcome all competitors back for the event in 2021.
1st Place Best Brief Award:
Team 12
Georgetown University Law Center
Elizabeth Henry, Nicholas Fordice, and Amelia Putnam
2nd Place:
Team 21
Florida State University School of Law
Heather Lopez, Melody Deatherage, and Mary Kate Mahoney
3rd Place:
Team 24
American University Washington College of Law
Andrew Rice and Danny Schwaber
Honorable Mention:
Team 7
Emory University School of Law
Emma Cramer, Jacob Polce, and Davis-Brooke Caswell
Team 4
Virginia Law School
Emily Marsteller and Kimberly Veklerov
Team 6
Chicago-Kent College of Law
Douglas Johnson, Benjamin Votava, and Adrienne Finucane