February 24, 2020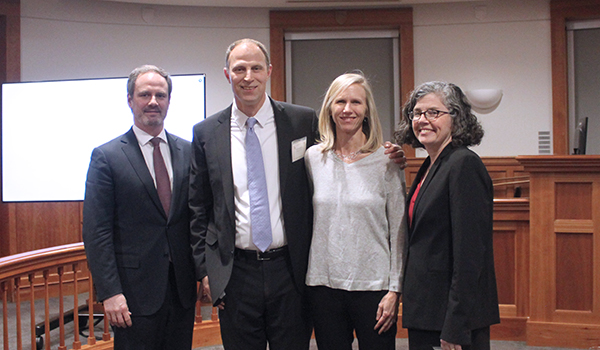 From L to R: Dean Payne, Nick Beizer, Amy Beizer, Professor Winston
On Thursday, February 20, 2020, The Law and Technology Institute (LTI) invited students and guests to the Dean William Callyhan Robinson Lecture Series featuring Nicholas Beizer '99, General Counsel, Marketing and International at GoDaddy.
Co-director of LTI, Professor Elizabeth Winston, began the evening with opening remarks—welcoming attendees and the evening's guest speaker. Following a brief explanation of the lecture series' legacy, Dean Stephen C. Payne stepped forward to introduce Beizer. Dean Payne reflected on the "warm and gracious" nature of our alumni community—of which Beizer is a part.
Beizer opened his lecture by sharing that there are a number of things that concern him in regards to privacy and the law, and in his roll at GoDaddy he must take those things very seriously. Beizer joined GoDaddy in 2012. His practice touches on all areas of the business including privacy, cybersecurity, commercial transactions, disputes of all types, employment issues, protection of the company's intellectual property, global policy, and M&A.
Beizer noted that few other areas of the law have "blown-up" quite like privacy. Seemingly every jurisdiction wants to create and enforce their own way to protect their citizens' privacy. This patchwork of protections has created contention at times, while making it exceedingly serious for entities like GoDaddy to navigate compliance and regulation.
By exploring the United States' stance on data protection as a fundamental right through a historical timeline, Beizer led attendees through the century leading up the General Data Protection Regulation (GDPR) and what it means for privacy regulation today. Beizer concluded with a few personal predictions on what the future of data protection holds in store.
Following the lecture, students along with the speaker attended a reception in Keelty Atrium where the conversation continued.
The Dean William Callyhan Robinson Lecture Series is named for the founding dean of Catholic Law in 1895. Dean Robison was a deeply influential person in the law––having been a dean, a law professor, a legal scholar, and a judge.