February 17, 2020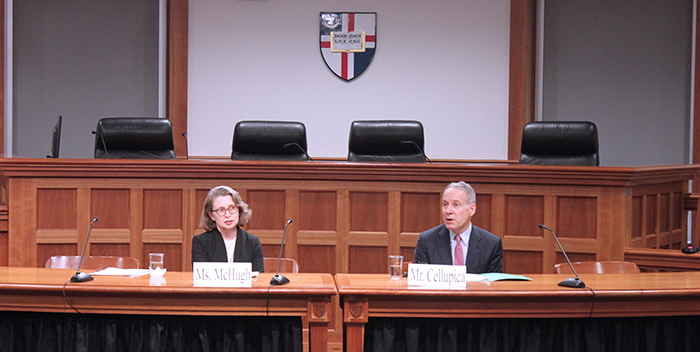 The Catholic University Journal of Law and Technology's 2020 spring symposium, "Financial Technology: The Future of Fintech," provided an opportunity for students, faculty, and practitioners to hear from experts regarding recent developments in various aspects of Fintech; focusing on the regulation of FinTech as well as other legal considerations in the field.
The February 14 event opened with introductory remarks by Michael Nemcik (3L), Editor-in-Chief of Catholic University Journal of Law and Technology, Vol. 28. The program consisted of two panel discussions and a keynote address from Paul G. Cellupica, Chief Counsel and Deputy Director of the Securities and Exchange Commission's (SEC) Division of Investment Management. Cellupica was joined by keynote moderator, Jennifer McHugh, Associate Director from the SEC's Office of Disclosure Review and Accounting. Cellupica and McHugh discussed digital assets, robo-advisors, and fund disclosures within Fintech in a collegial "fireside chat."
Cellupica has been Deputy Director of the Division of Investment Management at the SEC since November 2017. Prior to his role at the SEC, he was Managing Director and General Counsel for Securities Law at Teachers Insurance and Annuity Association of America (TIAA). McHugh has been Associate Director of her division since 2018. In her 20-year tenure at the SEC she has served in a number of roles including Senior Special Counsel in the Disclosure Review and Accounting Office, Acting Director of the Division of Investment Management, Senior Advisor to SEC Chairman Mary L. Schapiro and SEC Chair Mary Jo White, Special Counsel in the Investment Adviser Regulation Office, Senior Advisor to the Director in the Division of Investment Management, and an Attorney in the Division's Rulemaking Office.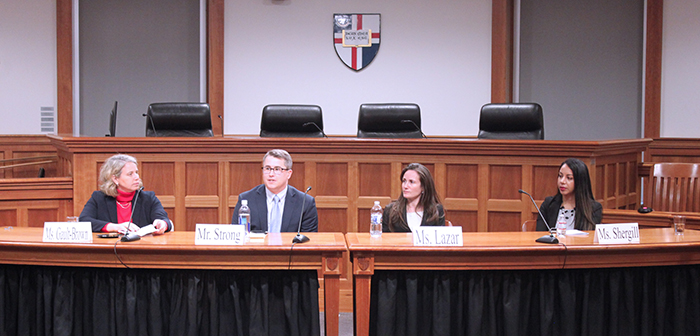 Panel A: Regulation of Fintech
The first panel focused on regulatory issues in Fintech, particularly as they pertain to securities and cryptocurrency. Discussion included the impacts of current regulatory regimes on the growth of cryptocurrency and block chain technologies.
Moderator: Susan Gault-Brown, Partner, Morrison & Foerster: Chair of Investment Management Group and Co-chair of Blockchain and Smart Contracts Group


Panelists: Gregory Strong, DLX Law; Jillian Lazar, Director of Delaware Investor Protection Unit; Jasmine Shergill '13, eToro, Director of Regulatory Affairs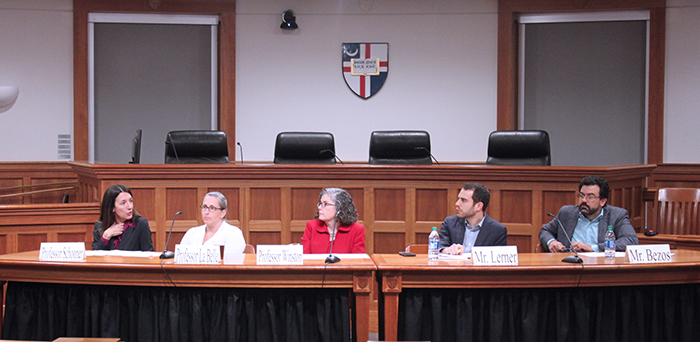 Panel B: Other Legal Considerations in Fintech


The second panel centered around other concerns in Fintech with a focus on the role of Intellectual Property in the Fintech landscape. The discussion highlighted the trend in banking towards institutions protecting their financial inventions through the patenting process rather than relying on trade secrets. The panel concluded with final thoughts on data privacy and information security's role in the Fintech.

Moderator: Elizabeth Winston, Professor, Columbus School of Law at The Catholic University of America 


Panelists: Megan La Belle, Professor, Columbus School of Law at The Catholic University of America; Heidi Schooner, Professor, Columbus School of Law at The Catholic University of America; Zach Lerner, ZwillGen; Salvador Bezos, Sterne Kessler, Director in Electronics Practice Group 

Following the panel discussions, Nemcik provided closing remarks and thanked the audience, panelists, and University. The panelists and attendees were then invited to continue their discussion at a reception in Keelty Atrium.