February 13, 2020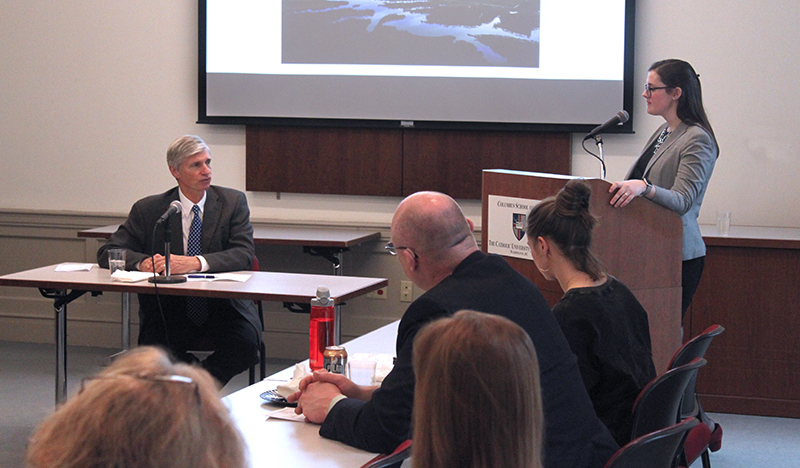 On February 12, the Student Scholar Series continued with its second lecture of the year. The lecture, presented by Rebecca Schisler (3L), was titled "Shortcomings of the Clean Water Act and Potential for Progress in the Chesapeake Bay." Schisler's interest in the topic stems from her upbringing on the Eastern Shore of Maryland. For many on the Eastern Shore, the bay is their livelihood. Having friends who work on the water has helped Schisler connect with the topic in a deeply personal way.
Schisler's research centered on waterways like the Chesapeake Bay and the effectiveness of the Clean Water Act to address water pollution nationwide. While the Clean Water Act, which was enacted in 1948, provides an outline for preventing further pollution, the administrators and government agencies responsible for carrying out those procedures have not lived up to the Act's expectations or full capabilities. Schisler laid out several concerns with the functionality of the Clean Water Act, particularly in how it pertains to nonpoint source pollution, before suggesting amendment of several sections within the Act.
Jon Mueller served as the respondent for Schisler' lecture. Mr. Mueller is the Vice Preside for Litigation for the Chesapeake Bay Foundation (CBF). His responsibilities include coordinating and handling strategic litigation against polluters and governmental entities for failing to comply with federal and state laws and regulations. Prior to joining CBF as its Director of Litigation in 2004, he served as a trial attorney for the U.S. Department of Justice, Environment and Natural Resources Division, Environmental Enforcement Section. While at the DOJ, Mr. Mueller prosecuted civil actions enforcing federal environmental laws such as the Clean Air Act, Clean Water Act, CERCLA (Superfund), Resource Conservation and Recovery Act, and Toxic Substances Control Act.
After the lecture, Schisler and Mr. Mueller fielded questions from the audience, providing students, faculty, and guests the opportunity to grapple further with the topic and discuss the Acts future in the current political climate.
The Student Scholar series was founded in 2009 by Catholic Law Professor A.G. Harmon to recognize notable legal scholarship produced by members of the student body during the academic year and to foster the skills associated with presenting and defending that scholarship in a professional, conference-style setting.