February 04, 2020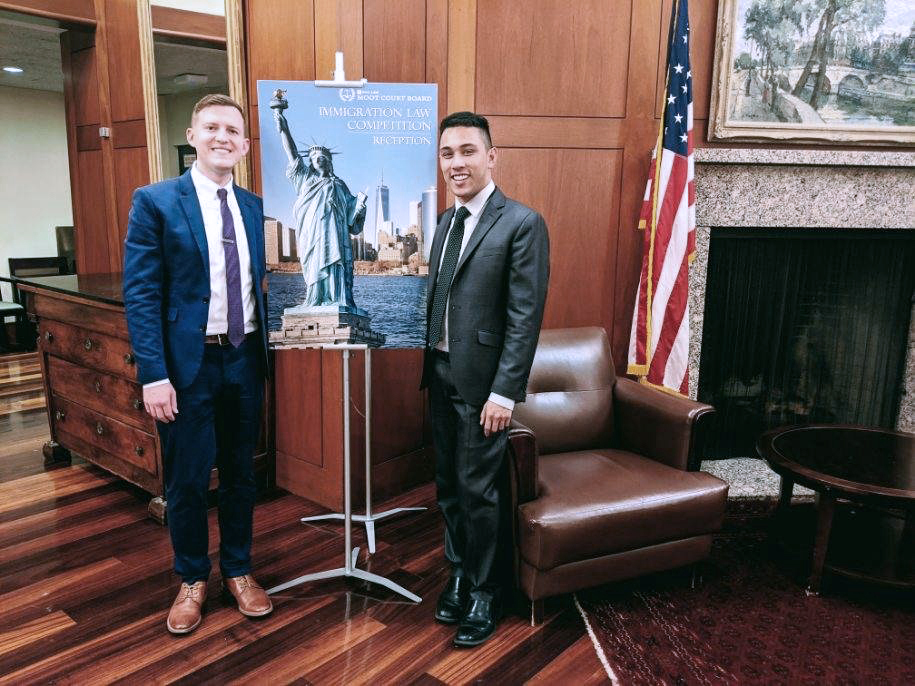 From January 31-February 2, 2020, teams from across the country competed in the 2020 Immigration Law Competition (ILC) hosted by NYU School of Law Moot Court Board. Among the teams vying for the title was Catholic Law Moot Court team of Alex Catiggay (3L) and Caleb Holland (2L). Catiggay and Holland survived Friday's preliminary rounds and continued on in the competition on Saturday. Going through six rounds of judging over the two days and ultimately beating out 22 teams, they made it all the way to the semi-final round and earned a top four finish.
In moot court competitions, teams customarily have coaches that are faculty members or alumni from their school. Catiggay and Holland had a less orthodox coach. Holland explained that it was Liz Bowen (3L), associate and e-board member for Catholic Law's Moot Court Association, who stepped up and volunteered "to act as coach and to help us practice and keep us accountable." Catiggay added, "Liz Bowen really helped guide us during oral argument practice. Most competition teams from other schools have alumni coaches and actual professionals in the field to aid them in oral arguments, so the fact that we made it to the semi-finals in a national competition is a big accomplishment. I am proud of how we represented Catholic Law."
The ILC began in 2006 and is the NYU Moot Court Board's annual external moot court competition. The ILC focuses on cutting-edge issues in the field of Immigration Law and is judged by panels of distinguished NYU alumni and practitioners from throughout New York. Both Holland and Catiggay were proud of their experience, sharing some final thoughts on the weekend.
Holland shared, "we were definitely an underdog going in and I think we turned a lot of heads as Catholic Law had never before competed in this competition."
Catiggay reflected on the true importance of competition stating, "This weekend really was the true definition of 'hard work paid off.' While we may not have won the whole competition, the result is not what matters at the end of the day. What matters is we got to think on our feet, get better with feedback, and to learn to advocate and focus on our 'client's interest.' What matters is we became better oral advocates."