February 03, 2020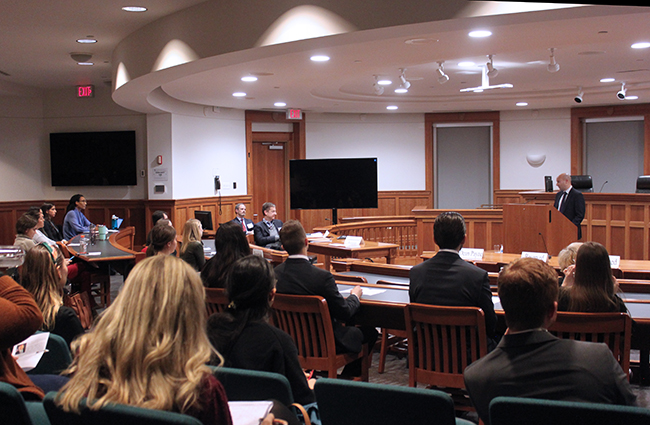 As part of its ongoing lecture series, Catholic Law's Securities Law Program hosted a discussion on proposed updates to proxy rules and regulations entitled Myths and Realities: Modernizing the Proxy Rules. The event featured Commissioner Elad L. Roisman of the Securities and Exchange Commission.
The January 30 program opened with a few words of welcome from Dean Stephen C. Payne. Following the dean, David Blass, Catholic Law lecturer and partner at Simpson Thacher & Bartlett LLP, provided a brief explanation of proxy voting, branding it one of the most sensitive topics at the SEC and in the business industry. He then introduced and welcomed Commissioner Roisman.
Commissioner Roisman opened the lecture by giving context to the SEC, namely that some of its rules have not been amended since 1954. From his perspective, the SEC's recent rule proposals to modernize the rules of governing proxy voting advice and to update the procedural requirements for re-submission thresholds under the Shareholder Proposal Rule are the SEC's attempts to make long overdue updates. Roisman then worked to dispel eight commonly held myths about the SEC and the proposals. The program closed with questions from the audience. With a clear passion for the topic and hope for proper update, Commissioner Roisman concluded, "for too long, I think, it's been easy for us to kick the can down the road."
Following the presentation, students and guests were invited to continue conversation at a small reception in the Keelty Atrium.