December 06, 2019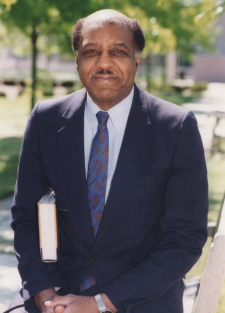 As The Catholic University of America Columbus School of Law remembers Professor Emeritus Leroy D. Clark, we would like to share the tribute written by the NAACP Legal Defense and Education Fund (LDF):
NAACP Legal Defense and Education Fund
Date: December 6, 2019
LDF mourns the loss of civil rights attorney, law professor, and former LDF Counsel Leroy D. Clark. Mr. Clark passed away last week in Washington, D.C. He was 85 years old.
Mr. Clark was born on April 27, 1934 in New York, New York. He received his Bachelor of Arts degree from the City College of New York in 1956 and earned his law degree from Columbia University in 1961. He spent his early legal career at LDF, serving as a staff attorney from 1962 to 1968 — during the height of the civil rights movement.
In his first few years at LDF, Mr. Clark primarily worked in Florida, handling several school desegregation cases, along with others related to fair employment and criminal justice reform. He also partnered with local attorneys across the state to file suits to desegregate businesses, including restaurants, hospitals, parks, and a barbershop.
In the mid to late 1960s, Mr. Clark played an integral role in LDF's civil rights work, serving alongside former LDF Director-Counsel Jack Greenberg to represent some of the most prominent and history-making civil rights icons and activists of that era.
"Leroy Clark was involved in representing civil rights activists at the some of the most critical moments of the civil rights movement," said Sherrilyn Ifill, LDF's President and Director-Counsel. "He was just a few years out of law school when he was entrusted by then-Director-Counsel Jack Greenberg with handling some of LDF's most important work, including the development of LDF's portfolio of cases that directly focused on the intersection of poverty and race. He was a leader in the academy for decades and remained dedicated to the issue of justice and equality that he advanced as an LDF lawyer."
Indeed, Mr. Clark was the supervisor of legal representation during LDF's partnership with Dr. Martin Luther King, Jr.'s Poor People's Campaign, a weeks-long 1968 protest to secure economic justice and equality for people of color. In this role, Mr. Clark helped put together a comprehensive plan for LDF staff and volunteers to assist in carrying out campaign directives, something which former Director-Counsel Greenberg highlighted in his book, Crusaders in the Courts. Beyond his work with the Poor People's Campaign, Mr. Clark also provided legal support for protesters during many other historic civil rights demonstrations, including the Mississippi Freedom Rides, the Selma marches, and the St. Augustine movement, among others.
Click here to read the full tribute.