December 04, 2019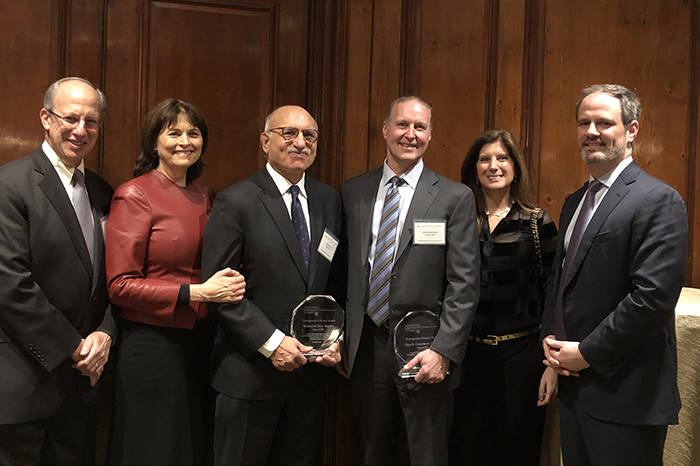 (Pictured left to right: Jeffrey Puretz; Patricia Starr; Richard Starr; Chris Concannon; Carla Concannon; Stephen Payne)
On December 3, 2019, Catholic Law Alumni gathered at The Yale Club of New York to celebrate the Christmas season and honor Distinguish Alumni Award awardees. Alumnus Francis J. Hearn, Jr. '89 welcomed guests to the event before turning things over to Dean Stephen C. Payne for the presentation of the awards. This year's recipients were Richard M. Starr '79 and Chris R. Concannon '94. In their remarks, both Starr and Concannon noted the strong network and supportive community Catholic Law provided for them while students and continues to provide for them in achieving their career goals.
Starr is the Executive Vice President and Managing Counsel at American Express Company in New York City. He joined American Express Company in 1989 and in his current role is responsible for the legal practice groups that provide support for the company's securities, finance, investor relations, and mergers and acquisitions activities and for the American Express Corporate Secretary's Office.
Concannon has been President and Chief Operating Officer of MarketAxess since January 2019. He oversees day-to-day operations, corporate development, long-term technology strategy, and global data strategy. Prior to stepping into his current role at MarketAxess, Concannon was most recently the President and Chief Operating Officer of Cboe Global Markets Inc, where he was responsible for Cboe's transaction businesses, including Global Derivatives, U.S. and European Equities, and Global Foreign Exchange – as well as overseeing the company's Technology, Operations, Risk, and Marketing divisions. Prior to his role at the Cboe, Mr. Concannon was the Chief Executive Officer of Bats Global Markets, where he led the company's initial public offering in 2016, as well as its acquisition by the Cboe in February 2017.
As the evening wound to a close, Dean Payne gave a few closing remarks in wishing each member of the Catholic Law Community a Merry Christmas and happy holidays.