November 25, 2019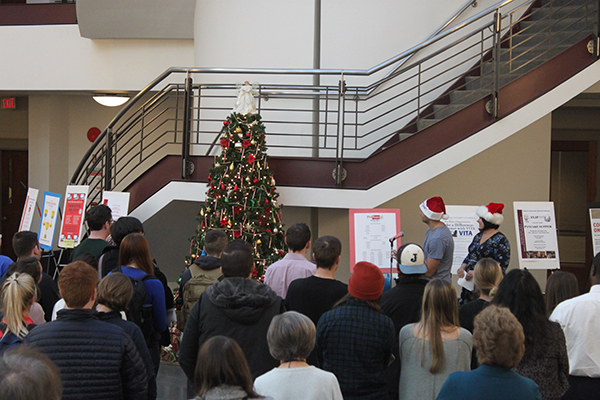 With the fall semester drawing nearer to its end, and the Louise H. Keelty and James K. Keelty, Jr. Atrium adorned with holiday trimmings, members of the Catholic Law community enjoyed a short break in the day and joined together for the Columbus School of Law's Annual Christmas Tree Lighting Ceremony on November 25.
Assistant Dean for Student Affairs and Dean of Students Katie Crowley welcomed the group of students, faculty, and staff, and invited everyone to raise their voices together in song. Including a round of carols in the ceremony for the first time, the melodic verses of "O Come, O Come Emmanuel" echoed through the atrium, led by Alexander Hamilton (3L), Katie Koopman (1L), and Anika Smith (3L). Crowley then introduced Fr. Jude, the University Chaplin, to offer a prayer and blessing over the tree. Fr. Jude's prayer reminded all in attendance that the tree "represents Christ by its light [and] our joy by its decoration." Following the blessing, SBA President Michael Cervino (2L) stepped forward and lit the tree which will stay lit for the remainder of the semester.
After the ceremony, students, faculty, and staff were invited to remain for a small a reception where they enjoyed light refreshments and each other's company. With warm beverages and warmer hearts, the Catholic Law community celebrated the start of another holiday season.