November 11, 2019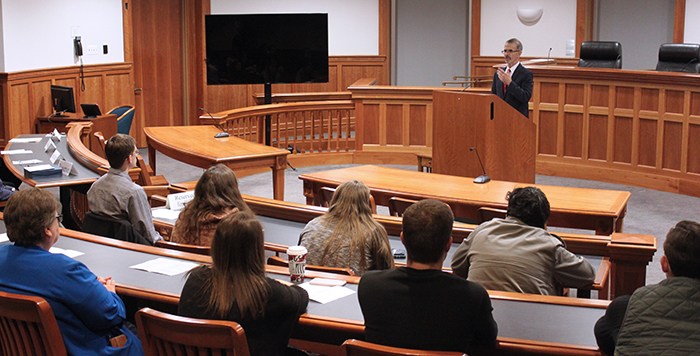 On the evening of November 7, Lawrence J. Morris, Chief of Staff and Counselor to the President of The Catholic University of America, delivered the 2019 Mirror of Justice Lecture entitled, "War Crimes, Justice, and the National Interest."
The audience was welcomed with a prayer and opening remarks from Alexander Hamilton (3L), President of the Saint John Paul II Guild of Catholic Lawyers. Hamilton offered a reflection on the namesake of the award and how Mary came to be a reflection of justice. He shared that each year the Guild, "picks a faculty member who reflects virtue, grace, and mercy in their vocation." Hamilton then outlined Mr. Morris' career in the military and at Catholic University and welcomed him to speak.
Mr. Morris thanked the Guild for his honor and began his address on justice in response to war crimes. Much of the work Mr. Morris did surrounding war crimes came in response to the 9/11 attacks, but to understand his work, he asked attendees to travel back in history to December of 1988 and the Lockerbie Bombing. As Morris explained, the event was "obviously a crime," but many argued that it wasn't just a crime, but an attack on America and the west. In the surrounding case, justice was delayed and unsatisfactory, but it did open up conversations about War Crime Commissions. Last used during World War II, could a decades dormant system work in modern times? Mr. Morris then brought the audience back to 2001, where he had joined a committee working to answer that question.
When the committee set out to write the rules for Commissions they wanted to think through two things: what about the legal landscape had changed since 1942 and which of those changes should they care about? They examined international law, questions regarding jurisdiction, the investigative process in war time, and ultimately, punishment. There was even conversation surrounding the visibility of trials. "By making the trials available to the public," Mr. Morris argued that the country "could better understand the 9/11 conspiracy, and the rest of the world would get a chance to learn those facts and see a fundamentally fair justice system at work." In the 18 years since 9/11, there has been continued work, times when the process has been stalled, and even questions of whether the whole commission process is just a historical artifact. As Mr. Morris wound towards his conclusion, he emphasized to audience members, "there is never any wasted work […] you are marinating yourself in greater depth."
While work must continue in the area of war crime justice, Mr. Morris ended his talk by saying, "I think our country is operating a system that is fundamentally just." Hamilton rejoined Mr. Morris, once again thanking him for seeking not only "justice for victims, but justice and mercy for our enemies through a due process." Hamilton then presented Mr. Morris his award.
Founded in 1989 by the Saint John Paul II Guild of Catholic Lawyers, a student organization of Catholic University's Columbus School of Law, the Mirror of Justice Scholars Award recognizes law school faculty members whose commitment to the teaching of the law and whose scholarship advances our insights towards achieving justice through law in contemporary society.
The award and lecture are founded on the consciousness of the demands of justice that arise from our professional responsibility as students of law. The Mirror of Justice Award and Lecture are dedicated to the ideals of charity and wisdom that are summed up in the titled of the Guild's Patroness: Mary, Mother of Justice.
Click here to view the 2019 Mirror of Justice Lecture on the Catholic Law YouTube Channel.