November 07, 2019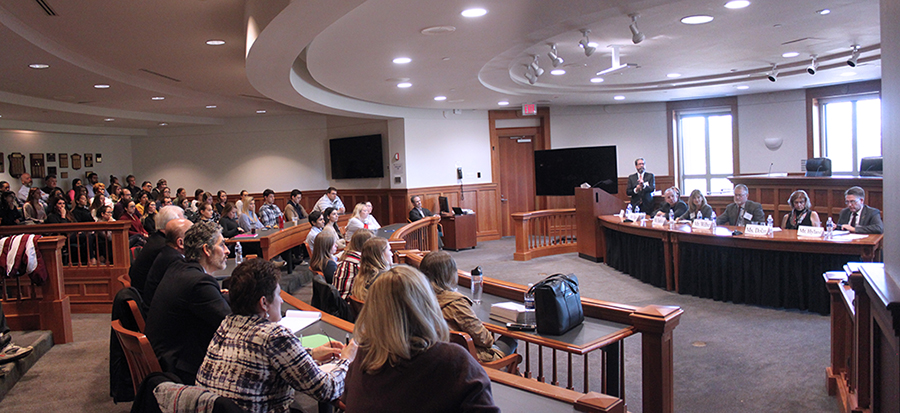 On Wednesday, November 6, students packed into Catholic Law's Slowinski Courtroom for A Conversation on Human Trafficking Policy Past and Future, co-sponsored by the International Law Students Association (ILSA), Criminal Law Society (CLS), and Latin American Law Students Association (LALSA). Professor Mary Graw Leary introduced the topic of human trafficking before turning the panel over to moderator Stephen Diaz Gavin '84, partner at Rimon P.C. Law Firm.
The visiting panelists were Kevin Hyland, United Kingdom's first Independent Anti-Slavery Commissioner; Christine Dolan, Investigative Journalist, former CNN Political Director, and President of Children in Slavery; Bob Hamer, former FBI Special Agent; Michele Sarkisian, President P3 Advisors; and Del Wilber, retired Department of Defense and Central Intelligence Agency. Each guest brought with them years of experience working against human exploitation and a different perspective on the issue.
To begin the conversation, Diaz Gavin asked each panelist to take a brief look back at society's handling of human trafficking during the last several decades. Several answers referenced acknowledging global shame at not being as far along in the process of ending human exploitation as we think. With the 20th anniversary of the Trafficking Victims Protection Act on the horizon, Hyland cautioned the audience, "don't look at the 20th anniversary through rose colored glasses."
The conversation moved forward to address questions ranging from "what is the single biggest challenge in addressing human trafficking" to "what is the principle public policy measure that should be adopted to stop trafficking." Time was also taken to discuss how the digital age has played a role in human trafficking and policy making. As the panel concluded, panelists stressed conscious capitalism and the need for each individual to hold higher standards of ethics. Final remarks also encouraged attendees to be the next generation of lawyers affecting policy and change—emphasizing how one individual can affect many potential victims. The panelists also tied the importance of this work to Catholic Law's mission of service to the marginalized.