November 04, 2019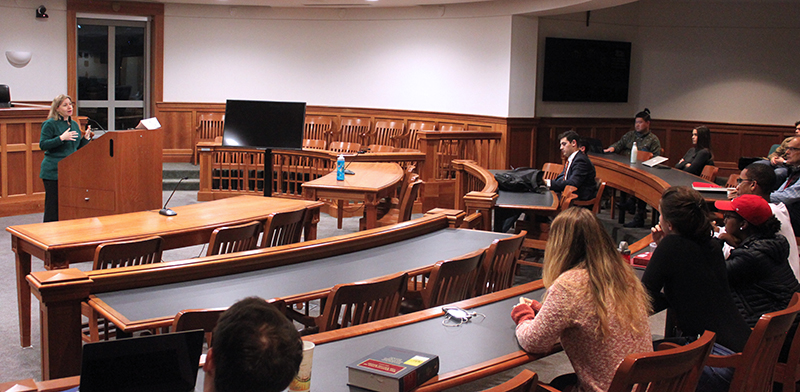 On November 4, 2019, Catholic Law's American Constitution Society (ACS) hosted an evening lecture entitled Benched: A Look into Judicial Nominations, It's Past, Present, and Future. Aimed at pulling back the curtain on the country's judicial nomination process, the lecture was led by Jill Dash, Vice President of Strategic Engagement for the ACS and President of the Women's Bar Association of the District of Columbia.
After a brief introduction by Eric Kim (3L), ACS Catholic Law Chapter President, Dash began the talk with a description of her department at the ACS. The ACS's Strategic Engagement department was created in 2014 and focuses predominantly on what Dash referred to as "pipe line work"—creating network connections, getting people involved in ACS, and getting individuals interested in becoming judges. As Dash described it, "everything you care about […] all runs through the courts" so each seat matters. She then went on to speak more about the current climate of the judicial nomination process.
Attendees were provided with statistics regarding judges appointed during the current administration before Dash revealed that some long-standing processes are being largely ignored. For example, at the circuit court level, judiciary committees have begun moving forward on nominees without waiting for the Blue Slip Process, which is a way for senators to signal their approval of a judiciary nominee to the White House.
The lecture concluded with a Q&A segment, during which time students in attendance were able to question short- and long-term solutions, the role discussing judicial nomination processes should play in the 2020 elections, and how to get more involved with ACS. As the group adjourned to the atrium for a small reception, it was clear that who the next round of judges will be is important for moving the judicial process forward.