October 17, 2019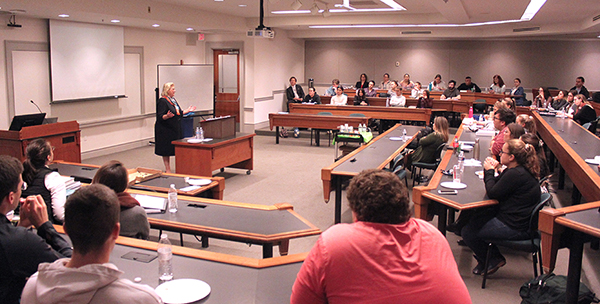 The Catholic University of America Columbus School of Law's first Faith In Action event of the semester featured Cynthia G. Wright, Assistant United States Attorney Homicide Section – Special Victims Unit, who gave a talk entitled "A Champion for the Silenced: The Prosecutor's Role as a Voice for Victim's Rights."
During the October 16 event, Wright discussed her faith and how it has helped her deal with some of the difficult cases that come across her desk. She also noted that although everyone wants to win, that can't always be the case. Still, those losses provide a voice for the victims and their families with whom she works. She sees the prosecutor's role as not only a representative of the state, but also a means by which those who have been the subject of violence, often of a terrible nature, can be heard. When those victims are children, that role is all the more profound.
Ms. Wright has been an Assistant U.S. Attorney in the District of Columbia since 1991 and works in the Homicide, Special Victim's Unit where she specializes in prosecuting cases involving the death of children. Ms. Wright has prosecuted hundreds of cases, including numerous child homicides, violent street gangs, domestic violence homicides, child sexual abuse cases, child pornography, and sex trafficking cases, as well as, numerous attorneys charged with contempt of court. Ms. Wright served as Deputy Chief of the Felony Trial Section from 2003 until 2007 and Acting Chief of the Victim/Witness Assistance Division in 2007 and 2008, and as Senior Litigation Counsel.
Ms. Wright prosecuted United States v. Carlos Curtis, one of the first sex trafficking cases in the United States presented to a jury. Curtis received a life sentence for prostituting girls as young as twelve-years-old. She received the Department of Justice Director's Award for her work in the Curtis case. She has earned seventeen Special Achievement Awards while at the U.S. Attorney's Office.
Ms. Wright was appointed by the U.S. Attorney and Mayor of the District of Columbia to serve as Co-Chair of the Child Fatality Review Committee and as Co-Chair for the Infant Mortality Review Committee for the District of Columbia in reviewing the deaths of children in the District of Columbia.