October 08, 2019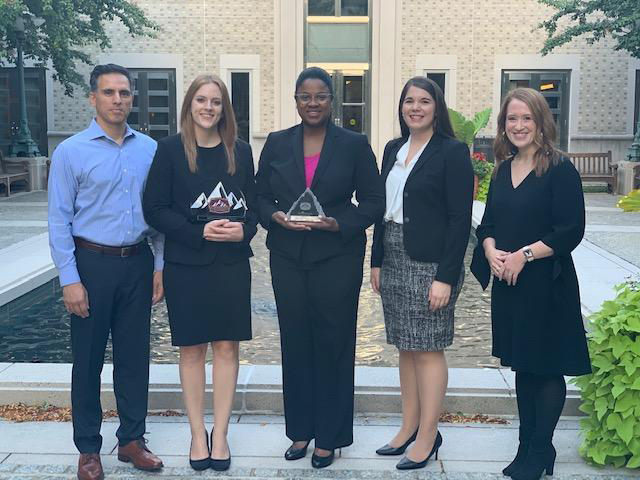 (From L to R: John Sharifi, Taylor Dontje, Vania Smith, April Currey, and Lindsey Cloud)
Catholic's National Trial Team got its season off to a strong start last weekend with a second place finish at the Summit Cup Trial Competition in Golden, Colorado. The Summit Cup is an invitation-only trial competition open to the top mock trial programs in the country, based on performance in major trial competitions the previous year. Hosted by the University of Denver Law School, the competition uniquely features lay jurors as part of the evaluation process. Representing the law school at the competition were Vania Smith (4E) and Taylor Dontje (3L). April Currey (3L) served as alternate. The team was coached by National Trial Team directors John N. Sharifi and Lindsey Cloud.
Twelve law schools competed in the tournament. There were four preliminary trials, after which Catholic and Northwestern were the two highest-scoring teams and faced off in the championship final—a showcase of incredible student advocacy before a six-person jury, which ultimately came down to a split ballot.
In addition to the excellent team result, Smith received the "Outstanding Advocate" award.
"This competition permits teams to use two to four advocates. Most teams used four. We decided to go with just two, requiring Vania and Taylor to each argue both sides of the case with little rest between trials. They rose to the occasion and then some. They pushed us into the championship round with skill, stamina, and sheer will. We are proud of how they represented the program," said Sharifi.
"The entire trial team shares in this result. Other team members, as well as several non-member students at the law school, contributed enormously during scrimmages and practices. We are grateful to everyone that helped make this happen," added Cloud.
The Summit Cup was held from October 3-5, 2019.
Final Results:
Champion – Northwestern
Championship Finalist – Catholic
Third Place – American
Fourth Place (tie) – Georgetown and John Marshall