September 05, 2019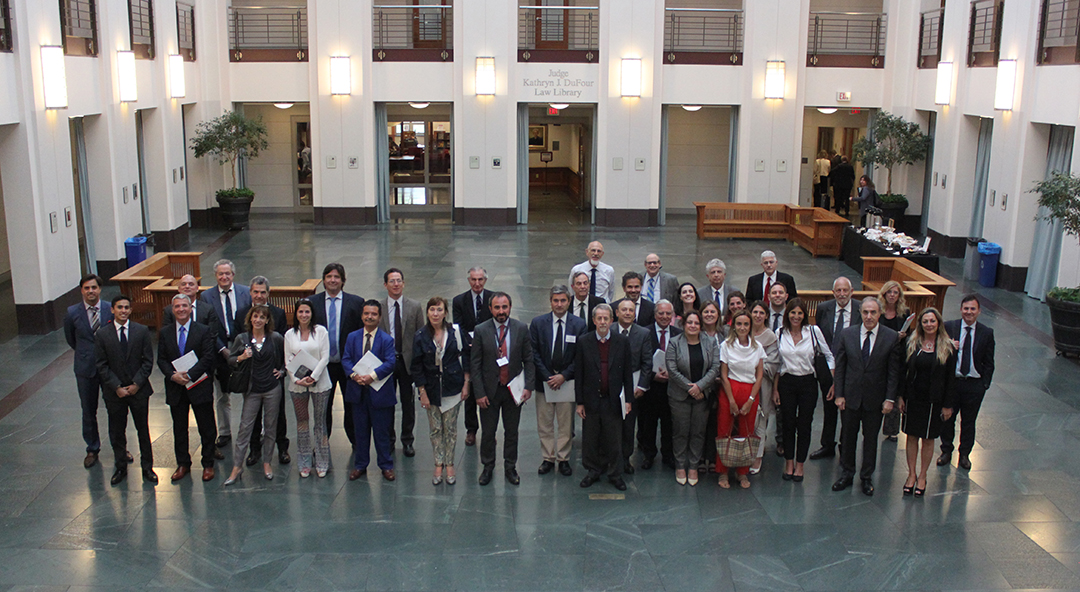 On September 5, 2019, the Exchange and Judicial Studies Academy, a group of judges, law clerks, and public officers from Argentina, visited The Catholic University of America Columbus School of Law. Dean Stephen C. Payne welcomed the group in the Slowinski Courtroom, and gave a brief overview of Catholic Law. The discussion continued with presentations by Professor Antonio Perez; William L. Saunders Jr., Co-Director of the Center for Religious Liberty and the Director of the Program in Human Rights; Professor Stacy Brustin, Director of the Immigrant and Refugee Advocacy Clinic; and 2L student Nicolas Valderrama. Following the presentation the group was taken on a tour of the Law School by Professor Clifford S. Fishman and Nicolas Valderrama.
Dean Payne had this to say about the visit,"it was an honor to have the distinguished judges from Argentina visit Catholic Law, and we hope to grow a continuing relationship with them in the future."
The Exchange and Judicial Studies Academy (EJSA) is an academic institution founded in 2010 by a group of judges. Their goal is to work on developing various programs for judicial education. The academy has organized a number of different programs throughout the years, both in Argentina and abroad. The programs have covered subjects such as judicial process, court's structure and administration, case management, judicial leadership, judicial ethic, criminal law, applied technologies, Human Rights, lawyers role in Court, intellectual property, environmental law, and international law. EJSA is focused on supporting the core values of judicial independence and assisting in the development of judges, prosecutors, law clerks, and other public officers.