August 29, 2019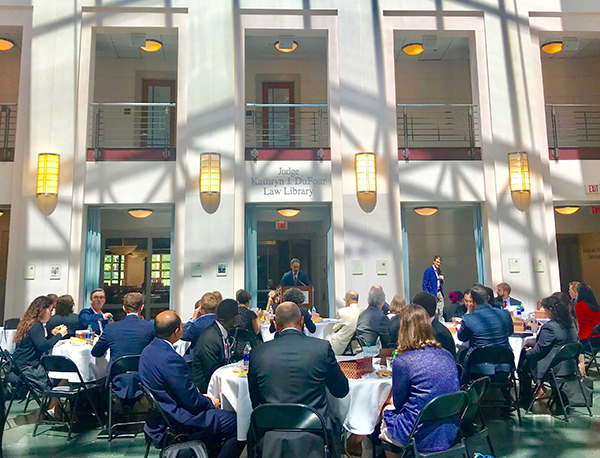 On Saturday, August 24th, 70 Law and Technology students, alumni, and volunteers gathered at The Catholic University of America Columbus School of Law for the Law and Technology Institute's (LTI) Inaugural Career Development Workshop. Organized by Professor Elizabeth Winston, co-Director of the Law and Technology Institute, the event drew volunteers from as far away as South Carolina, who came to mentor the next generation of LTI lawyers. 
The students began the day with a lecture from OCPD Director and Associate Dean Tonya Gaskins, who talked about how to interview and what a resumé, cover letter, and writing sample should look like. Each LTI student then participated in two mock interviews with government attorneys, partners in law firms, and practitioners at all levels engaged in communications law, intellectual property law and information privacy law. There were over 60 interviews conducted. After the mock interviews, each student received individual, constructive feedback about improving their interviewing skills.
The students also met one on one with alumni and volunteers to review and receive personal advice on the students' writing samples, resumes and cover letters. The Workshop concluded with a networking lunch at which Dean Stephen C. Payne introduced the Honorable Evan J. Wallach, of the United States Court of Appeals for the Federal Circuit. Judge Wallach's keynote address focused on the hiring process to become a judicial law clerk. As part of that process, Judge Wallach discussed how important a good cover letter was and emphasized the usefulness of being able to answer challenging and difficult questions during an interview.
Overall, the event was a success, with students and alumni building new connections, hearing useful advice, and planning to participate again next year.  
Peter Kim (3L) had this to say about the event, "It was wonderful talking to alumni in a practical way. The event truly embodied both the strength of the Catholic Law community and the LTI mantra of 'paying it forward'."
Michael Nemcik (3L) also noted, "The first annual LTI Career Development event was incredibly helpful in preparing me for the job application and interview process. Not only did it give me the opportunity to strengthen the skills needed to secure my first job, but it also allowed me to meet alumni in the field who are interested in helping me succeed outside of school. I look forward to returning as an alumni so I can participate in this event and provide assistance to other students."
Related News