August 08, 2019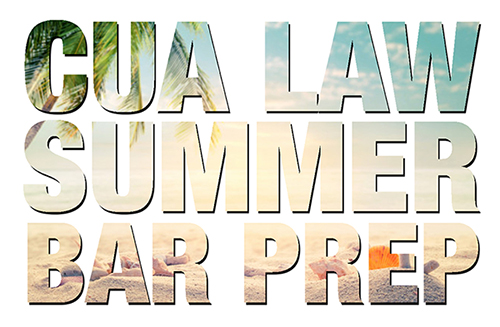 This summer CUA Law graduates had the opportunity to attend a Summer Bar Prep Program on campus hosted by the Office of Academic Affairs. Twice a week from mid-May through mid-July, graduates sitting for the bar were invited to attend a free catered lunch at the law school and receive bar exam essay questions, which they submitted for quick and constructive feedback from alumni volunteers.
In addition, once a week students were provided a subject-specific quiz and given the opportunity to attend, or remotely watch, a review session where a faculty member extensively reviewed each question. All of this is designed to supplement the commercial bar prep courses and ensure that students are prepared to take and pass the bar exam.
Bryan McDermott, Director for Academic Affairs, said, "this program is one way of showing that our commitment to our students does not end at Commencement. Thanks to the outstanding support from our alumni [more than 50 volunteered their time this summer] we have been able to provide all of our graduates the opportunity to work one-on-one with a CUA alumnus and receive support and feedback to help them succeed on the bar exam. In the three years that the program has been in existence, we have seen an increase in participation from 38% of the graduating class to over 75%. We are thrilled that this program has become another part of the CUA Law experience."
CUA Law's Office of Academic Affairs hosted lunches on the two days of the bar exam for students taking the bar in D.C., Baltimore, and Virginia.
Alumni or recent graduates interested in more information about Bar Prep Programs can contact Bryan McDermott at mcdermottb@law.edu with any questions.