July 08, 2019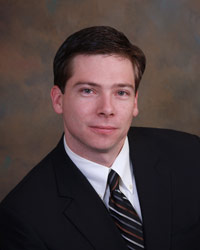 CUA Law alumnus, Peter Casciano '07, was honored with the 2019 Trailblazer Award from the Greater Silver Spring Chamber of Commerce for his year of distinguished service to the Chamber and the greater community. GSCC presented the award during its Awards and Installation Dinner on June 27, 2019.
Casciano provides counsel for clients in the areas of disability, civil and criminal law as a partner at Andalman & Flynn, P.C., He has been named a "Rising Star" for four consecutive years by Super Lawyers of the State of Maryland and Washington, DC. "Peter's legal acumen and commitment to his clients is extraordinary, as are his continued contributions to our Chamber and all of Silver Spring," said Jane Redicker, GSSCC president and CEO.
Casciano volunteers his time and talents to help those in need. He serves as a legal advisory board member for the National Multiple Sclerosis Society, volunteers as a judge for CUA Law's Moot Court Competition, runs in marathons in support of various charities and represents some clients on a pro-bono basis.
At GSSCC, he serves on the Chamber Board of Directors and is a founding member and leader of the Chamber's current Young Professionals' Network. In this role, he has helped create programing that includes networking, educational and social opportunities for future community and business leaders.
Click here to read the full article.