May 31, 2019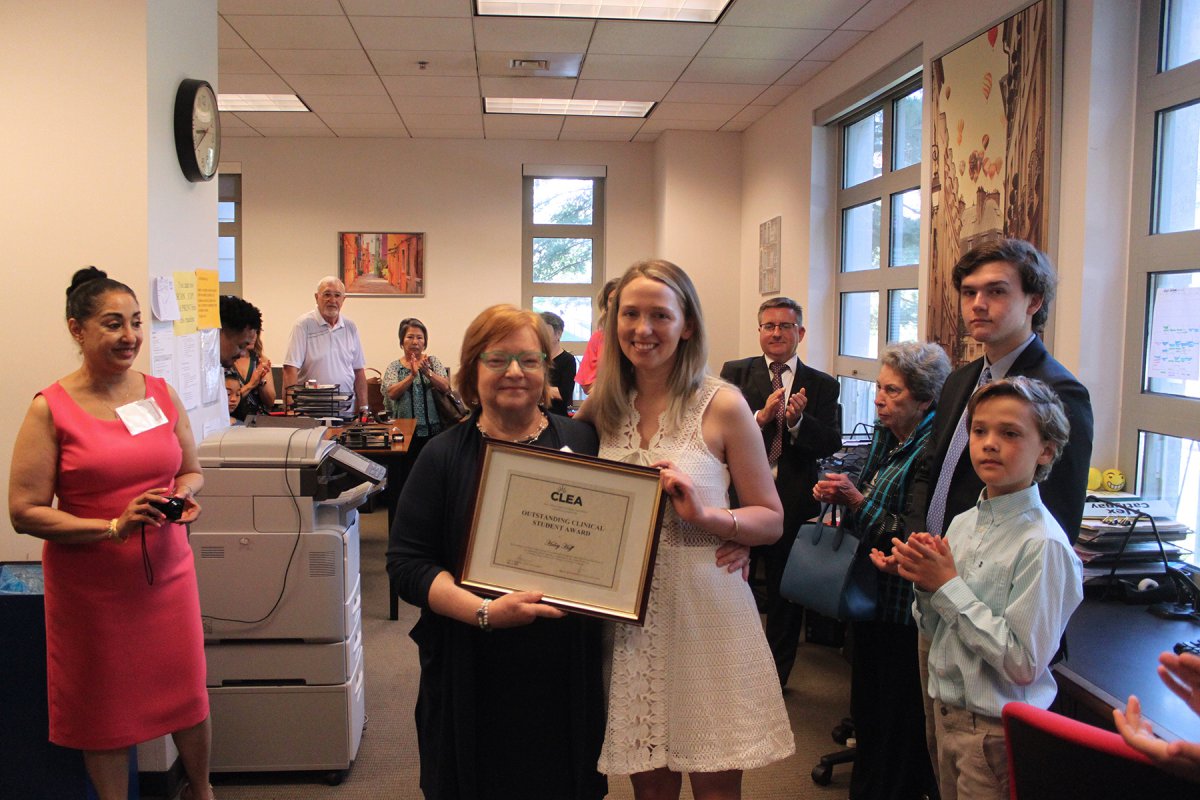 On the morning of Commencement the Columbus Community Legal Services (CCLS) held its annual breakfast reception, a Celebration of Learning Through Serving, in honor of the CCLS class of 2019 graduates.

During the breakfast, Haley Hoff was presented with the Clinical Legal Education Association 2019 Award. The award, created by the Clinical Legal Education Association (CLEA), honors one law student at each law school who has excelled in a clinical course and who has demonstrated high quality representation of clinical clients. The full-time clinical faculty, who are members of CLEA, are asked to nominate a single nominee from their law school.

"Haley started in the Families and the Law Clinic during the Spring 2018 semester. We hired her as one of summer student attorneys (only the most successful clinic students are asked to return in the summer), and she returned in the Spring 2019 semester. In fact, Haley never left clinic once she joined. She frequently volunteered to speak to prospective students to share her views on why clinic was the best thing about law school.

Haley handled an array of challenging cases. She handled a range of cases from emergency domestic violence cases to Special Juvenile Status Cases to tax cases. She excelled at sorting through complex and sometimes contradictory facts and then finding and applying the law. She never hesitated to dive into unfamiliar legal issues, and her analysis was consistently insightful. She has continued to refine those skills during her tenure in the clinic.

Haley has a strong work ethic. Words like "reliable" and "dependable" do not really capture the level of confidence we have in Haley's work. She is the student we all came to depend on to do excellent work on her cases, to gracefully accept any assignment, and to enthusiastically promote the clinic to other students. She relates well to everyone-staff, other students, parties in litigation, clients-and her considerable interpersonal skills round out her impressive analytical ability. She has benefited greatly from being in our clinic, and we have benefited greatly from having her here. With this nomination we acknowledge her keen intellect, her good humor, her empathy, and her commitment to social justice," the CCLS staff said.

Nastashia Matos and John Jae Terry also received the Outstanding Contribution to Columbus Community Legal Services Award.