April 16, 2019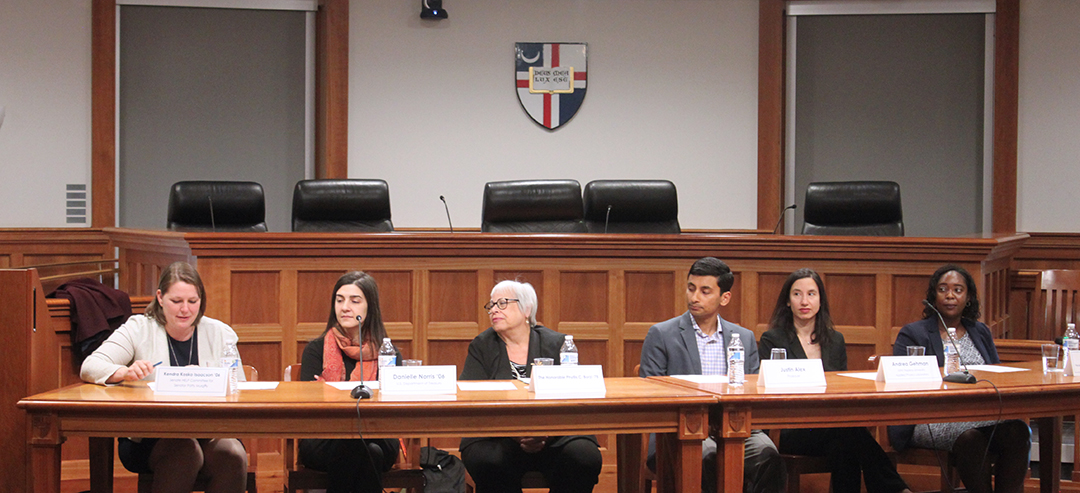 On March 27, the Office of Career and Professional Development (OCPD) and the American College of Employee Benefits Counsel (ACEBC) co-sponsored a panel discussion on Careers in Employee Benefits Law. Panelists included: Phyllis Borzi '78, former Assistant Secretary of Labor, Employee Benefits Security Administration; Danielle Norris '06, MPRA Director, U.S. Department of the Treasury; Justin S. Alex, senior associate and a member of the Employee Benefits & Executive Compensation Group; Cameo Salembier, staff attorney at the Office of the Chief Counsel, Pension Benefit Guaranty Corporation; and Andrea Gehman, Senior Associate, General Counsel Benefits, Employment & Privacy at The Johns Hopkins University Applied Physics Laboratory. Kendra Kosko Isaacson '06, Senate HELP Committee for Senator Patty Murray, moderated the event.
The panelists spoke about their career trajectories and discussed The Employee Retirement Income Security Act (ERISA) of 1974 a federal law that sets minimum standards for most voluntarily established retirement and health plans in private industry to provide protection for individuals in these plans.

Following the panel, students were invited to a reception with alumni in the Keelty Atrium for a chance to network and engage in conversations.