April 16, 2019

Dean's Awards I First Lap Award I Mary E. Card Award I Vincent Miraglia Award I Extra Mile Awards I  I Marathon and Triathlon Awards I Melissa Hamann Awards I Cardinal Hickey Award I Faculty & Staff Awards     I Columbus Awards I         
As the academic year winds down, the 2019 Columbus Award Night continued the longstanding spring tradition of honoring CUA Law students, faculty, and staff for their service to the law school community. The April 12 evening featured class skits, both live and recorded. Awards for Pro Bono service, professional excellence, and service to the law school were awarded to students, faculty, and staff.

The 2019 Columbus Award Night categories and winners are listed below. To view other photos from the evening's festivities click here.
Dean's Awards


American Constitution Society Daniel Enos

Asian Pacific American Law Student Association Victoria-Kamala Garnett

Black Law Students Association Onyinyechi Onungwa

Criminal Law Society Gemma Forest

Council on Professional Conduct Elizabeth Bowen

Delta Theta Phi Haley Hoff

Evening Law Students Association Patrick Burke

Environmental Law Society Kieran Reilly

The Federalist Society Brittany Shalla

Immigration and Refugee Interest Society Daniel Enos

International Law Students Association Alicia Raft

Irish American Law Students Association Caitlin McClay and Jeremy Kelly

Law and Public Policy Student Association Sandra Sawan

Law and Technology Students Association Lauren Huston

Military and National Security Law Students Association Erin Luibrand

The Parent Group Tamara West

Phi Alpha Delta Jocelyne Spezio

Republican National Lawyers Association Rebecca Benedetto

Saint John Paul II Guild of Catholic Lawyers Alexander Hamilton

Securities Law Students Association Aliza Khan and Joseph Moran

Sports and Entertainment Law Society Bart Lambergman

Street Law Elizabeth Ulan

Student Animal Legal Defense Fund Kieran Reilly

Student Bar Association Willie Burden

Students for Public Interest Law Brittany McNurlin

Women's Law Caucus Claudia Kopenski and Rebecca Schisler

The Catholic University Journal of Law and Technology Katelyn Holbrook

The Catholic University Law Review McKenzie Miller

Moot Court Association Evan Berlanti
For dedicated service to the law school community during the first year of law study
Michael Cervino
Thomas Dillon
Jack Emmer
Alyssa Fetterolf
Hannah Huval
Lauren Irish
Kristen Miller
James Ryan
Aimee Solano
Emily Thomas
Mary Turgeon
Nicolas Valderrama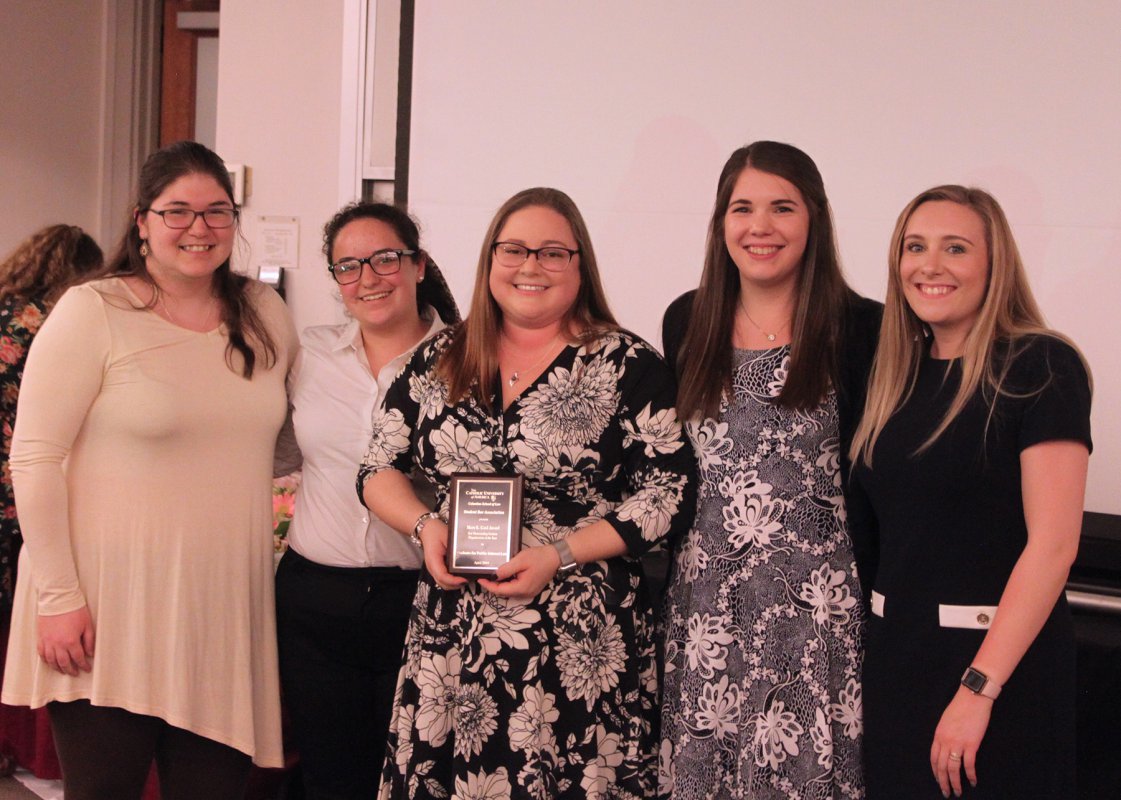 Mary E. Card Award for Outstanding Student Organization of the Year

Students for Public Interest Law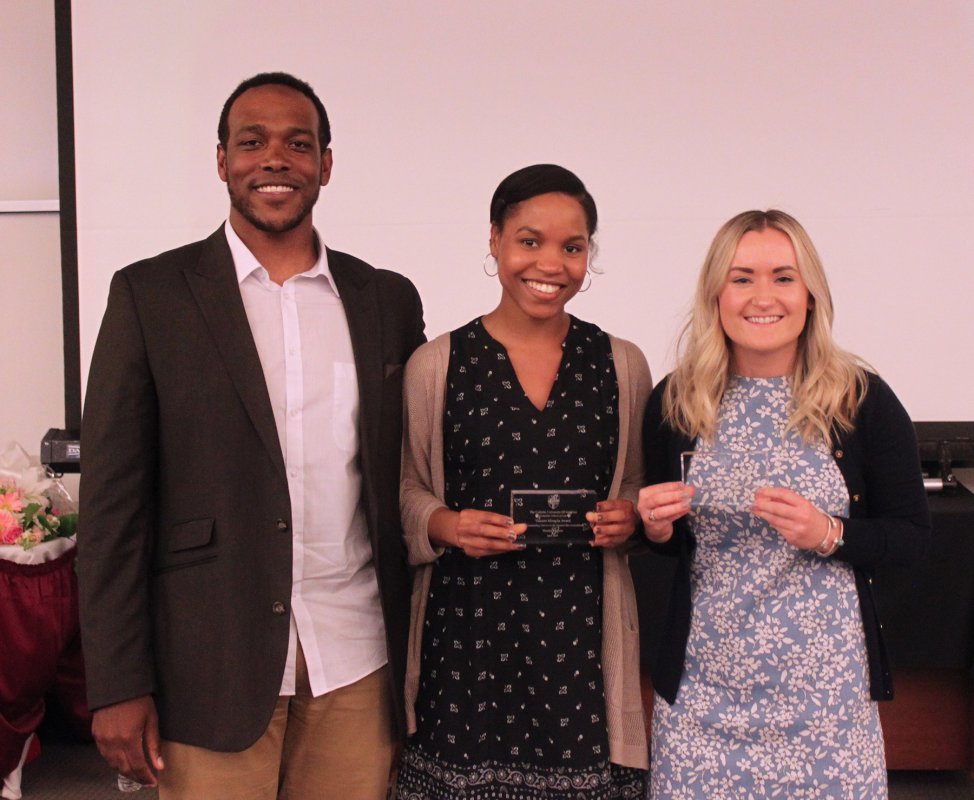 Vincent Miraglia Award for Outstanding Service to the Student Bar Association
Nneka Maceo
Gemma Forest
Elizabeth Bowen
Christian Carrara
Michael Chavez
April Currey
Christine Donfrancesco
Patrick Fullem
Willistine Harris
Peter Kim
Richard LaMura
Nneka Maceo
Paige Markley
Rebecca Rougier
Logan Samuels
Rebecca Schisler
Brittany Shalla
Anika Smith
Theodore Warner
Tamara West
Jennifer Brooker
Willie Burden
Rebecca Deverter
Gemma Forest
Ashley Greaf
Katelyn Holbrook
Caroline Lannon
Caitlin McClay
Brittany McNurlin
Jordanne Miller
Sandra Sawan
Vania Smith
Jae Terry
Elizabeth Ulan
Anne Ustynoski
The Triathlon Award
Patrick Burke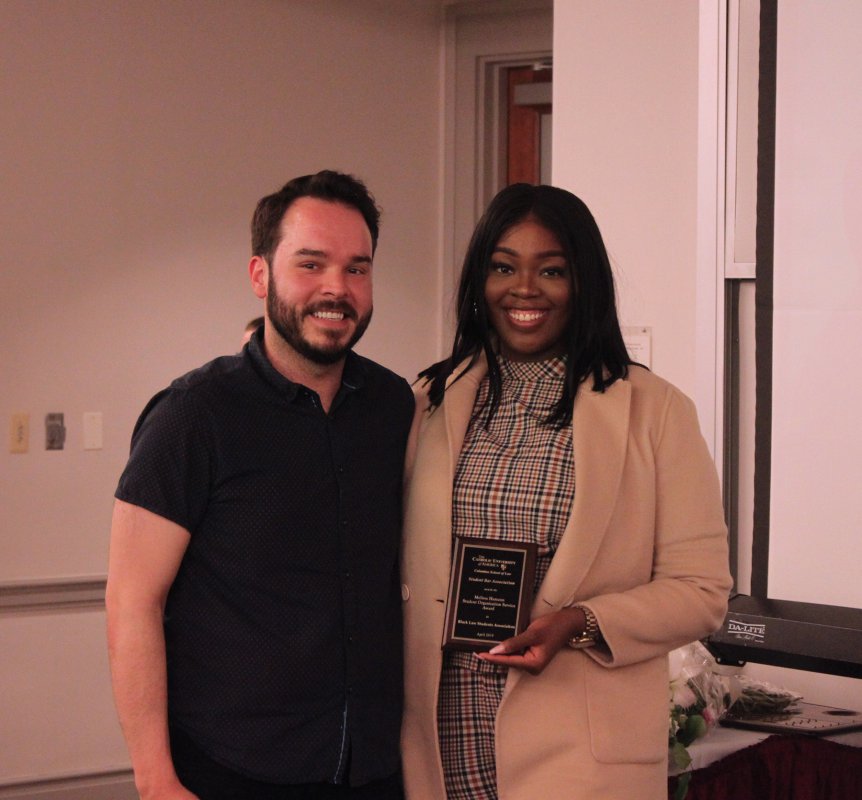 Melissa Hamann Award for Outstanding Community Service by a Student Organization

Black Law Students Association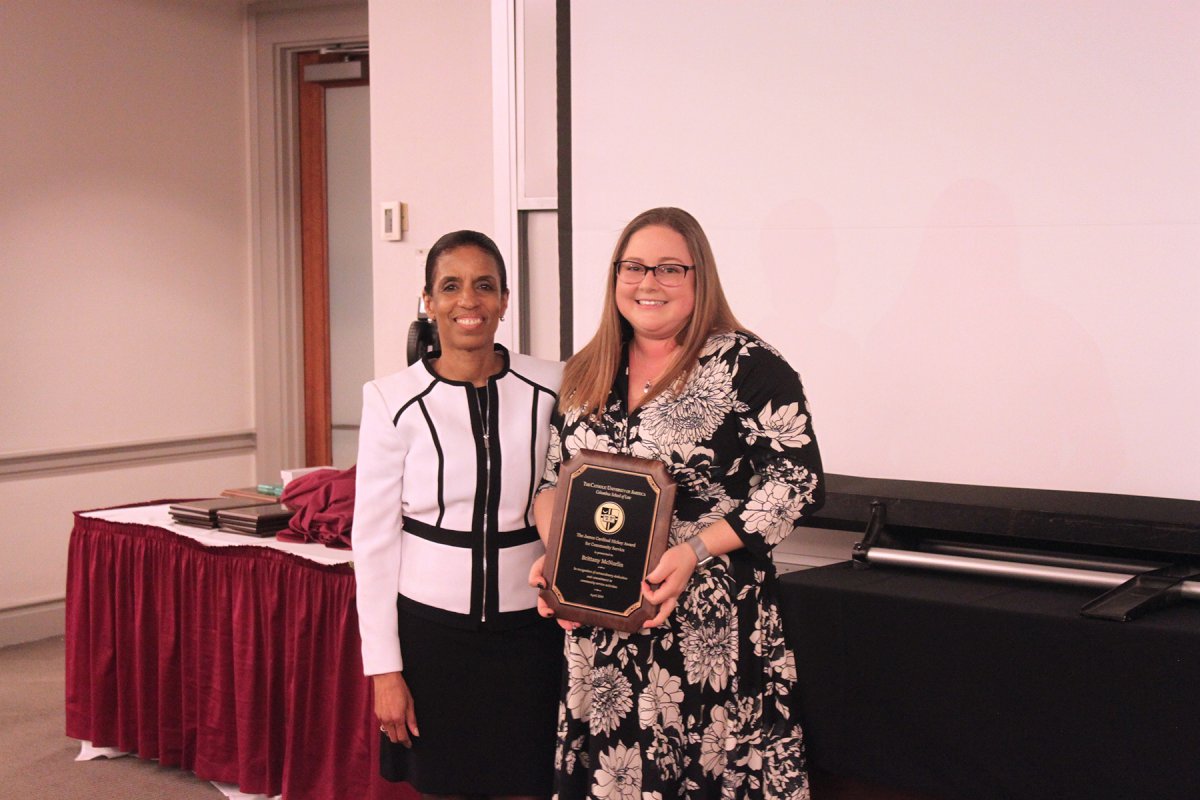 Cardinal Hickey Community Service Award

Brittany McNurlin

Faculty and Staff Awards
Outstanding Professor for First Year Classes: Kathryn Kelly
Most Supportive Professor: Sarah Duggin
Outstanding Adjunct Professor: Daniel Zachem
Outstanding Professor for Evening Classes: Daniel Zachem
Professor of the Year: Mary Leary
Staff Member of the Year: Emily Sobieski
Administrator of the Year: Katherine Crowley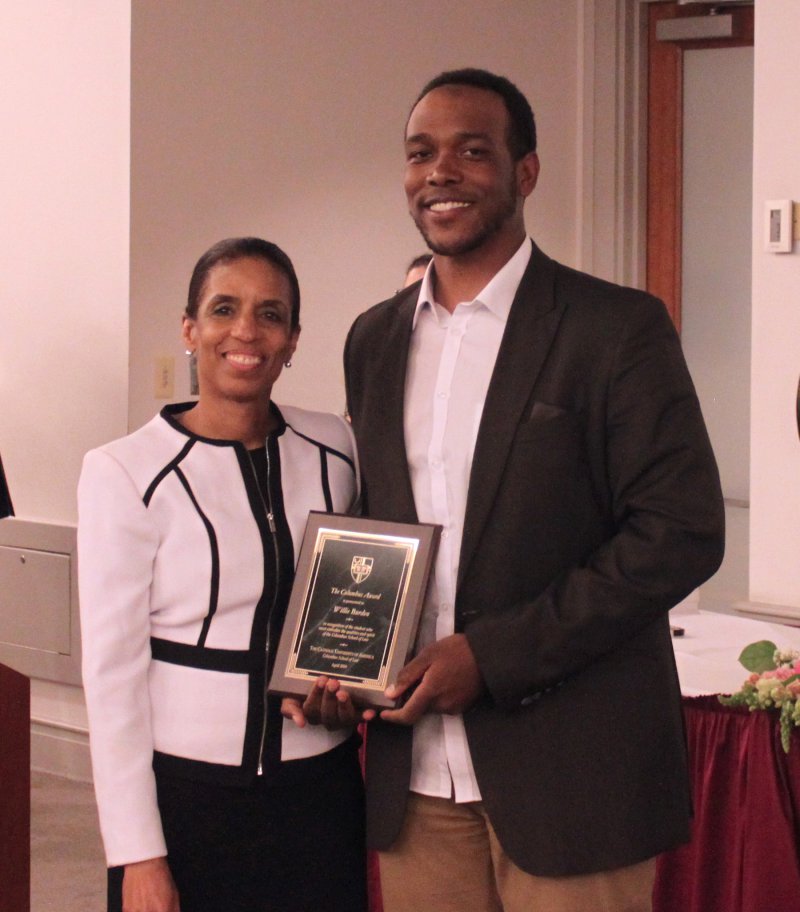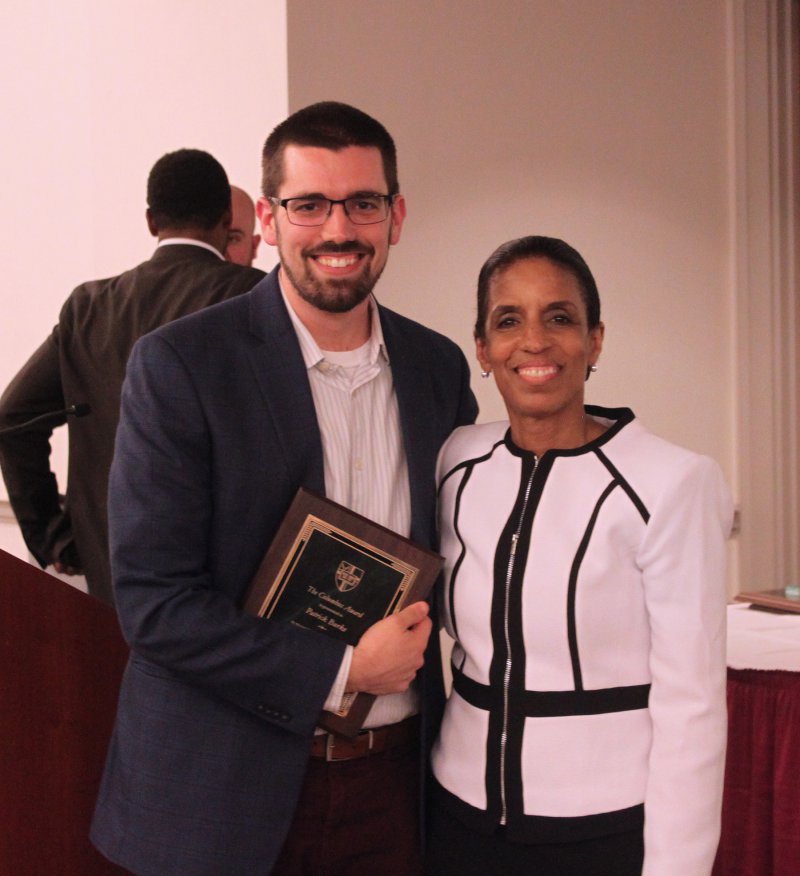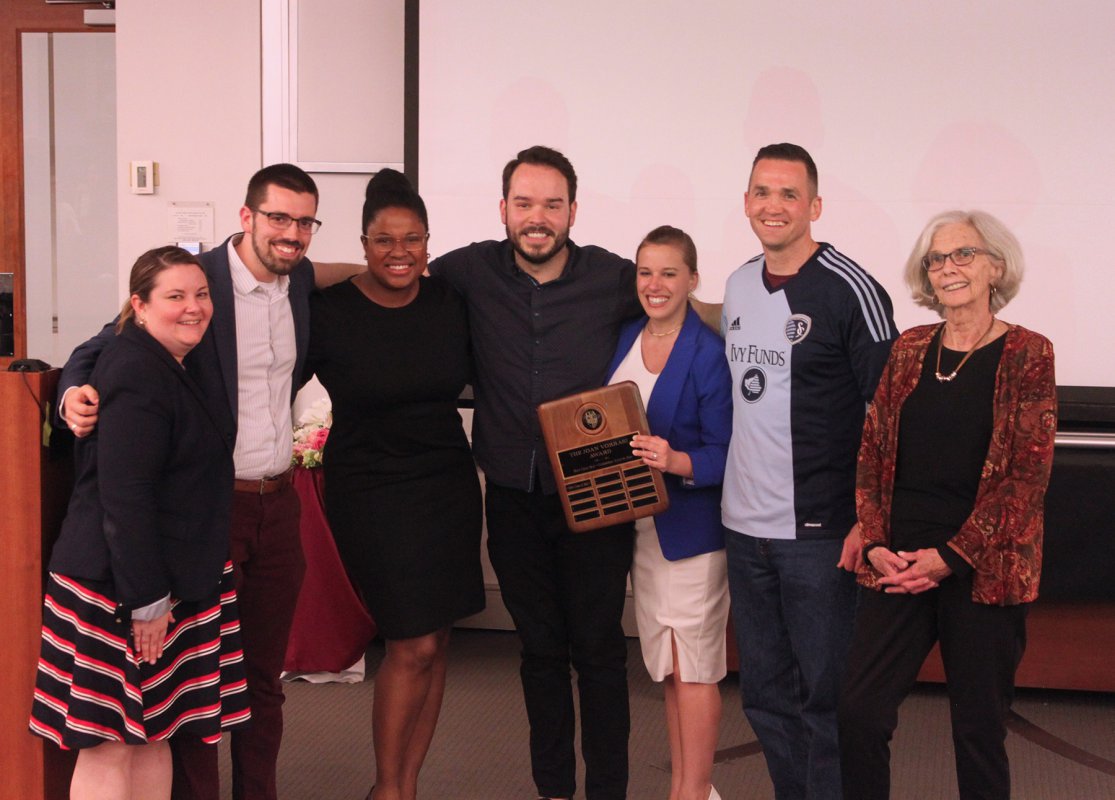 The evening division won the coveted Joan Vorrasi Award for best skit.