April 09, 2019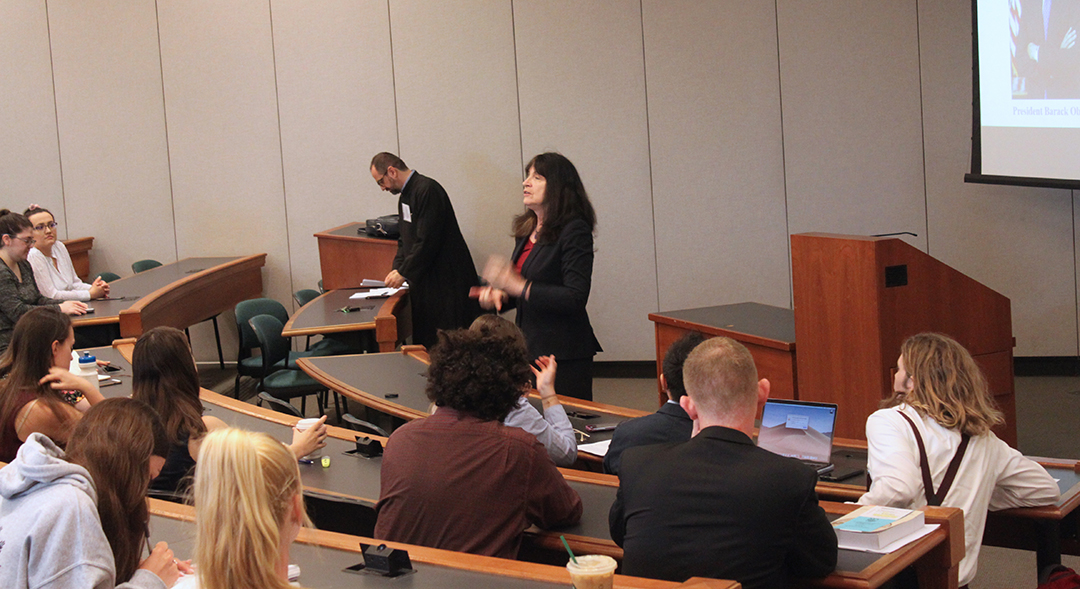 Members of the CUA Law community took part in the Fourth Annual Catholic University Research Day held on Thursday, April 9, 2019. Research Day brings students and faculty out of their classrooms and labs to share their work and learn about the breadth of scholarly endeavors taking place beyond their own areas of study. This year's Research Day marked the largest turnout and participation in the event's history, with a record 358 submitted proposals, 85 oral presentations, and 149 posters.
CUA Law Professor Sarah Duggin gave an oral presentation, The Constitution's Natural Born Citizenship Provision, the Courts & the 2020 Election. Duggin explained that it's not clear what the framers of the Constitution meant regarding the Natural Born Citizenship Provision, and that it is not settled law because the Supreme Court has never directly ruled on the meaning. She stated in recent decades, the provision has become increasingly significant in our politics as Americans have been born in other nations to military and diplomatic personnel and to others traveling or visiting abroad. The question is "is it enough to be naturalized at birth or must one be born in the territorial United States?"

Various presidential hopefuls have been influenced by this provision such as: John McCain, Ted Cruz, George Romney, and Barry Goldberg. There have also been challenges to former President Obama and Senator Kamala Harris' places of birth.

"The Natural Born Citizenship Clause confuses people. It generates unfounded questions about the constitutional qualifications of people like President Obama and Senator Harris," she said. Duggin discussed that the greatest danger is confusion regarding the provision. "Do we really need the Natural Born Citizenship Clause anymore? I don't think so. But as long as we have it, it is really important that we all understand it."

The following CUA Law students also gave oral presentations:
Rebecca DeVerter (3L), The Invisible People: North Korea's Use of State Sponsored Slavery
Jude Antonyappan (2L), Balancing Loyalty and Ethics: Corporate Social Responsibility and Compliance Challenges
Elizabeth Bowen (2L), Human Trafficking and Native Americans
Lauren Huston (2L), The Next Frontier for Big Data: Dismantling Human Trafficking Networks?
Mikhayla Stover (1L), Feminine Agency and Power in the Gospel of St. Luke

The following CUA Law students presented research posters:
Liz Carney (3L), U.N. Peacekeepers and Sex Trafficking: A Demand for Policing and Prosecuting "Peace-Builders"
Taylor Dontje (3L), For Profit Prisions: Legalized Human Trafficking
Tiare-Tiave Faatea (3L), Human Trafficking in American Samoa: Where Commerce, Culture, and the U.S. Constitution Clash
Christopher Gerber (2L), The Commercial Drone Industry Remains Grounded
Rachel Goloff (3L), Juvenile Victims/Defendants of Human Trafficking
Joseph Theis (2L), International Lampoon: A Comparative Analysis of Parody Provisions in U.S. and U.K. Legal Doctrine within a Digital Framework
The scholarship of the Catholic University Journal of Law and Technology was also on display.