April 10, 2019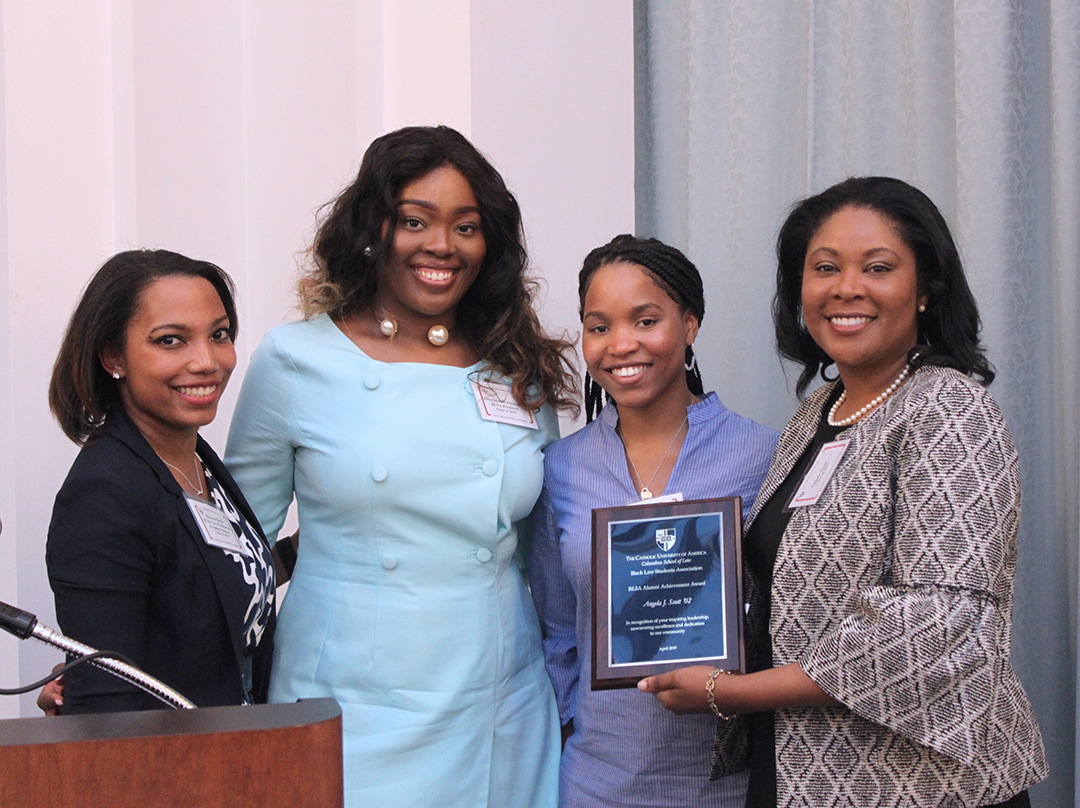 On the evening of April 3, 2019, students, alumni, faculty, staff, and guests gathered at The Catholic University of America Columbus School of Law for the 25th annual Black Law Students Association (BLSA) Alumni-Student Reception honoring Angela J. Scott '02, Attorney-Advisor at the U.S Department of Health & Human Services Office of the General Counsel, Civil Rights Division.
The audience was welcomed with opening remarks from BLSA Day Vice-President, Nneka Maceo (2L) "This year BLSA's initiatives were designed to explore our theme "Access to Justice", and its application in social, cultural, and political climates. As a whole, we participated in pro bono activities, organized round table discussions on current issues, and continued to grow as an organization," Maceo said.
Dean Regina T. Jefferson also provided opening remarks. "For their service to the law school, BLSA has been recognized as the student organization of the year. On behalf of the law school, I would like to thank the members of BLSA and the Executive Board," Dean Jefferson said.
BLSA Evening Vice President Rayven Davis (3E) introduced Scott. "Angela Scott is an accomplished lawyer with over 15 years of experience within the federal government. Currently, Ms. Scott serves as an Attorney-Advisor for the U.S. Department of Health & Human Services, Office of the General Counsel, Civil Rights Division. Prior to her position at HHS, she served as an Assistant State's Attorney in Baltimore City and a Judicial Law Clerk in the Seventh Judicial Circuit of Maryland for the Honorable Melanie M. Shaw Geter. In her current role she advises the HHS Office for Civil Rights (OCR) on complaint investigations, compliance reviews and settlement negotiations arising out of race, color, national origin, age, sex, religious freedom and disability discrimination allegations. She participates in all aspects of the Administrative Law and Enforcement process for OCR under Title VI of the Civil Rights Act of 1964, the Americans with Disabilities Act (ADA), Section 504 of the Rehabilitation Act, the Age Discrimination Act, Title IX and Section 1557 of the Patient Protection and Affordable Care Act of 2010. She also advises other components of HHS on policy initiatives that may have federal civil rights legal implications," Davis said.
Scott began her address by thanking CUA Law and BLSA. "I would like to thank BLSA for considering me for this honor and finding me worthy of it," she said. "When I was a student BLSA was very important to me, and I am thrilled to see it thriving under the leadership of the current executive board."
During her address Scott described how she is fortunate to work in a field consistent with her values. "I am fortunate enough to be working in a field that is consistent with my values. And my values are such that I believe everyone is equal regardless of race, color, national origin, disability, sexuality, religion, or socioeconomic status. I am a civil attorney, advocate, community activist, and a servant leader."
Throughout the evening, Scott delivered advice to current law students. She began by reminding students the importance of not doubting their worth.
"You belong here. Stop doubting yourself. If you were not supposed to be here, you wouldn't be here," she said.
She told students to cherish their new and old friendships while in law school.
"Your law school friends are actually in your profession. In addition to genuine friendships you are forming, your classmates will help you in the future. My BLSA friends are high power lobbyists, vice presidents of major corporations, general counsel, county council members, senior attorneys within the federal government."
Scott also spoke about prioritizing family, the importance of documentation in the workplace for students of color, and the knowledge that a CUA Law education will prepare students for a legal career. Click here to view other photos from the event on the CUA Law facebook page.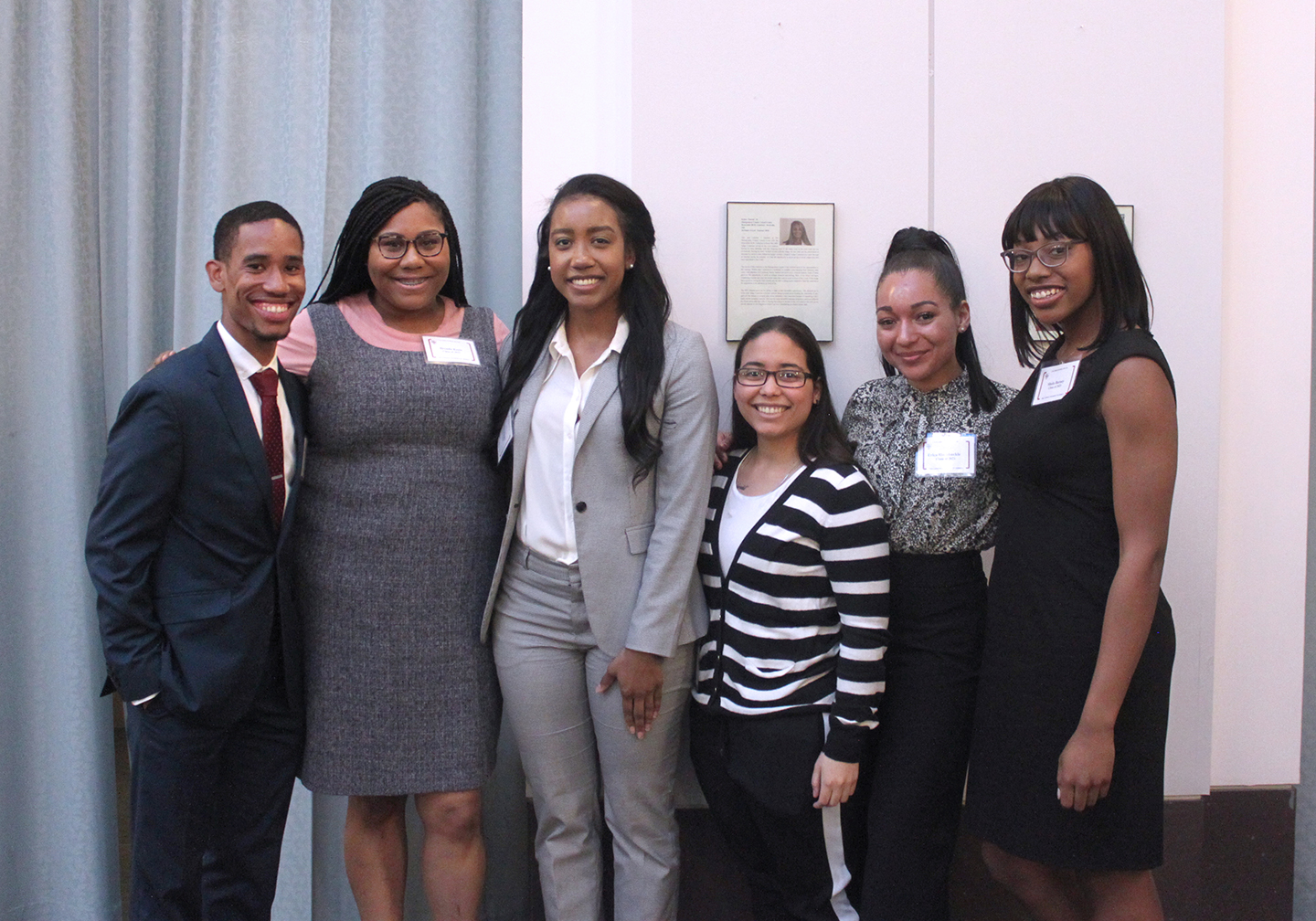 BLSA President, Onyinyechi Onungwa (3L) gave the closing remarks and introduced the 2019-2020 BLSA Executive Board.
President: Garrett Tracey Day
Vice-President: Brenda Keels
Evening Vice-President: Tamara Smith
Secretary: Erica Hornbuckle
Social Action Chair: Edmarie Rosario-Marin
Fundraising/Corporate Relations Chair: Alix Philogene
Black History Month Chair: Shala Barney
Community Service Chair: Kelechi Eke
Parliamentarian: Ashnelly Rodriguez