April 04, 2019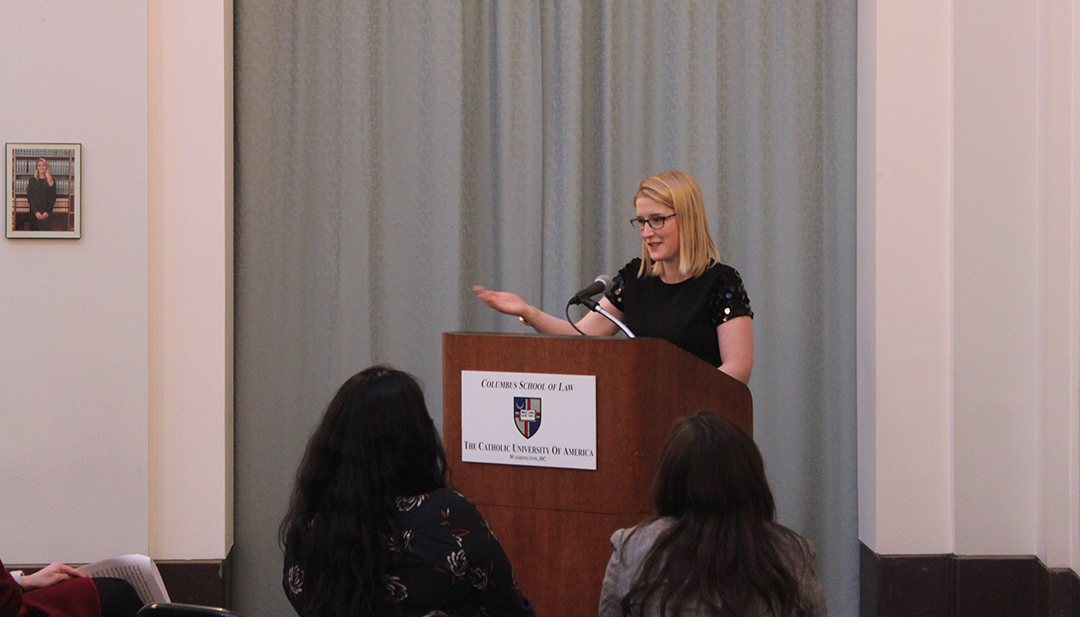 The Catholic University of America Columbus School of Law paid tribute to its longstanding tradition of service to others during the Pro Bono Reception, held on April 2, 2019. The reception honored CUA Law students who volunteered their time and effort to pro bono causes during their time in law school.

"Pro bono, essentially, is providing legal help for those who need it, but cannot afford it. Every lawyer, no matter what career you pursue with your J.D., has a professional responsibility to provide pro bono services. The students we are recognizing today have taken the first steps toward building a lifetime pro bono habit and fulfilling that responsibility," Pro Bono Coordinator Kiva Zytnick said.

"As of today, 110 of our current students have, combined, volunteered almost 6,800 hours in pro bono service. They have worked with over 70 pro bono legal service providers, agencies, and courts on hundreds of pro bono projects. They have impacted countless lives."

Zytnick introduced students from the Pro Bono Advisory Board who shared some of their experiences.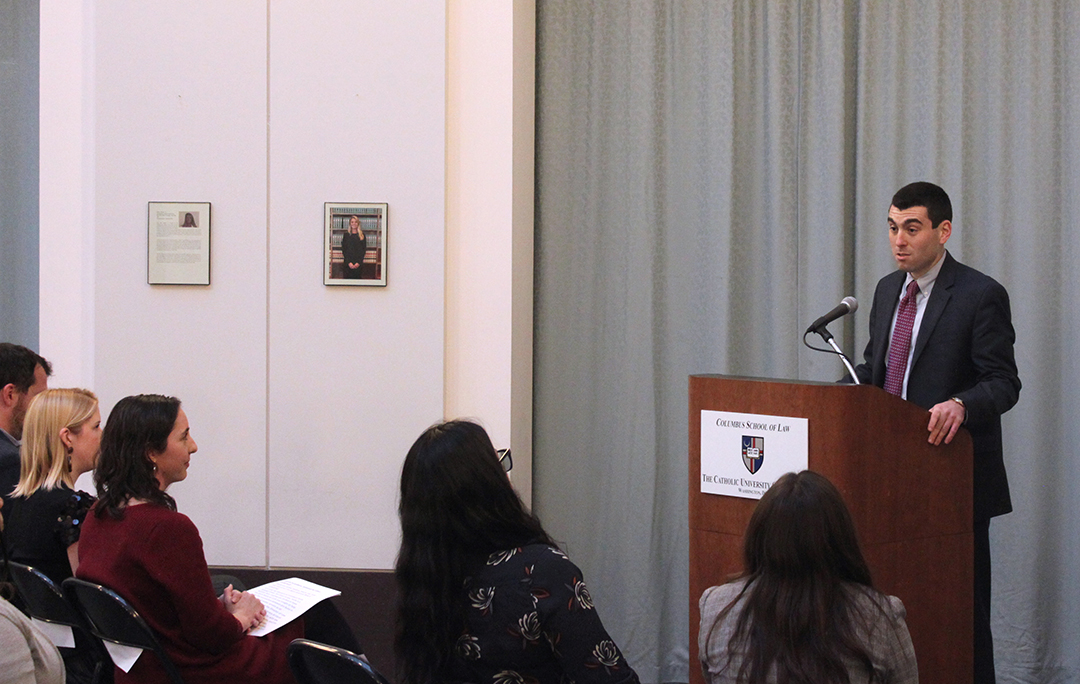 Jamie O'Donohue (3E) discussed his pro bono experience volunteering with the Veterans Consortium Pro Bono Program.

"This pro bono opportunity provided valuable legal research experience in a remote format, allowing me as an evening student to complete it outside of work and school hours. This type of flexibility makes pro bono work feasible for students who otherwise may not be able to participate," O'Donohue said.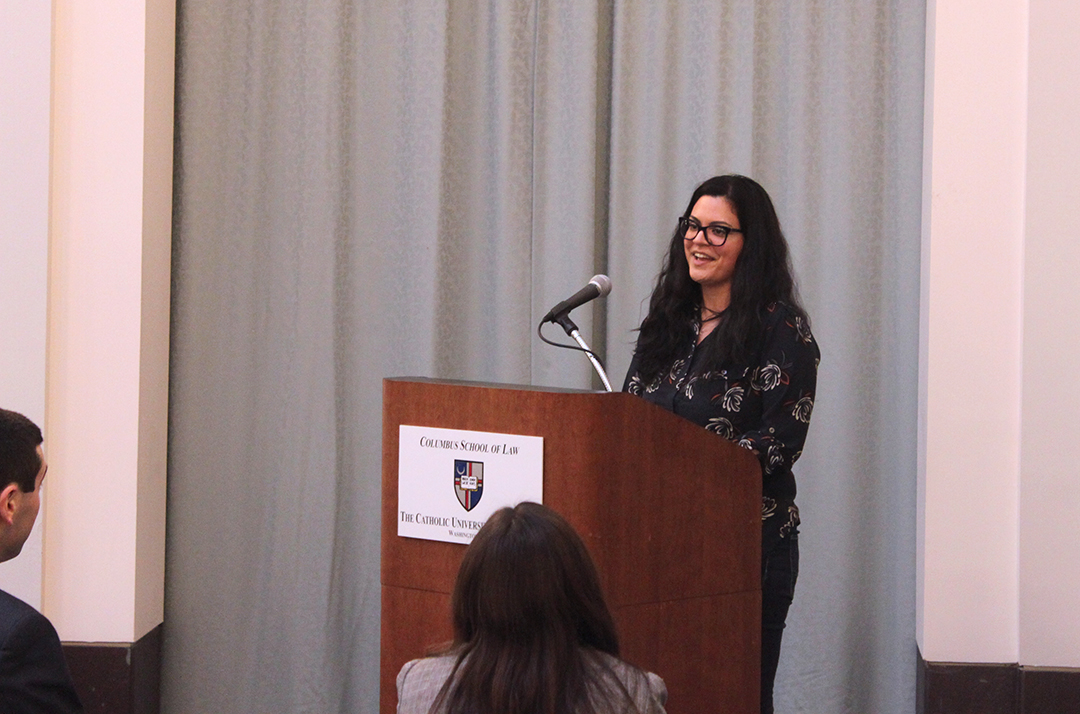 Andrea Laprade (1L) stated that as a first year student she decided to make time for pro bono because it was important to her to do meaningful work while in school. "This work reminds me why I am here at law school."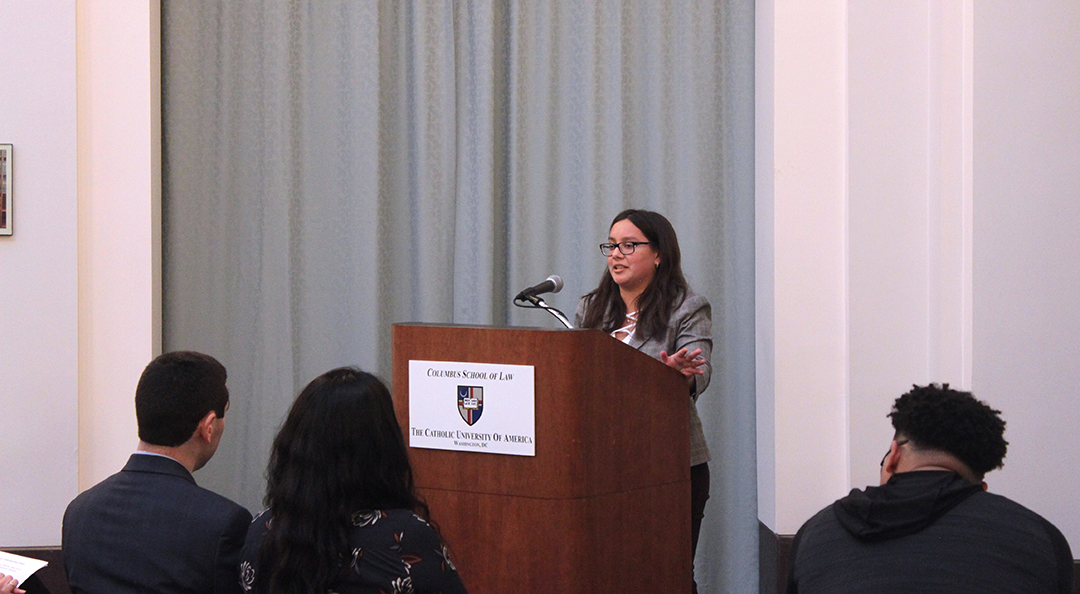 Maria Lino Callao (2L) discussed her experience providing legal services assistance to Catholic Charities of Southern New Mexico over spring break with the Immigrant and Refugee Advocacy Clinic [IRAC].

"Spring break is a great opportunity to engage in pro bono work. I was able to represent real clients and handle every aspect of a case. I learned so much from my clients, my peers, and my supervisor. It definitely made me grow as a professional and as a person."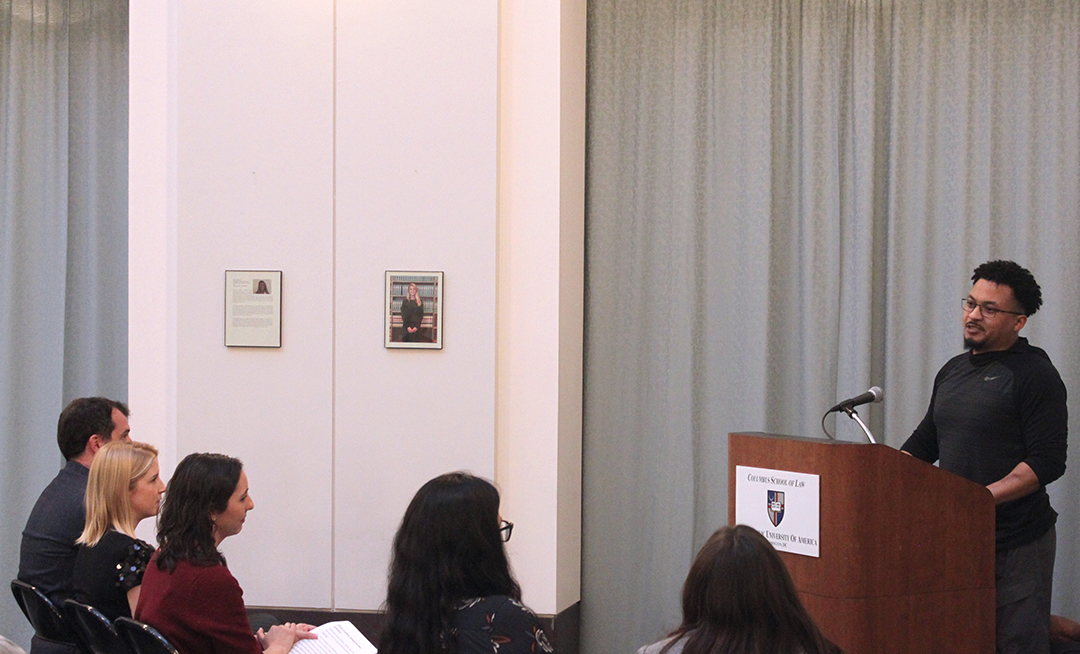 Jae Terry (3L) spoke about his time working with the Volunteer Income Tax Assistance (VITA) Program, where he provided tax assistance for international students and immigrants. He urged all students to get involved with pro bono work.

Following the statements for the CUA Law Pro Bono Advisory Board, Zytnick introduced the guest speaker Aoife Delargy Lowe.

"For most of you, Aoife is a familiar face, and we are thrilled to have her back home at CUA Law tonight to help make the connection between pro bono in law school and public service as an attorney. Aoife is now the Director of Law School Engagement & Advocacy at Equal Justice Works, where she works with law school professionals, law students, and the public interest community on issues including careers in public interest law, educational debt, and Public Service Loan Forgiveness. Before joining Equal Justice Works, Aoife served as the Associate Director of the Office of Career and Professional Development at CUA Law and before that she was the law school's Pro Bono Coordinator," Zytnick said.

During her remarks, Aoife shared a personal story that influenced her to pursue a career in public interest law. "In the height of the sectarian conflict in Northern Ireland, my mother and father left Belfast in search of a better life in America…Catholic Charities of New York took their immigration case pro bono and helped them apply for permanent residency. My parents told me that story as a child and explained what pro bono meant."

"Standing here today I know how lucky I am…No matter how different our personal stories are, we share something in common that brings us together today: our commitment to public service…by standing here today you have been given an opportunity to learn and go on to practice law," Aoife said.