April 02, 2019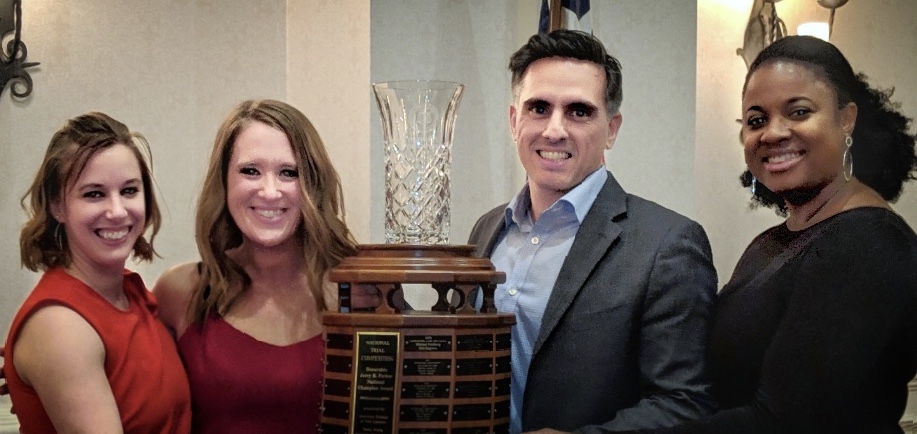 L to R: Jennifer Brooker, Lindsey Cloud Mervis, John N. Sharifi, and Vania Smith
The Catholic University of America Columbus School of Law was crowned the 2019 National Champion last weekend at the National Trial Competition in San Antonio, Texas. It is the first national trial championship in the law school's history. CUA Law joins an elite group of only twenty-one other law schools that have ever won the title. Representing CUA were students Vania Smith (3E) and Jennifer Brooker (3E), coached by National Trial Team directors John N. Sharifi and Lindsey Cloud Mervis.
The National Trial Competition is co-sponsored by the Texas Young Lawyers Association (TYLA) and the American College of Trial Lawyers (ACTL). It is widely thought to be the most coveted trial competition in the country. The competition attracts teams from more than 140 law schools and involves more than 1,000 law students each year. Nationwide regional competitions are held every February, during which the two top finishers qualify for the national competition. Thirty regional winners then compete for the championship.
The national competition was held in San Antonio, TX from March 28 - March 30 and centered on a securities fraud case titled United States v. Jordan Belfort. CUA Law's preparation, advocacy, and determination carried them through the quarter and semi-finals, and into the final against five-time champion Stetson University School of Law.
The final round was held in the United States District Courthouse, before a packed courtroom and a jury of nineteen fellows of the American College of Trial Lawyers. Smith and Brooker performed brilliantly against incredibly tough competition. CUA Law was declared national champion at an awards ceremony later that evening. The championship earns the law school a $10,000 award, and Smith and Brooker will have their names engraved on the national trophy, which will be kept for one year at the law school. A separate championship trophy is gifted to the law school, where it will live permanently.
In addition to this incredible team performance, Smith received the George A. Spiegelberg Award for Best Oral Advocate in the entire competition. The receipt of this award is one of the highest honors that a law student can receive in trial advocacy.
"What our team has done here is the pinnacle of mock trial competition. We are so proud of Jenn and Vania," said Sharifi. "This championship is for every CUA Law alum. It is for all those through the years that spent late nights and weekends in Haislip courtroom. This national title belongs to all of us," he continued.
"This championship is a testament to hard work, teamwork, and relentless dedication. It is an incredible accomplishment and we thank TYLA and the ACTL for an outstanding competition," added Mervis.
The National Trial Competition has been held annually since 1976.