March 26, 2019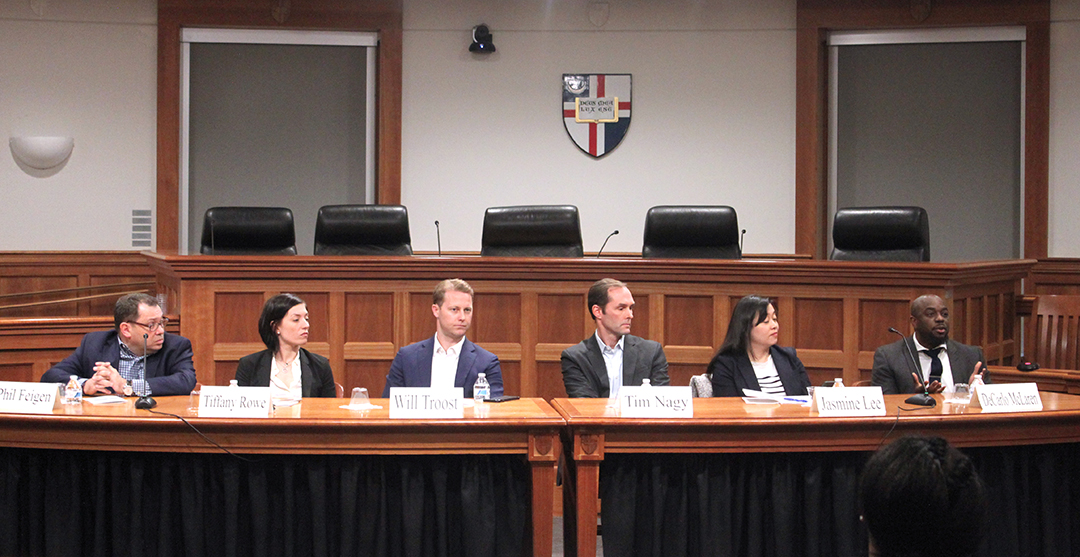 Six alumni of Catholic University's Securities Law Program returned on March 25 to participate in a career discussion panel for current students at the Columbus School of Law. The panelists included Timothy B. Nagy '98, Counsel at Sidley's Washington, D.C., office; Tiffany Rowe '10, senior litigator with significant trial experience in Orrick's Washington, D.C., office; Will Troost '10, Financial Services Counsel for Bloomberg, LP; Phil Feigen '93, Managing Partner at Polsinelli PC; Jasmine Lee '06, attorney in the Division of Market Oversight at the Commodity Futures Trading Commission (CFTC); and DeCarlo McLaren, LLM '15, Special Counsel with the SEC's Office of Disclosure Review and Accounting, Division of Investment Management.
The panel was gathered by Professor David A. Lipton, Director of the Securities Law Program, who also moderated the Program. Each of the panelists were students of Professor Lipton and participants in the Program. As he introduced the panelists, he reminisced about their work at the Law School and discussed how the Program helped the students advance in the Securities industry.

The alumni on the panel had a strikingly impressive array of talents and past and present positions.

The panelists spoke about their early career trajectories, suggested classes students should take, and discussed the importance of networking.

"I worked really hard in my classes and got to know the professors. I talked to people outside of class. The securities industry is very small, and you will find the same key players," Lee said.

Several panelists discussed how they became interested in securities law during the financial crisis. They also discussed the importance of firm culture and preparing for interviews.

"Search for CUA Law alumni before your firm interview and ask them to spend 15 minutes with you on the phone. You need to hunt people down. You need to call them… Do your research and prepare questions before an interview," Feigen said.

The program was sponsored by the Securities Law Program and the Office of Career and Professional Development and drew a crowd of current and prospective securities program students. While serving as Moderator of the Program, Professor Lipton emphasized how hard each panelist worked to achieve his or her current position.

Following the panel, students were invited to a reception with alumni in the Keelty Atrium for a chance to network and engage in conversations.