February 25, 2019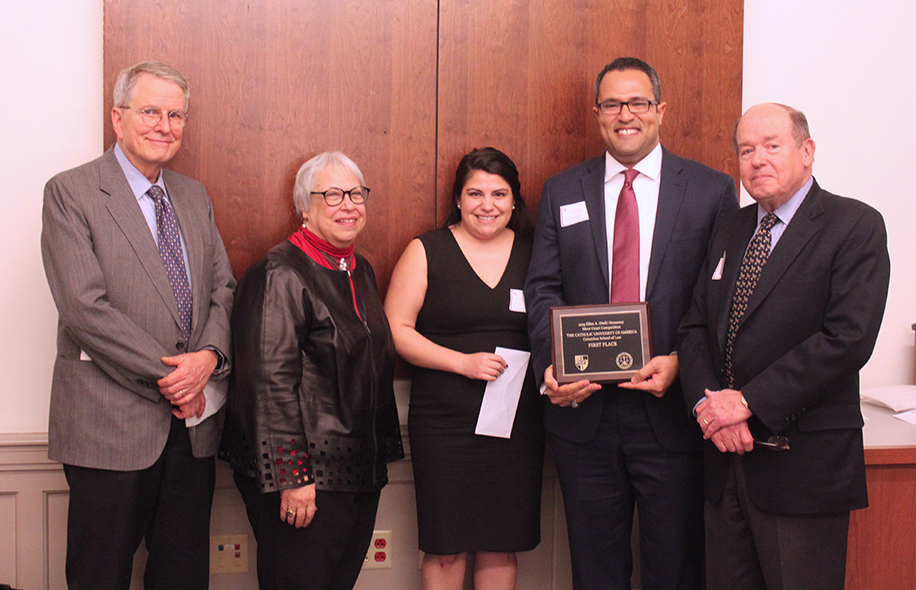 From L to R: the Honorable W. Thomas Reeder Jr., the Honorable Phyllis Borzi,
Claudia Shannon, Kevin Sprenger, and the Honorable George Bostick

CUA Law's team won the first place award at the second annual Ellen A. (Nell) Hennessy Moot Court hosted by The American College of Employee Benefits Counsel (ACEBC) and The Catholic University of America Columbus School of Law on Saturday, February 23, 2019.
CUA Law's Claudia Shannon (2L) and Kevin Sprenger (3E) beat out seven other teams from five other schools, including the University of Buffalo, Georgetown University Law Center, The John Marshall Law School, the University of Kentucky, and the Washington University Law School.
The winning CUA Law team took home $1,500 to share and a plaque. The ACEBC is also paying the expenses of the winning team to attend its annual dinner, being held this year in Washington, D.C.
"Please join me in thanking everyone who contributed to our success," Vice Chancellor Willistine Harris (3E) said.