February 13, 2019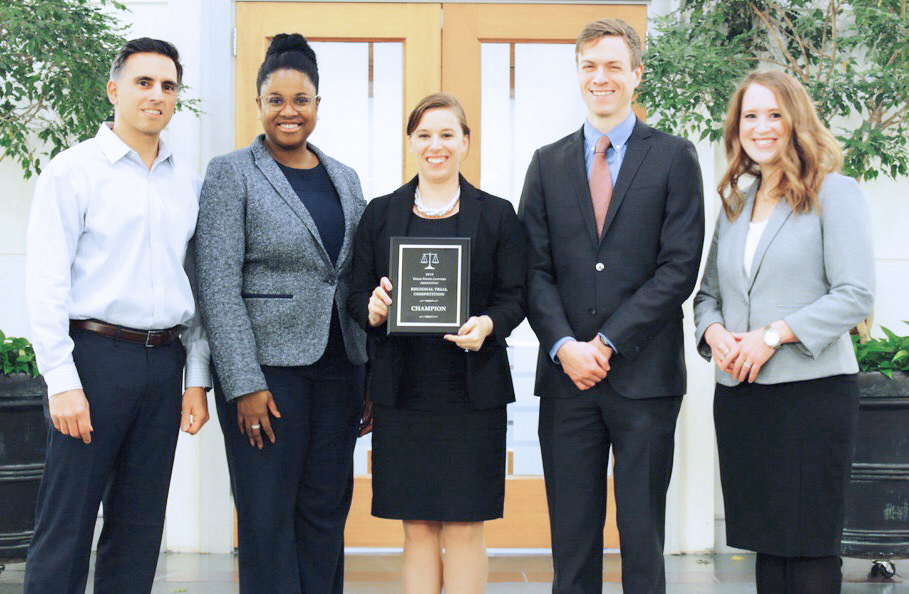 From L to R: John N. Sharifi, Vania Smith, Jennifer Brooker, Patrick Elwell, and Lindsey Cloud Mervis
CUA Law has qualified for the prestigious National Trial Competition after winning the regional championship in stellar fashion last weekend. Representing the Law School were two teams of student advocates: Vania Smith (3E), Jennifer Brooker (3E), and Patrick Elwell (4E); and Taylor Dontje (2L), Erin Luibrand (2L), and Jordanne Miller (3L). Their coaches were trial team directors John N. Sharifi and Lindsey Cloud Mervis.
The National Trial Competition is an annual event that brings together the very best student advocates from around the United States to compete for a national title. It is widely thought of as the most coveted trial competition in legal academia. The competition divides the country into fifteen regions, each of which hold a regional qualifier that concludes with two separate final rounds. The two schools in each region that win the final rounds receive an invitation to the national competition. The law schools in Washington, D.C., Maryland, Northern Virginia, Delaware, and West Virginia are in region IV. Last year, CUA advanced to the regional semi-final round before being eliminated.
This year's region IV competition was from February 8-10, 2019, at the American University, Washington College of Law. Faced with tough opponents and unexpected adversity, Ms. Smith, Ms. Brooker, and Mr. Elwell rose to the challenge. A solid performance in the preliminary rounds advanced them to the semi-finals. But it was a memorable, collaborative team meeting the night before the semi-final trial that helped the team advance into the final round the next day. Then, with the chance to compete for a national title on the line, the team's incredible poise, preparation, and skill took over. The students executed brilliantly, winning the final round, the regional championship - and an invitation to the national competition. Ms. Brooker received an individual award for best advocate in the final round.
"This championship was all about teamwork. Every single person made a significant contribution. From the spirited intra-team practice trials, to the support and camaraderie felt during an intense weekend of competition, every student on team TYLA shares in this victory," said Mervis.
Georgetown University is the other team that advanced out of region IV. Although CUA's student advocates and coaches are enjoying their regional championship, they are equally eager to begin preparations for the next challenge. "We've now turned our focus to the national title," said Sharifi.
The National Trial Competition takes place in San Antonio, Texas from March 27-31.