February 04, 2019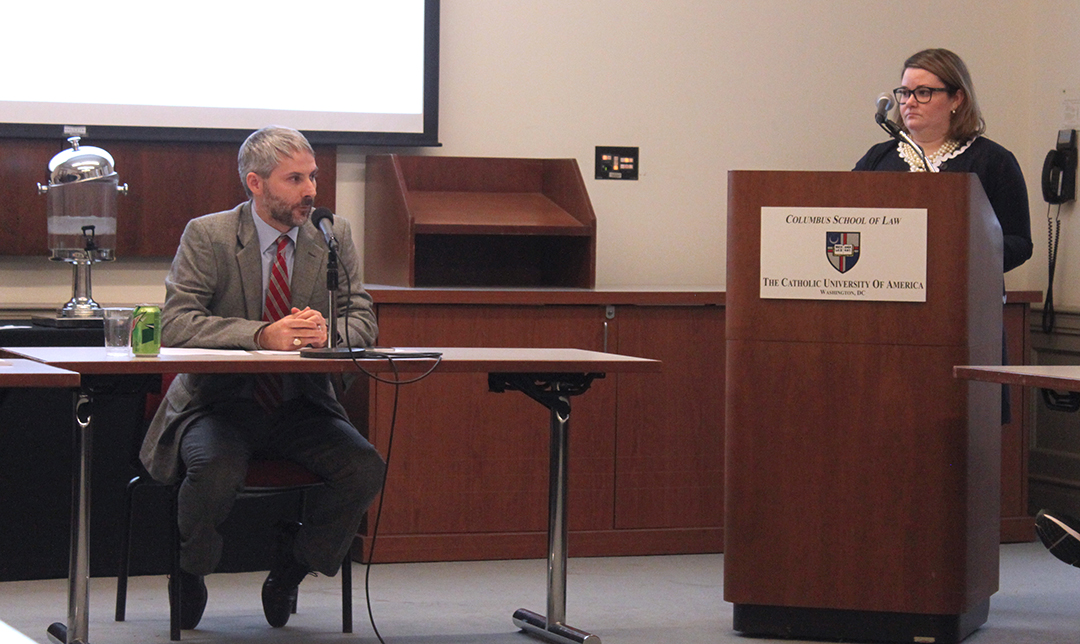 Ashley Greaf (4E) delivered first Student Scholars Series lecture of the semester on January 30. Greaf's scholarship, "Political Contributions Through Text Message," discussed the growth of technology in political donations through mechanisms such as text-to-give and text-to-donate.

Greaf explained the benefits of text-to-give and text-to-donate include the speed and conveniences, while negatives include contribution limits, time it takes to receive the money, and security concerns. She highlighted notable text-to-give and text-to-donate campaigns such as the 2010 Haiti charitable event, Keep a Child Alive, and the NFL and United Way events.

Greaf proposed that campaigns should be required not to use the text-to-give, but to use the text-to-donate. She also proposed that at a specific contribution levels, liability should be on the individual contributor and not the political committee.

Troy A. McCurry '06 served as the respondent for Greaf's lecture. As of September 2018, McCurry is the Director Government Relations at The Pew Charitable Trusts. He is helping clients navigate the complex world of political law and government ethics regulations. He has held several senior legal positions with the federal government in various national political organizations including the FEC, where he served as counsel to Commissioner Caroline Hunter, including during her time as Chair and Vice Chair of the agency. He also played a key role in the development of the regulations implementing the Bipartisan Campaign Reform Act (also known as "McCain-Feingold") and the Commission's responses and rulemakings after key court decisions, including Citizens United v. FEC, Emily's List v. FEC, and McCutcheon v. FEC.

He served as Senior Counsel to the Republican National Committee, providing advice to the committee and its staff on all aspects of election law, pending election-related legislation, post-election litigation and operations, and general corporate and nonprofit legal compliance. He also served as Deputy Political Director of the Republican Governors Association, where he supervised the strategic efforts and participation in over 36 gubernatorial races.

McCurry is also an adjunction professor at CUA Law, where he teaches Election Law and Campaign Finance Law. He also serves as a Lieutenant and Intelligence Officer for the United States Navy Reserve, and he was deployed to Afghanistan in support of Operation Enduring Freedom in 2014.

After the lecture, Greaf and McCurry took questions from the audience, and students had the opportunity to engage in conversations with faculty and guests.

The Student Scholar Series was founded by CUA Law Professor Harmon in 2009. It was established in order to recognize notable legal scholarship produced by students during the academic year and to foster the practical skills associated with presenting and defending that scholarship in a professional conference-style setting.