January 10, 2019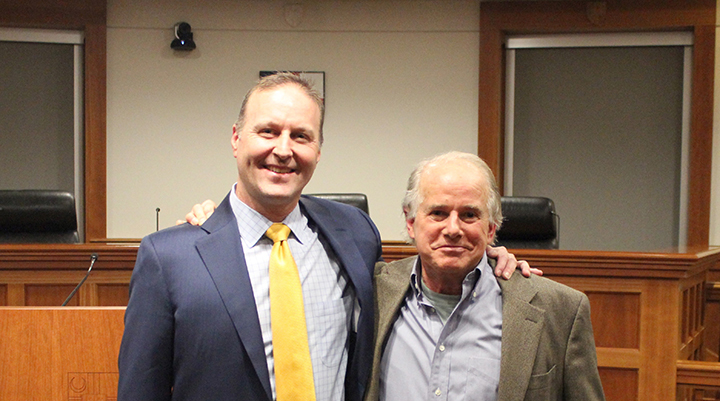 Chris Concannon '94 (L) and Professor David Lipton (R)
CUA Law alumnus and veteran exchange industry executive, Chris Concannon '94, was recently named President and Chief Operating Officer of MarketAxess Holdings Inc. MarketAxess is the operator of a leading electronic trading platform for fixed-income securities, and the provider of market data and post-trade services for the global fixed-income markets.

In his new role, Concannon will oversee day-to-day operations, corporate development, long-term technology strategy and global data strategy, reporting to Rick McVey, Chief Executive Officer of MarketAxess. He will also join the Board of Directors, with a particular focus on the Company's corporate strategy. Concannon joins MarketAxess from Cboe Global Markets Inc. (Cboe), where he served as President and Chief Operating Officer. He came to the Cboe in 2017 as part of its acquisition of Bats Global Markets, where he was CEO. Mr. Concannon was responsible for Cboe's transaction businesses, including Global Derivatives, U.S. and European Equities, and Global Foreign Exchange - as well as overseeing the company's Technology, Operations, Risk, and Marketing divisions.
Concannon will return to CUA Law on March 5, 2019, to give a talk before securities law students and alumni entitled "Charges for Order Flow and Market Information - Are they fair?".