January 11, 2019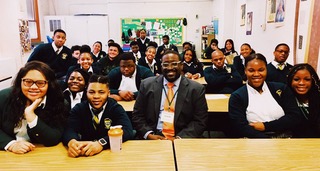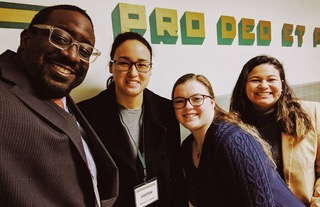 On January 8, 2019, The Honorable Zuberi Williams was a guest speaker for The Catholic University of America Columbus School of Law's Street Law Program at Archbishop Carroll High School's Law & Justice course. Judge Williams is currently an Associate Judge for the District Court of Maryland in Montgomery County, Maryland. He presides over a variety of cases, including: criminal, civil, domestic violence, and traffic matters.
During his visit with the students, Judge Williams spoke about his background, how he keeps it real as a judge, and his favorite sports teams and musicians. The students were engaged and asked many questions. They were captivated by Judge Williams' answers to their questions, especially when he discussed his most interesting cases. He encouraged the students not to be afraid to make mistakes because if he had not been given second and third chances he would not be where he is today. He spoke with the students about how he is constantly inspired by those who came before him, like Martin Luther King, Jr. He advised the students to unapologetically be themselves because the traits people like about you are the same one's other people might not like about you.
Street Law Program members, Liz Ulan (3L), Caitlin McClay (3L), and Aimee Solano (1L), also attended Judge Williams' presentation and were inspired. Guest speakers like Judge Williams help give the students access to role models in the legal field who have key roles in our justice system. Street Law is grateful for Judge Williams' time and hopes that they can continue to schedule guest speakers in the future.