December 19, 2018
Director, Columbus Community Legal Services, and Professor
Catherine Klein
and Professor Emerita
Leah Wortham
were keynote speakers at the only plenary of the International Journal of Clinical Legal Education conference, held November 28-30, 2018 at Monash, University in Melbourne, Australia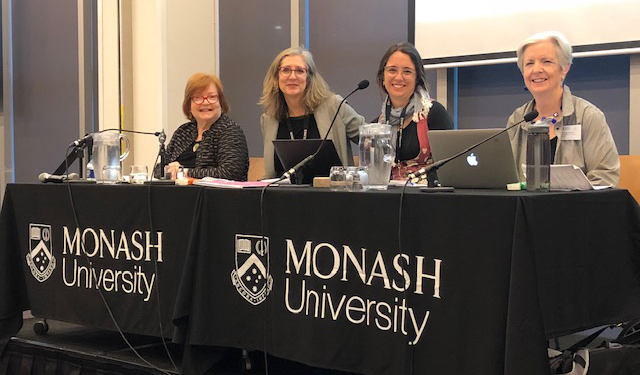 Catherine Klein and Leah Wortham were keynote speakers at the only plenary of the International Journal of Clinical Legal Education conference, held November 28-30, 2018 at Monash, University in Melbourne, Australia. Professors Klein and Wortham, along with Lisa Bliss from Georgia State University and Pamela Taylor-Barnett from Australian National University led a 90-minute session on Supporting Students to Act Consistently with their Values applying the Giving Voice to Values (GVV) approach to clinical education. GVV, developed by Dr. Mary Gentile, has been used extensively in a number of university and post-graduate professional education programs as well as in consulting with global entities concerned with ethical practice. More than 130 people from 20 countries attended the conference.
Professor Klein also presented at conference at Monash University on Reflective Practice and Assessment in Clinical Legal Education. Professor Klein, along with Professor Kate Seears from Monash University, Professor Lisa Bliss from Georgia State University presented a workshop on Reflection, Emotions and Student Wellbeing.
Professor Wortham moderated a 90-minute opening plenary on Ethical Challenges for Legal Education and Conduct in Asia, for the International Legal Ethics Conference VIII (ILEC8), December 6-8, 2018 at Melbourne University. Panelists discussed pathways to the legal professions, the state of and challenges in teaching legal ethics, and legal research in China, Hong Kong, Japan, and Singapore, and the region more generally. ILEC8 had 167 registrants from 26 countries around the globe.
At ILEC8, Professor Wortham and prof. dr hab. Fryderyk Zoll, Professor at Jagiellonian University in Krakow, Poland and the University of Osnabrück, Germany also presented the current implications of their paper "Judicial Independence and Accountability: Withstanding Political Stress", to be published in the Fordham International Law Journal in February 2019. An earlier version of the paper was presented at a conference on Regulation of Legal and Judicial Services: Comparative and International Perspectives, at Fordham University Law School in New York City, December 8-9, 2017.