November 01, 2018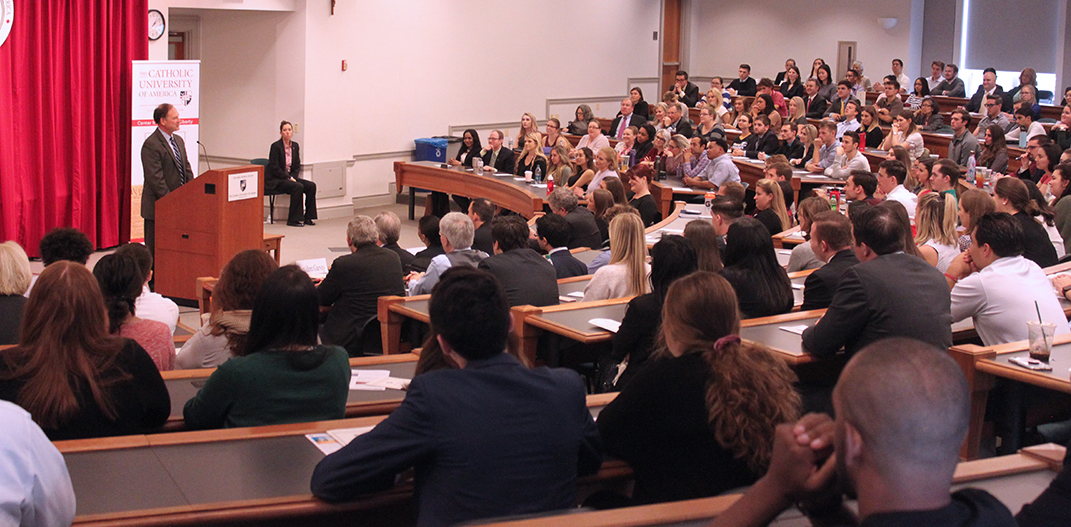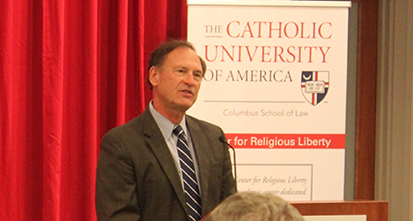 On November 1, 2018, the Center for Religious Liberty hosted a special lecture by The Honorable Samuel Alito, Associate Justice, Supreme Court of the United States.

Director of the Center for Religious Liberty and CUA Law Professor Mark Rienzi provided welcoming remarks and introduced The Catholic University of America President John H. Garvey. President Garvey presented Justice Samuel Alito who gave a lecture on the subject of religious liberty. Professor Rienzi and CUA Law Dean Regina T. Jefferson provided closing remarks.

"I would like to thank all of our law, undergraduate and graduate students, faculty, staff, alumni and special guests, for attending today's special lecture sponsored by our Center for Religious Liberty", Dean Jefferson said.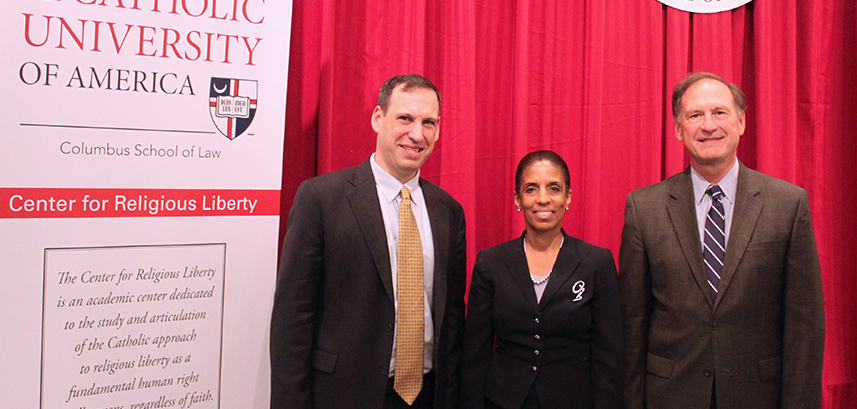 (From L to R: Mark Rienzi, Regina Jefferson, and The Honorable Samuel Alito)
Following the lecture, the audience was invited to the atrium for a reception. Justice Alito remained after his lecture to talk, sign programs, and take pictures with students during the reception in the atrium.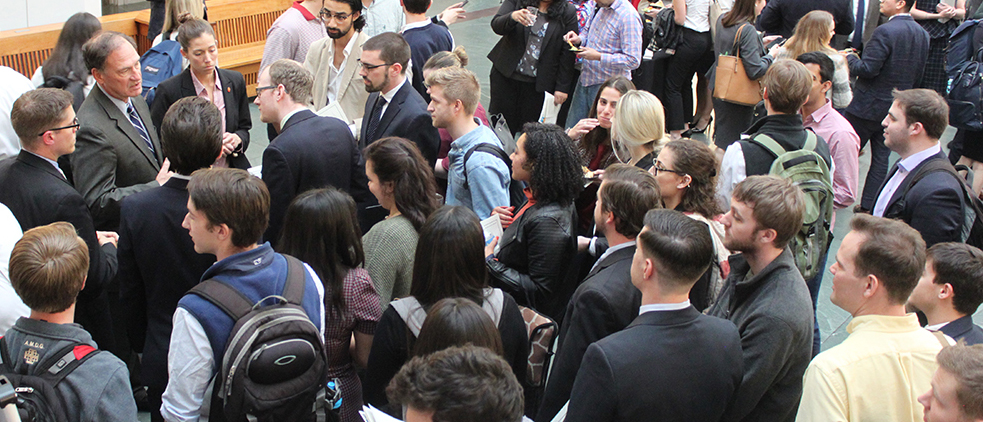 The Center for Religious Liberty at The Catholic University of America Columbus School of Law, is an academic center dedicated to the study and articulation of the Catholic approach to religious liberty as a fundamental human right for all persons, regardless of faith. This right is recognized by the United States Constitution, the Universal Declaration of Human Rights, and the Church's teaching in Dignitatis Humanae.

The Center aims to increase discussion and understanding of these issues by hosting speakers, organizing conferences, awarding writing prizes, providing educational programming, and commenting on religious liberty issues in the public square. To learn more about the Center, click here.
Justice Alito was nominated by President George W. Bush to fill the seat vacated by the retirement of Justice Sandra Day O'Connor. Alito was unanimously rated "well qualified" to fill the associate justice post by the American Bar Association's Standing Committee on Federal Judiciary. He was confirmed by the Senate and assumed office on Jan. 31, 2006. Justice Alito is the 110th justice and the eleventh Catholic to serve on the Supreme Court. At the 2008 law school commencement ceremony, Justice Alito received the Doctor of Laws, honoris causal degree from The Catholic University of America and delivered the commencement address to the graduates of the Columbus School of Law.