October 26, 2018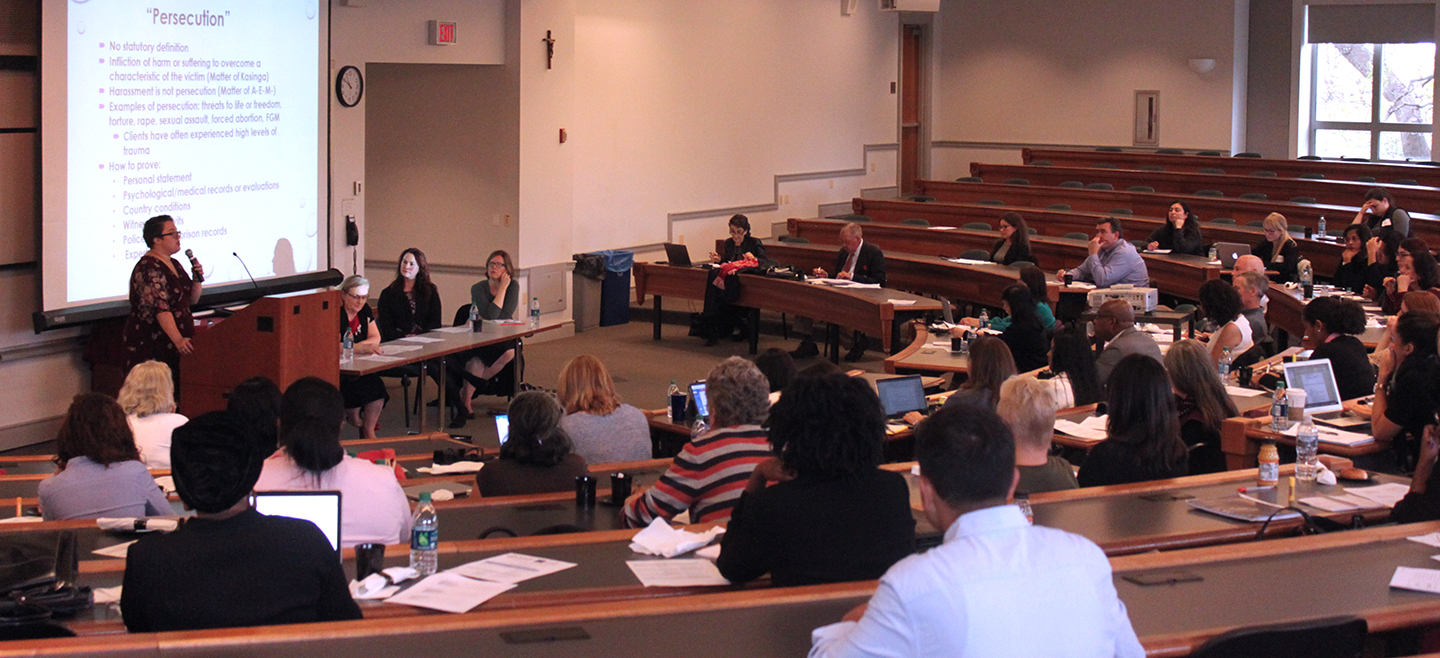 On October 26, 2018, the Federal Bar Association Immigration Law Section and the Tahirih Justice Center presented Pro Bono Immigration Court Training held in the Byron Auditorium. The comprehensive training focused on immigration court relief and began with welcoming statements from Elizabeth (Betty) Stevens, Chair of the Immigration Law Section, Federal Bar Association; Danielle Beach of Beach-Oswald Immigration Law Associates PC; and Shannon LaGuerre of SparBernstein.

The day started with an introductory training session on "Removal Proceedings: Hearings/Procedures/ What do Expect" lead by Hon. Judge Paul Schmidt (Retired Immigration judge Arlington Immigration Court, former Chairman of the BIA) and Professor Maureen Sweeney (Associate Professor at UMD Francis King Carey School of Law, Immigration Clinic Director). The training covered: NTAs (Notice to Appear), Master Hearings, individual Hearing, Detained Docket vs. Non-Detained Dockets, Bond Hearings, Pre-Conference Trials, and Appeals (BIA) (4th Cir).

The day continued with a training session on "Asylum/Withholding of Removal & CAT" lead by Christina Wilkes of Wilkes Legal, LLC; Denise Hunter of Whitman-Walker Health, Immigration attorney; and Sarah Pitney, an associate attorney at Benach Callopy. The final training was on "Other Types of Removal Proceedings Subject Matter" lead by Rachel Ullman of the Law Office of Rachel S. Ullman; Adam Crandall of the Law Office of Adam N. Crandall, LLC; and Adriana Robinson of Maggio Kattar. The session included discussion on: VAWA/Special Cancellation, Cancellation of Removal (LPR& Non-LPR), Adjustment of Status/Waivers, Pending USCIS cases & how to handle with EOIR, and Voluntary Departure.

The afternoon consisted of an ethics session provided by Kursten Phelps from Tahirih Justice Center and by Eby Kalantar from the Board of Professional Responsibility DC. The program ended with an afternoon mock trial for asylum and closing remarks from Betty Stevens.