August 30, 2018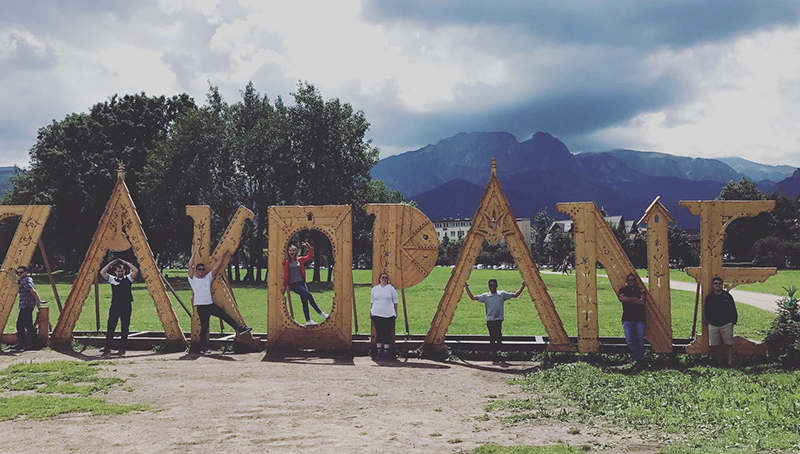 In its 27th consecutive year, CUA's International Business and Trade Summer Law Program in cooperation with Jagiellonian University, hosted fourteen American and fourteen Polish students for an intensive four and a half week summer law program (June 16 – July 18) focused on international business, trade, and comparative law. From the program's inception, a unique feature of the program has been the inclusion of Polish law students selected to participate in the program from the host institution and other law schools throughout Poland. The Polish students contribute a new perspective to classroom discussions, as they bring to the forefront differences between the civil and common legal systems.
Students arrived in Krakow eager for the challenges of an intensive curriculum, as well as excited to absorb the sites, culture and history of the medieval city, which is on UNESCO's World Heritage list. Courses included the month-long Comparative and International Trade, taught by the program director Dr. Rett Ludwikowski, and courses that spanned two weeks - Alternative Dispute Resolution Methods, International Business Transactions, International Intellectual Property Law, International Law of Sustainable Development and Law of the European Union.
The opportunity to work as externs with branches of American, European and, particularly, Polish law firms and to earn academic credit for their work is another advantage of the program. Through the efforts of its director, the program has established more than twenty externship placements in Krakow and Warsaw at branches of large West European and American law firms and institutions.
Students with a penchant for travel find the planned excursions to be a highlight of the program. Orientation commences with a walking tour of historic Cracow and Wawel Castle and fieldtrips include the former concentration camp at Auschwitz, the Wieliczka Salt Mines, and the resort town of Zakopane, which sits at the foothills of the Tatra Mountains.
Student Reactions:
Jude Antonyappan: "The CUA Summer Abroad Study Program in Krakow was an outstanding experience with many choices for completing academically rigorous and practice intensive courses in Comparative and International Law, while engaging in experiential learning. Any minor trepidation concerning travel to a new country, were of no consequence because of the support from the program organizers, Ms. Dedoulis, Professor Ludwikowski, and Ms. Slufinska. Living in Krakow, was an experience in itself, because every day, and each visit to a new part of the city and the surrounding areas came with significant historical understanding with insights into human history and how that history impacts where we are in our respective trajectories of life. Cost of quality living is amazingly affordable with a variety of healthy farm based produce, and options for dining out with delicious Italian, French, Thai, Indian, Japanese, Asian, and a dazzling variety of Pieroghis). My awareness of my Catholic faith was nurtured by the presence of sacred cathedrals and daily evening music and worship. There is no other experience as this summer program, because of its integrative nature of learning and living with higher aspirations for life, under the tutelage of kind and honorable individuals."
Alex Catiggay: "Learning about international law, sustainable development, the law and policies underlying the European Union and intellectual property at a global scale while sipping an iced latte and eating pierogis in the main square of one of the most beautiful and underrated cities in Europe is just scratching the surface at describing my experience studying the law abroad. I came back to the United States more refreshed, cultured and ready to start the ball rolling at continuing to learn the uniqueness of international law while still reminiscing on my amazing experience and memories in Krakow that will be cherished forever."
Related News