May 29, 2018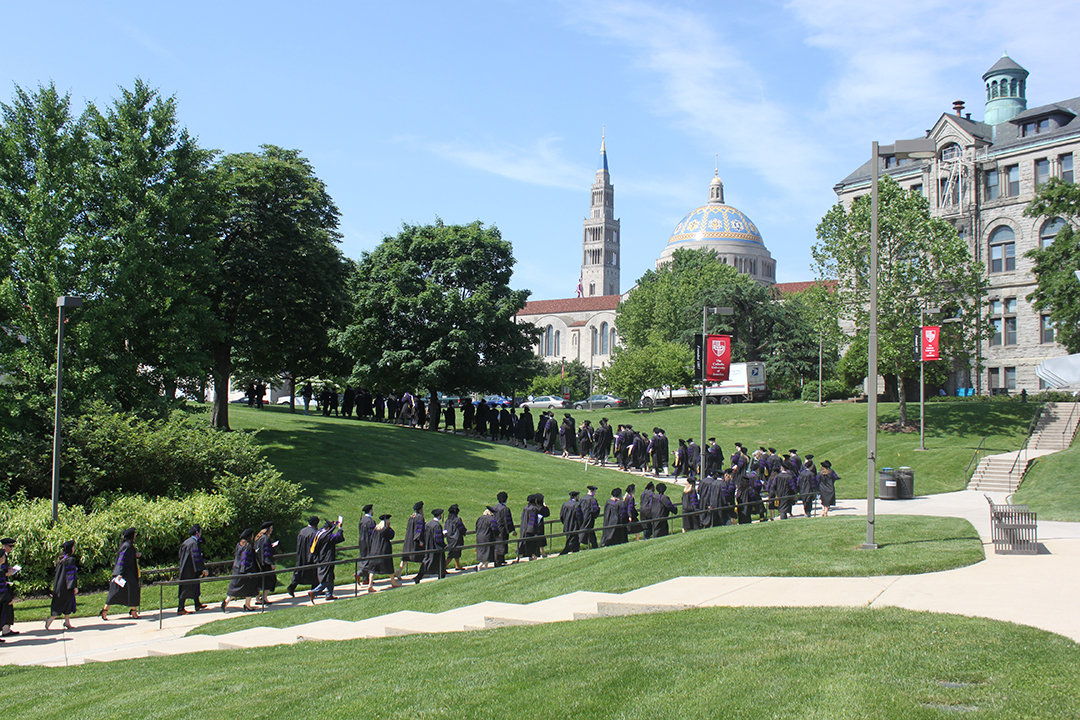 New graduates emerged strong and confident on May 25, as students concluded their law school careers to the cheers of family and friends during the Law School's 129th Commencement at the Basilica of the National Shrine of the Immaculate Conception in Washington, D.C.
CUA Law Dean and Knights of Columbus Professor Daniel F. Attridge addressed the graduating class for his final time as dean. "Today you are deservedly feeling a strong sense of pride in accomplishing a very important life goal. You deserve to hold your heads up very high. Today is also a day for you to treasure the memories of your law school experience. Most importantly, I think what you'll remember are the community of people you have come to know here, especially your classmates, other students, as well as our dedicated faculty and staff." Frank W. Russo, Student Bar Association President and a member of the graduating class, presented Professor Suzette M. Malveaux as Faculty Marshal. He noted, "The class of 2018 is immensely grateful to Professor Malveaux for inspiring and mentoring us. We have selected her to lead us this afternoon. Thank you, Professor Malveaux, for everything you have done for your students and the Columbus School of Law."

Russo also introduced classmate Kwambina Coker, who gave the address on behalf of the graduates. Coker graduated from Frostburg State University. He served as the vice chancellor of the Moot Court, president of the Black Law Students Association, and an active member of both SBA and the Street Law Boards. In his remarks, Coker reminded students that their reason for starting law school is not always the same as their reason for finishing. "My community became my why and my reason for wanting to practice law. Why do you want to practice? I know this is a question that we all don't have the answers to right now, but your why is always going to change."

The commencement address was offered by The Honorable Brett M. Kavanaugh, judge on the U.S. Circuit Court of Appeals for the District of Columbia since May 2006. Judge Kavanaugh began his legal career by serving federal clerkships. The first was for Judge Walter K. Stapleton of the U.S. Court of Appeals for the Third Circuit, who later described him as "a judge's dreams of a law clerk." He also clerked for Judge Alex Kozinski, of the U.S. Court of Appeals for the Ninth Circuit and Justice Anthony M. Kennedy of the U.S. Supreme Court. Judge Kavanaugh served in the White House for more than five years, first as Associate Counsel then as Senior Associate Counsel to President George W. Bush. From July 2003 to May 2006 he was Assistant to the President and Staff Secretary to the President.

After conferral of the degree Doctor of Humane Letters, honoris causa, by John Garvey, President of The Catholic University of America, Judge Kavanaugh reminded students of the great education they have received.

"Graduates, you have attended a special law school. This is a Catholic school and a school that is proud to be Catholic. What makes Catholic education so special is the welcoming of all faiths and beliefs while at the same time teaching Catholic values."

"Being a graduate of this law school means you will have many advantages, but you also have responsibilities: serve meals to the homeless, give clothing to the poor, and use your legal training to help those who need legal help. As Pope Francis says, 'Faith and values mean not just belief and going to Mass, but action,'" he said.

Kavanaugh urged graduates to love their friends, live on the sunrise side of the mountain, and stay humble. "At CUA Law you have learned not just from your great professors, but from each other… It is also important to be optimistic; see the day that is coming, not the day that is gone."

Professor Malveaux introduced the class of 2018 candidates, with conferral of the degrees by Dean Attridge and President Garvey. 87 successful J.D. candidates received their diplomas. 2 were awarded M.L.S. degrees. 9 students graduated in January 2018 (7 J.D., 1 LL.M. and 1 M.L.S.) and 6 students graduated in October 2017 (3 J.D., 2 LL.M. and 1 M.L.S.).

At the end of the ceremony, the Law School's newest alumni and hundreds of families and friends streamed out of the Shrine and back to the law school for a reception on the lawn.
Click here to view the Commencement ceremony on CUA Law's YouTube Channel and click here to view several photo albums on CUA Law's Facebook.