April 25, 2018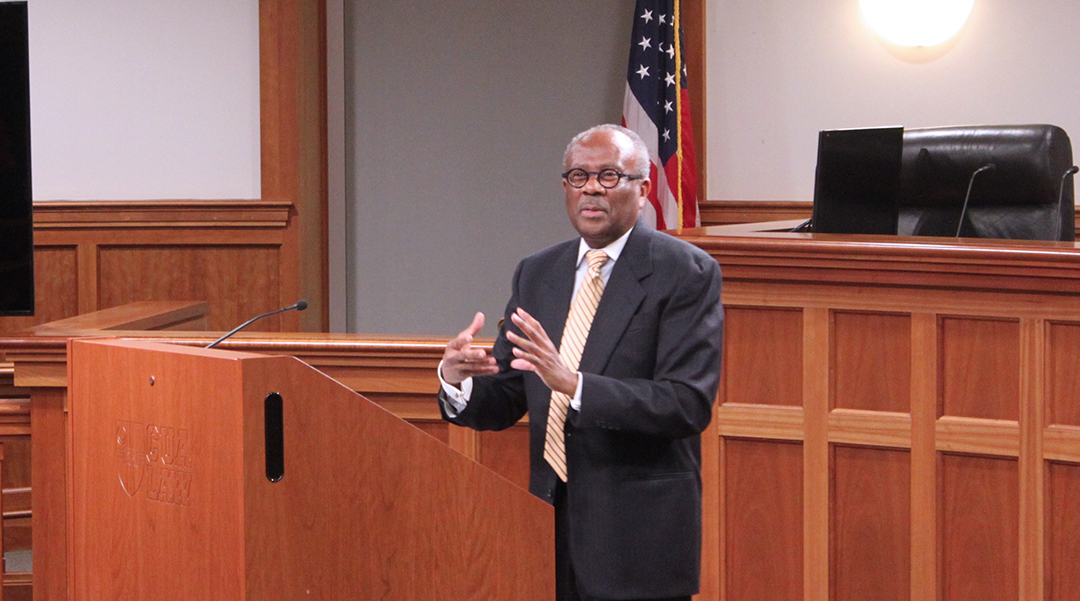 On the evening of April 10, 2018, CUA Law Clinical Assistant Professor Frederick E. Woods delivered the 2018 Mirror of Justice Lecture titled, "Lessons Learned Delivering the Fruit of Service to those Left Behind."
The audience was welcomed with opening remarks from Vice President of the Saint John Paul II Guild of Catholic Lawyers Erica McCrea (3L). "The Mirror of Justice Scholars Award recognizes law school faculty members whose commitment to the teaching and whose scholarship advances our insights towards achieving justice through law in contemporary society," McCrea said.

President of the Saint John Paul II Guild of Catholic Lawyers, Anne Smith (3L) also offered remarks and introduced Professor Woods. "Throughout my time at CUA Law, Professor Woods has provided me with great resources on how to learn more about alternative dispute resolution and meditation. His students have praised him repeatedly for his mentorship and dedication to teaching," Smith said.

During his address, Professor Woods shared three lessons he learned on his journey toward discovering what justice means: Developing a life's blueprint, navigating unchartered waters without fear, and employing less tough mindedness and more tender heartedness.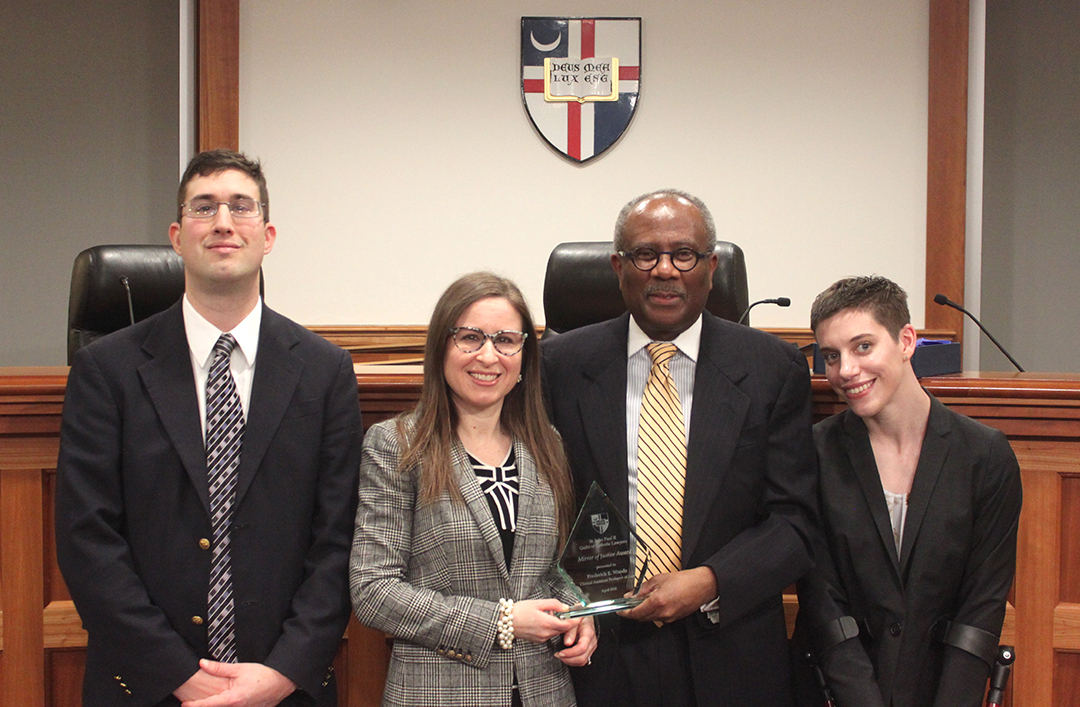 Woods began by recalling about an experience teaching in a junior high school that shaped his life. "A young man said he wanted to be the President of the United States and the entire class erupted in laughter…I then started to realize that some of my students had been robbed of dreams. They had been orphaned by parents who were alive and by institutions in this community," Woods said.

Woods stated that he made it his life's mission to restore the ability to dream in young people. "I could not answer that question and it haunted me."

Woods served as the former director of an Oklahoma statewide, one-of-a-kind, victim and offender mediation program, where he navigated the unchartered waters of providing mediation in the prison system.

"This job took me to a place where dreams had been paused or extinguished," he said. "Often time there were tears, healing, pain and frustration, on both sides…One of the powers of mediation is the empowering people to help themselves."

Woods ended by challenging students to think about what they are going to do in respect to justice. "I have merged who I am with what I do. My mission in justice is to help people who are locked out or locked into the criminal system. I would like to challenge you to think about what you are going to do to help others," he said.

"You are not judged by the height you have risen, but from the depth you have climbed," Woods, quoting Frederick Douglass, concluded.