March 26, 2018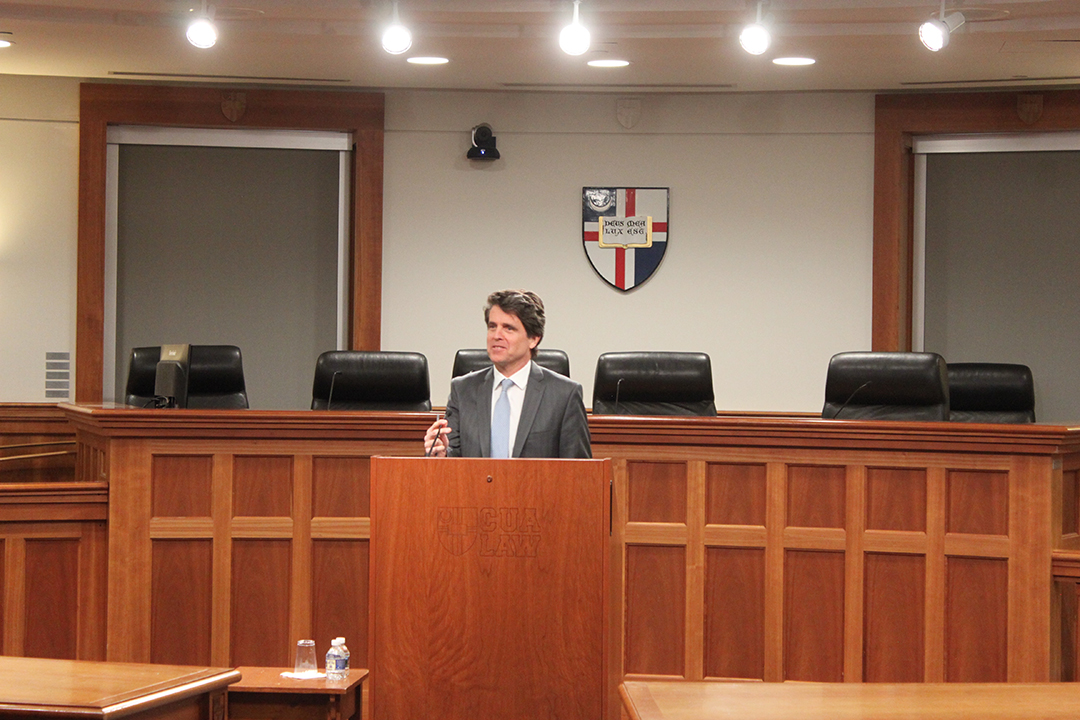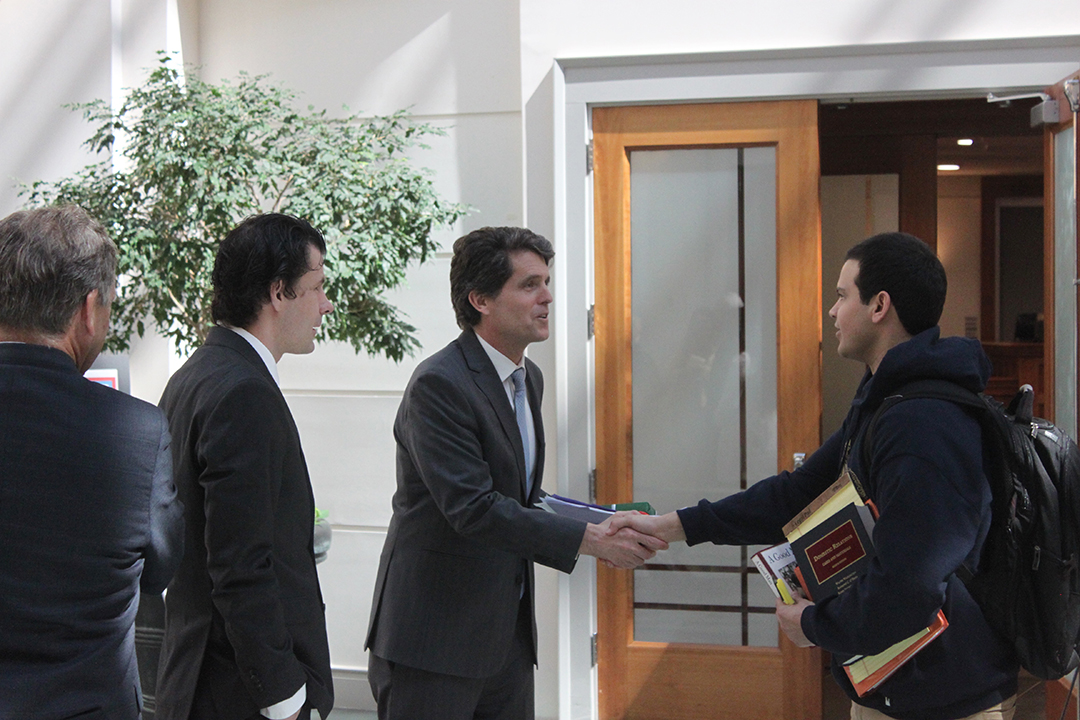 The Catholic University of America Columbus School of Law's first
Faith In Action
event of the semester featured
Mark Shriver
, CEO of Save the Children Action Network, who gave a talk entitled
"Pope Francis's Message of Faith, Love, Humility, and Mercy: Does It Really Matter."
Pope Francis has breathed new life into the Catholic Church and revitalized the faith of millions, including Shriver who traveled to Argentina to meet with the people who knew Francis as a child, as a young Jesuit priest, and as a reforming bishop. Shriver visited the confessional where Francis first felt called to a faith-based life and the humble parish where he answered Christ's call to feed the hungry, clothe the naked, and shelter the homeless.
During the March 22 event, Shriver shared what he learned on that journey and discussed how Francis's message faith, love, humility, and mercy are relevant in today's world.
"Pope Francis built his life on the principal of faith, humility, and mercy. His life in faith was instilled in him by his grandmother, who was an immigrant from Italy," he said.
Shriver also discussed how his own faith informs his work. "The people that I admire most-my father, my mother, and Pope Francis-ask God for help every day and realize they are not God. I believe each of them tried to heed Jesus' call to feed the hungry, to clothe the naked, and shelter the homeless…They tried to make the world a better place."
Finally, Shriver told students that it is the small, daily acts of justice that make all the difference. "I am honored to be with all of you at this law school, which is really a school of justice, to talk about faith and action. I think that is what each of us does every day. We put our faith into action whether you are a Catholic, Protestant, Jewish, or Muslim…Whether you are devout or not….We put our faith into action every minute of every day."
Shriver is the Chief Executive Officer of Save the Children Action Network, where he leads an effort to mobilize Americans to end preventable maternal, newborn and child deaths globally and to ensure that every child in the U.S. has access to high-quality early childhood education. He is also Senior Vice President of U.S. Programs & Advocacy at Save the Children. Shriver's career fighting for social justice in advocacy and service organizations, as well as elected office, has focused on advancing the right of every child to a safe and vibrant childhood.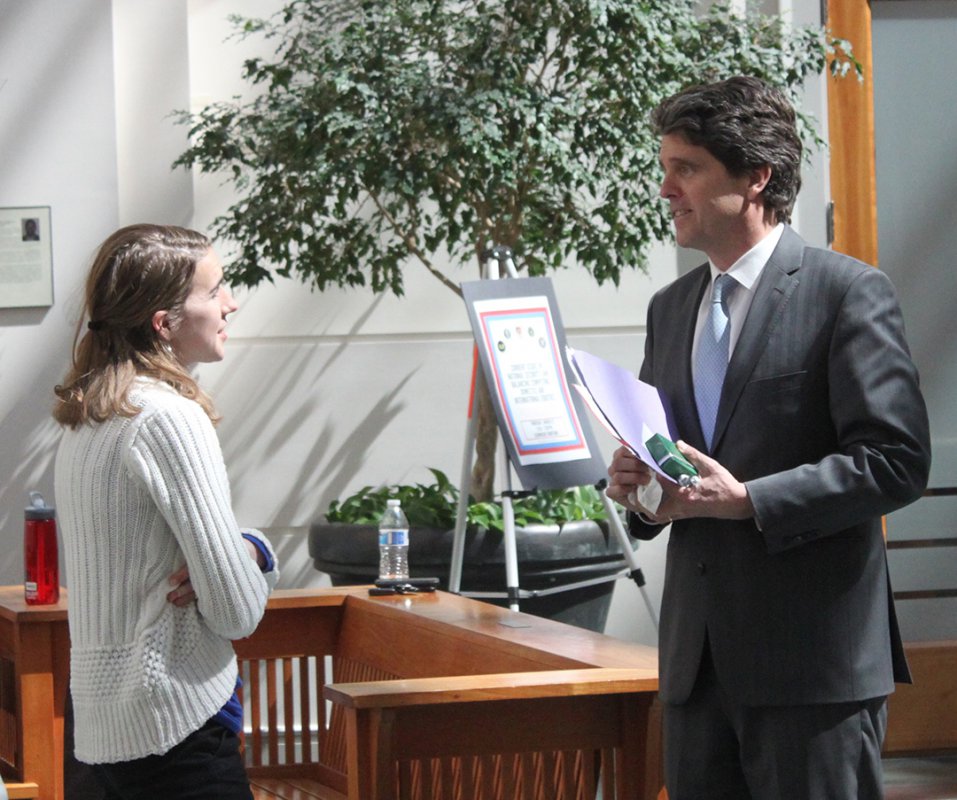 Shriver joined Save the Children in 2003, serving as Senior Vice President for U.S. Programs until 2013. In that capacity, he created and oversaw the agency's early childhood education, literacy, health, and emergency preparedness and response programs in the United States.
Shriver was a member of the Maryland House of Delegates from 1994 to 2002. In 1988, he founded the innovative Choice Program, which serves delinquent and at-risk youth through intensive, community-based counseling.
Shriver received his B.A. from The College of the Holy Cross in 1986 and a Master's in Public Administration from Harvard University in 1993. He resides in Bethesda, Maryland with his wife and their three children.
Shriver's latest book,
Pilgrimage: My Search for the Real Pope Francis
, was published in 2016 by Random House. His New York Times and Washington Post best-selling memoir,
A Good Man: Rediscovering My Father, Sargent Shriver
, was published in June 2012 by Henry Holt.