February 23, 2018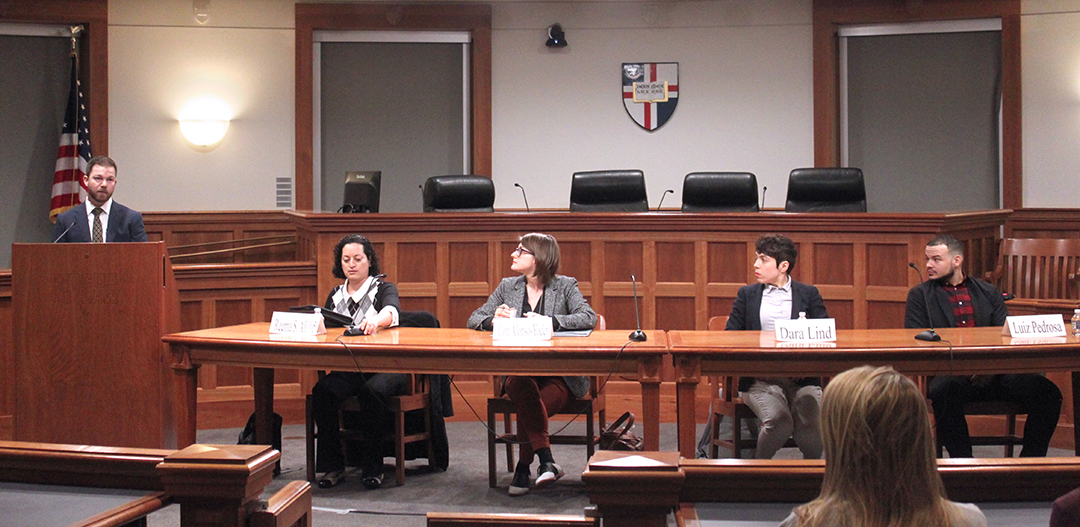 On February 22, 2018, the American Constitution Society for Law and Policy hosted a discussion about DACA and immigration law and policy in the United States entitled "A Dream Deferred." The event was organized by CUA Law American Constitution Society Vice President Breck Story (3L) and moderated by Reema Ali '05. Panelists included: Luiz Pedrosa, a 27-year-old DACA recipient, Cori Alonso-Yoder, Practitioner-in-Residence at American Law's Immigrant Justice Clinic, and Dara Lind, Senior Reporter for Immigration Policy at Vox.

"What happens to a dream deferred?" Story, quoting "Harlem" by Langston Hughes, posed to the audience. "The American dream is rooted in the belief that we can have something better. I want to discuss how DACA can help people obtain this dream and how it can affect the 1.8 million people in this country who are potentially eligible."

"The Trump Administration rescinded DACA effective March 2018. You have heardabout DACA in the news, you have probably seen or maybe even participated in protests or rallies to protector Dreamers, or maybe you aren't certain if Dreamers should have a pathway to citizenship . . . Hopefully you will leave here with a better understanding of DACA and your opinion regarding this issue," Ali said.

Pedrosa opened the panel by discussing his background as a Brazilian immigrant who came to the United States as a child originally under a Visitor Visa. "My mother came here initially for the American dream, which in my opinion is opportunity . . . I did not realize my immigration status until I was trying to apply for a job in high school," he said. Pedrosa stated that he is fearful for his future and has experienced psychological stress due to the uncertainty. "You can't plan your future when all you have is two years…I renewed my DACA status in October, but the March 3rd deadline is quickly approaching," he said. Alonso-Yoder discussed that she has heard countless stories similar to Pedrosa's and reminded the audience that DACA has been used as a band aid for a legislative process that has failed.

"The Dream Act has been up for debate and for votes in various forms since 2001 . . . It is important to remember DACA in the context of a legislative band aid for a process that has failed again and again," Alonso-Yoder said.

Panelists also discussed the history of DACA, the constitutionality of DACA, and common misconceptions surrounding Dreamers.

Pedrosa ended the event with a plea "I don't want to go back. I'm a citizen; I'm more American."

After the conclusion of the discussion, students, alumni, faculty, staff, and guests were invited to a reception in the Keelty Atrium for a chance to personally speak with the panelists.