January 26, 2018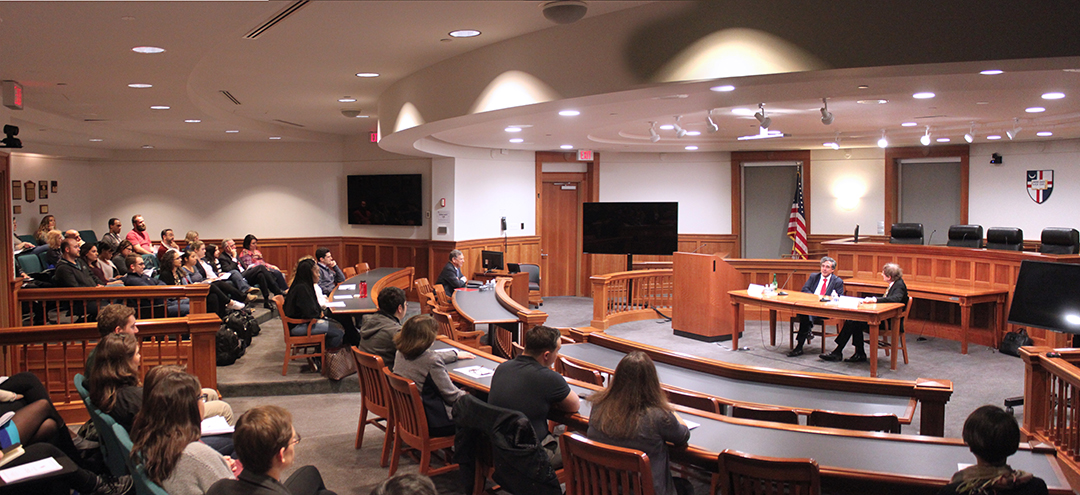 "In Washington, D.C., you have the unique opportunity as a lawyer to participate in different types of public service. There are many opportunities to help shape the law in one way versus another. That is something you can do more so in Washington, D.C., than in other areas."

This was some of the advice The Honorable Noel J. Francisco, the 48th Solicitor General of the United States, gave to the students at The Catholic University of America Columbus School of Law (CUA Law) during the Brendan F. Brown Lecture on January 24.

Organized as a conversation between Henry W. Asbill, of counsel with Jones Day, and the solicitor general, the discussion covered topics including memories from clerkships, favorite Supreme Court cases, the importance of public service, and the current state of legal education. CUA Law Dean Daniel F. Attridge provided an introduction.

Asbill posed questions such as: Do you have any advice for law students who are considering clerkships?

"I think students should consider all types of clerkships. Appellate clerkships are wonderful if you are going to be a big firm lawyer. However, if you want to be a trial lawyer, a district clerkship could be better. That is where you see how trial lawyers practice their trade," Francisco said.

Asbill asked Francisco if he had a favorite Supreme Court case argument. "In many ways, each case is my favorite. NLRB v. Noel Canning is a favorite because it was my first, and it was such an important case. Zubik v. Burwell is a favorite because the principles of law were so near and dear to my heart. McDonnell v. United Stateswas the first time I represented an individual criminal defendant. To have somebody entrust their liberty to you is a both a burden and a privilege," Francisco said.

The discussion also covered the challenge of representing a demonized client. "Representing an unpopular client forces you to make sure your legal arguments are really perfect. If there are any discretions you will lose the case," Francisco said.

Francisco also recommended that students consider public service and commended the current state of legal education. "It is important to give back to a country that has given so much. Public gives you that opportunity," he said.

Francisco was sworn in as the 48th Solicitor General of the United States on September 19, 2017.

Prior to joining the Justice Department, he was a partner in the Washington, DC office of Jones Day, where he was the chair of the Firm's Government Regulation Practice. While at Jones Day, he appeared several times before the Supreme Court, including in McDonnell v. United States, which involved the meaning of "official act" under federal bribery statutes; Zubik v. Burwell, which involved the application of the Religious Freedom Restoration Act to regulations related to insurance coverage for contraception; and NLRB v. Noel Canning, which involved the Constitution's recess appointment power. He has also argued numerous cases in the lower federal and state courts on a wide range of constitutional, civil, and criminal matters.

From 2001 to 2003, Francisco served in the Office of Counsel to the President as Associate Counsel to President George W. Bush, and from 2003 to 2005 he served as a Deputy Assistant Attorney General in the U.S. Department of Justice, Office of Legal Counsel.

Francisco was raised in Oswego, NY. He received his B.A. with honors in 1991 from the University of Chicago, and a J.D. with high honors in 1996 from the University of Chicago Law School. After law school, Francisco served as a law clerk to Judge J. Michael Luttig of the United States Court of Appeals for the Fourth Circuit before clerking for Associate Justice Antonin Scalia of the United States Supreme Court.

After the conclusion of the lecture, students, alumni, faculty, staff, and guests were invited to a reception in the Keelty Atrium for a chance to personally speak with Francisco. Click here to view the conversation on CUA Law's YouTube Channel.