January 22, 2018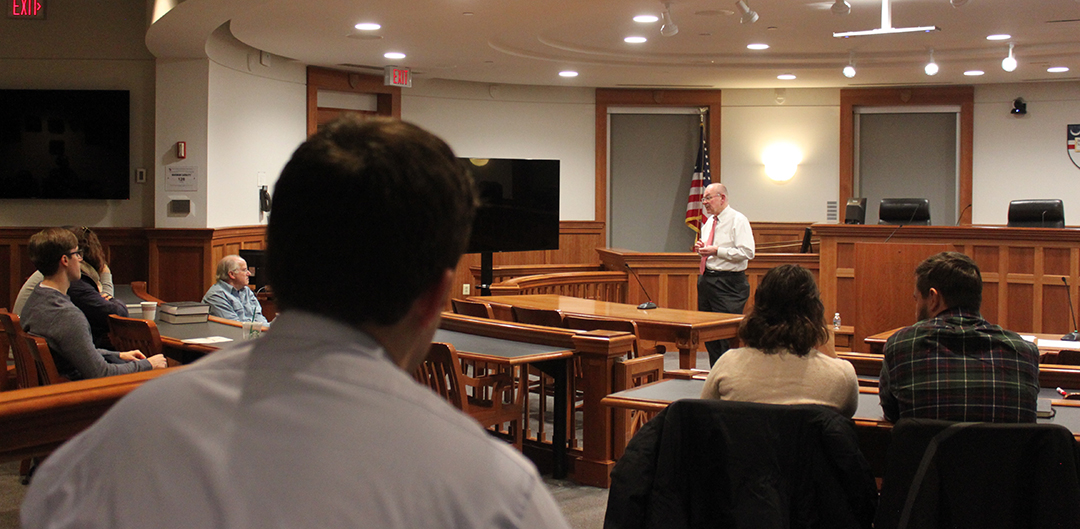 The Catholic University of America Columbus School of Law's Securities Law Program presented the first installment in its 2018 Securities Law Lecture Series on the evening of January 18. The speaker, Daniel L. Goelzer, is a prominent securities lawyer in the area. He served as general counsel of the SEC, Acting Chair of the PCAOB (Public Company Accounting Oversight Board), senior partner and general counsel of Baker Mckenzie LLP, President of the SEC Historical Society, and as a member of the Securities Accounting Standards Board.

"He is an increasingly important figure in this movement to measure and evaluate the true cost of running a sustainable business," Securities Law Director and CUA Law Professor David Lipton said.

During Goelzer's presentation entitled "Sustainability, Corporate Value, and SEC Reporting," he discussed that measuring the true cost of sustainability is becoming increasingly sophisticated and increasingly important. He explained that though we have always known that the term "sustainability" means the life of a product or a means of production, it also refers to the cost of the decline in that life and the cost of the impact of the production of the company's operations on the external world.

"A sustainability report is the information that a company conveys to its investors and to the public about how it is performing on a series of sustainability measures," Goelzer said. "We really are talking about the sustainability of the company itself and the company's ability to adapt to environmental and social expectations."

Goelzer discussed the new ways in which companies can measure sustainability and what information they should provide to shareholders to determine the cost of sustainability. He also stated this is a growing field for financial advisors and lawyers. "There are important legal dimensions to this topic. There will be an increased amount of employment opportunities in this field in relation to compliance and disclosure," he said.

The Sustainability Accounting Standards Board (SASB), an organization incorporated in 2011 to develop and disseminate sustainability accounting standards, has identified five dimensions of sustainability measurement to value the true cost of an operation's sustainability. The five dimensions include: the environment, social capital, human capital, business model and innovation, and leadership and governance.


After providing an overview on the topic, Goelzer discussed the level of interest concerning disclosure of company performance. He explained the level of interest has grown remarkably. The sustainability costs impact on the value of an investment. While SASB does not plan on imposing disclosure rules on corporations, 90 percent of large companies already self-report.

A system of accurate accounting is important because it impacts on what investors are willing to pay for the equity of the company. A Harvard study cited companies that have a true understanding of sustainability maintain a 22 percent higher profitability than companies which do not.

Sustainability Reporting is destined to become an increasingly vital topic for the future of compliance and disclosure.