December 14, 2017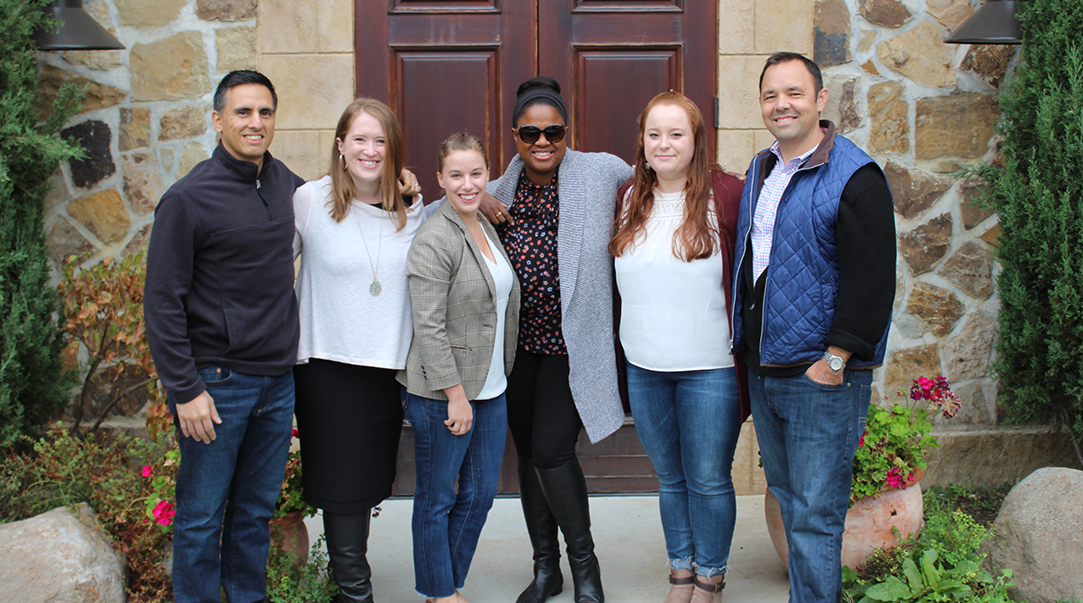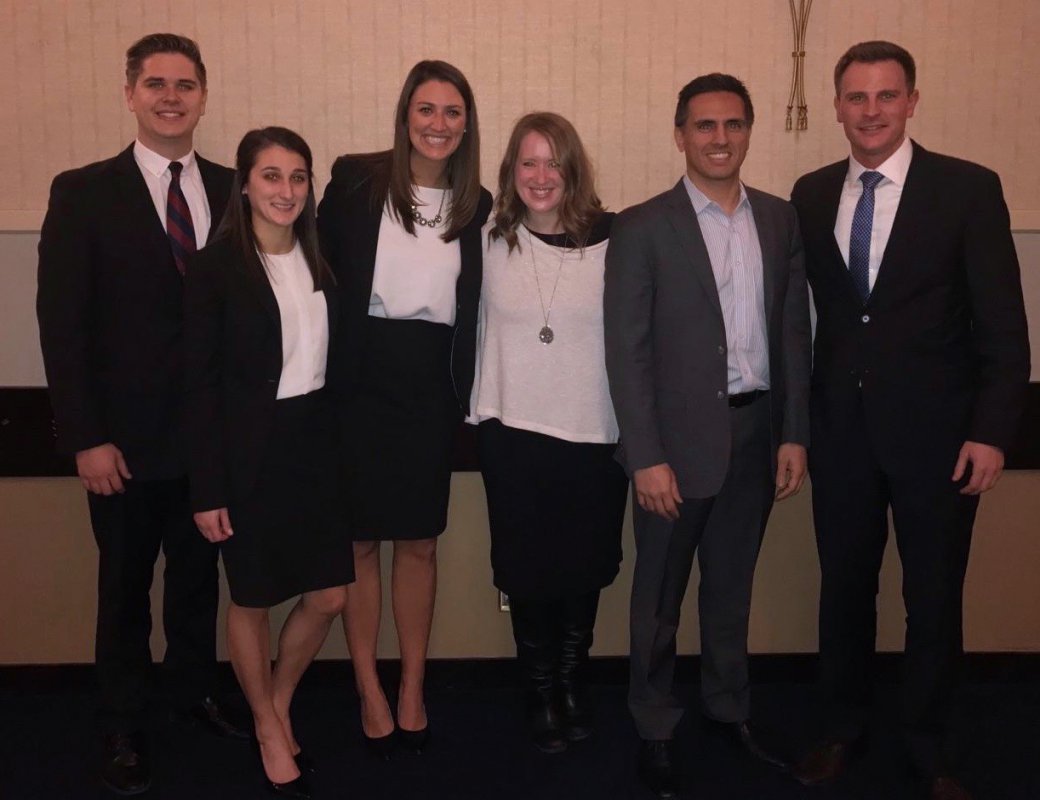 The 2017-18 Moot Court National Trial Team wrapped up another busy fall semester with competitions in San Francisco, California and Buffalo, New York.

The season began on a sad note when Hurricane Maria forced the team's friends and colleagues at the Interamerican University of Puerto Rico to cancel their annual trial competition. Fortunately, they were able to reschedule for April 2018, and CUA's team will attend with a spirit of helpfulness and support for whatever their colleagues in Puerto Rico may need.

When the cancellation was confirmed, the four students who had spent weeks preparing to compete in Puerto Rico-Robbie Cain (3L), Mario LaTona (3L), Cloyd Smith (2L), and Kevin Tamul (3L)- admirably switched gears and began scrimmaging against their teammates, who were preparing to compete at Golden Gate University's In Vino Veritas trial competition in San Francisco, California.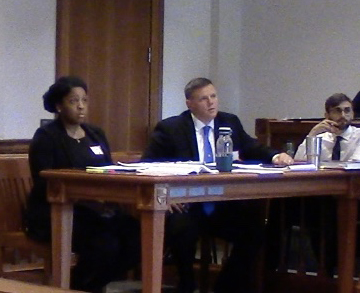 With only weeks to prepare, trial team alumna Mary Thuell '12 graciously agreed to coach the team. "Having a practice team separately coached and prepared provided a simulated trial competition experience that proved to be incredibly beneficial to the four first-time advocates," CUA Law adjunct professor and Co-Director Lindsey Cloud Mervis said.

The weekend before the Golden Gate competition, two consecutive rounds of intra-team competition between Team Puerto Rico and Team Golden Gate were held in Haislip Courtroom in front of distinguished guest trial judges Giovanna Miller '13 and Victoria Kawecki '14, who are both public defenders in the area. The students enjoyed the benefit of hearing feedback from their guest trial judges along with student juror/evaluators, who participated in open jury deliberations following each round.

On October 26-29, 2017, Jennifer Brooker (2E), Jordanne Miller (2L), Andrew Poliakoff (3E), and Vania Smith (2E) represented CUA Law in San Francisco. CUA Law reached the quarterfinal round of the competition and was eliminated by the eventual competition winner, Loyola-Chicago.

Following the San Francisco competition, trial team members immediately began preparing to scrimmage against the Buffalo team, Katherine Culora (2L), Justin Ewaniszyk (3L), Adrianna Oddo (3L), and Callan Smith (3E). U.S. Coast Guard Judge Advocate Brendan O'Shea '09 and Victoria Kawecki '14 served as guest trial judges. On November 10, the team traveled to Buffalo, New York for their competition. The advocacy was spirited and intense. Defeating Cardozo and Drexel law schools, and losing to Western State, CUA lost to the eventual competition winner, the University of Denver, by split decision.

"We were really impressed with our team's level of commitment and talent. We expect big things this spring," Mervis said.

The spring competitions will take place in February and April, and the team has already begun preparing. "As they prepare for the upcoming semester, the student advocates will continue to hone their technical skills," Co-director John N. Sharifi noted. "We're looking forward to it."

Students interested in the Moot Court National Trial Team should contact Sharifi or Mervis at sharifi@cua.edu or mervis@cua.edu.