November 13, 2017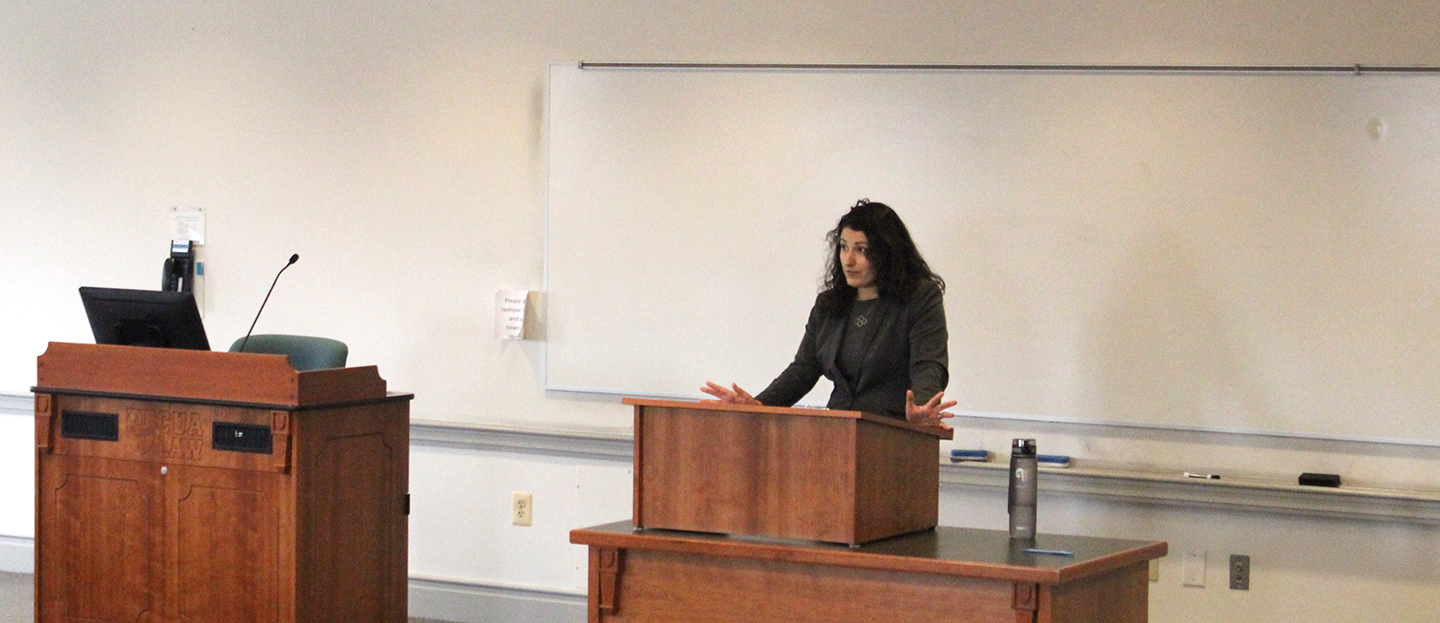 The Catholic University of America Columbus School of Law's third
Faith In Action
event of the semester featured
Laila E. Leigh
, supervising attorney at the
Columbus Community Legal Services at the Columbus School of Law
who gave a talk entitled
"Restoring the Sacred from the Profane."
During the November 9 event, Leigh discussed how the human capacity to love transcends culture and religion, binds us, and creates families. Coming from a mixed-faith household, Leigh has believed from a young age that love is a force to respect and protect.
"From a young age, I knew I had the capacity to give and receive love. That capacity really seemed to come from somewhere divine, somewhere beyond this planet," Leigh said.
Leigh discussed her journey from a volunteer at Survivors and Advocates for Empowerment (SAFE) to law student and later lawyer. She explained that she wanted to do more for her clients at SAFE and decided to go to law school.
"In the training something clicked. I didn't think I knew what domestic violence was, but I recognized it. This was the issue. This was the problem to me that was so deep in the fabric of humanity, so pervasive that there couldn't be enough people pushing back against this ugly tide. This was something I felt I could spend a lifetime on," Leigh said.
Staying true to this spiritual belief focused and advanced Leigh's career from student attorney at the Columbus School of Law's clinic, to managing attorney of a national nonprofit organization less than four years after graduation, to law school clinician just seven years after graduation.
"In clinic students have the responsibility for their caseloads and they work closely with the supervising attorney. I can say for certain that no other professional experience during law school compared to this. I was deeply challenged, I learned most of my lawyering skills in clinic and it really helped me in my first job," Leigh said.
Leigh first joined Columbus Community Legal Services in 2009 as a student where the three semesters she spent followed by a six-month post-graduate fellowship instilled a strong conviction in the efficacy and importance of clinical legal education and a commitment to social justice lawyering. Since graduation from CUA Law in 2010, Leigh has had a wealth of interesting and challenging positions. Most recently, Leigh managed the Policy and Legal Services Program at Break the Cycle, a national non-profit organization serving youth ages twelve to twenty-four. At Break the Cycle, she supervised the direct legal services work of staff attorneys, holistically represented youth who experienced dating violence, stalking or sexual assault in various civil matters, directed youth education and outreach initiatives in the District of Columbia, conducted trainings for professionals, and developed community partnerships. Prior to Break the Cycle, she worked at Maryland Legal Aid where she represented clients in contested domestic relations and domestic violence cases and served as co-chair of the Family Law Task Force. She has provided substantive trainings for attorneys, special advocates, prosecutors, law enforcement officers, teachers, and government employees.
After the talk concluded, students and faculty had the opportunity to ask questions and speak with Leigh about her experiences.