October 30, 2017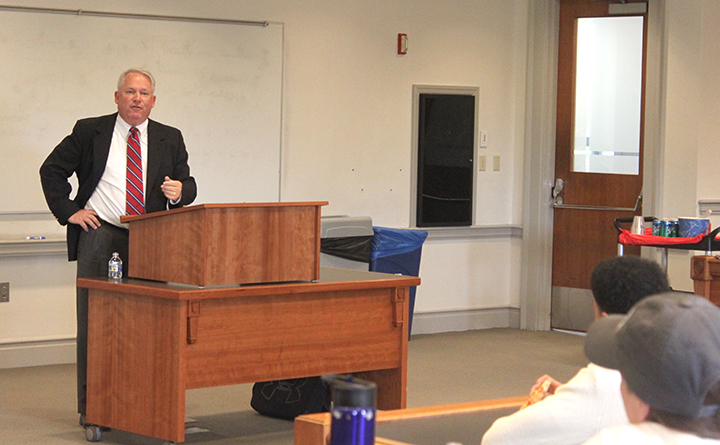 The Catholic University of America Columbus School of Law's second Faith In Action event of the semester featured William Bachman, former partner at Williams and Connolly LLP and current assistant football coach/defensive coordinator at CUA, who gave a talk entitled "Finding Your Best Use: A Life of Purpose."
In an article last fall, the Washington Post characterized Bill Bachman as a "classic Washington cliché: the technical writer who wants to be a novelist, the GS-14 who was supposed to be a musician, the journalist who still thinks about selling cheese."
During the October 26 event, Bachman discussed, despite his success and professional stature, why he walked away from that world to become an Assistant Football Coach at Catholic University. Bachman provided the audience with a roadmap of his journey of coaching football shortly after college, becoming an "accidental" lawyer before returning to coaching and teaching in 2015.
Bachman never initially thought he wanted to become a lawyer and thought that going to law school would make him more attractive to future coaching jobs. Much to his surprise, Bachman found that he liked law school, liked the law, and was comfortable "thinking like a lawyer."
Because he had coached before attending law school, Bachman thought he "had an advantage over people who had gone to better undergraduate schools because [he] had the ability to sit for hours and complete tasks necessary to be successful," he said. Moreover, he decided "the actual game is being a lawyer. But I had been in the game. Law school and law school exams were just try outs."
Bachman graduated with honors from the Georgetown University Law Center, clerked for the Honorable Thomas F. Hogan in the United States District Court for the District of Columbia, and practiced law at Williams and Connolly LLP for nineteen years, where he became a partner.
"How you live your life when you become a lawyer is up to you. It is not up to someone else. But you are your record," Bachman said, who always made sure he left work early enough to coach his children's sports teams.
When his youngest son aged out of Little League, Bachman began to feel a void.
"I loved the independence being a partner afforded me, and the work, but at some point I still desired something more that stirred my soul," he said. "Teaching and coaching made me whole. I began to question how I could be the best version of myself."
Over the next few years, Bachman began the transition from law partner to teacher and coach. He first volunteered at Catholic University in the mornings before work. Eventually he walked away from his practice when the Catholic defensive coordinator job opened up.
"If you are not jumping out of bed in the morning excited about work, you should find something else to do. The moment you see yourself somewhere else do something else, you probably need to take the steps to be somewhere else," he said. "God gave me the ability to be a great teacher and the ability to impact young people's lives. He made me a very good lawyer, but I think I am an excellent teacher. And I decided being excellent was better than being very good," he imparted.
After the talk concluded, students and faculty had the opportunity to ask questions and speak with Bachman about his experiences.