October 17, 2017



(From L to R) Pat McCarty '86, CUA Law adjunct professor; Nicole Sprinzen, '99, Cozen 0'Connor; Kevin Batteh, Partner, Delta Strategies Group; CUA Law Professor David Lipton; Mike Ryan, '91, former general counsel of American Stock Exchange & CUA Law adjunct professor; Ted Urban, '74, former general counsel Ferris Baker Watts; Ernesto Lanza, Partner, Clark Hill & CUA Law adjunct professor.
The Catholic University of America Columbus School of Law's Securities Law Program presented the second installment in the 2017 Fall Lecture Series on the evening of October 12. Director of the Securities Law Program and CUA Law Professor David Lipton introduced speaker Kevin Batteh to the audience of students, alumni, and faculty. Batteh is a partner of Delta Strategy Group and general counsel to the Commodity Markets Council (CMC).
Batteh explained the importance of Bitcoin, a form of digital currency that is created through the internet and used as a payment system on the internet. He noted that there has been great fluctuation in the value of bitcoin. Recently, the U.S. Securities and Exchange Commission (SEC) advised that U.S. federal securities law may apply to the issuance and trading of bitcoins and crypto currencies.
During the lecture, Batteh explained how a "block chain" of bitcoin internet monitors tract transaction on their computers and verify the integrity of the user's financial position and the validity of the bitcoin transaction.
Batteh joined Delta Strategy Group in August 2014, a Capitol Hill lobbying group, and assists clients across a range of areas including regulatory compliance, enforcement, and policy issues related to domestic and international derivatives and energy markets. Batteh also acts as a senior advisor to a number of blockchain and digital currency (e.g. bitcoin and ether) technology companies.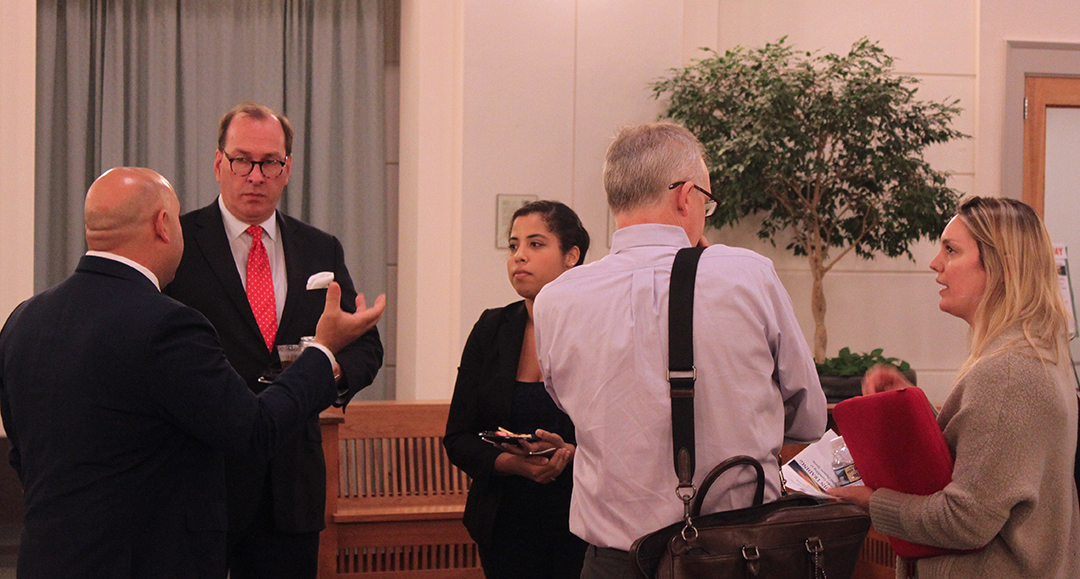 Before the lecturer and the audience retired to the atrium for a reception, Professor Lipton gifted Batteh with a lucite desk plaque which Lipton asserted, like block chains, could always validate that Batteh lectured to the Securities Law Program. Lipton also announced to the audience that the upcoming spring lectures will focus upon SEC mandated disclosure of cyber security compliance operations as well as accounting for corporate sustainability activities.